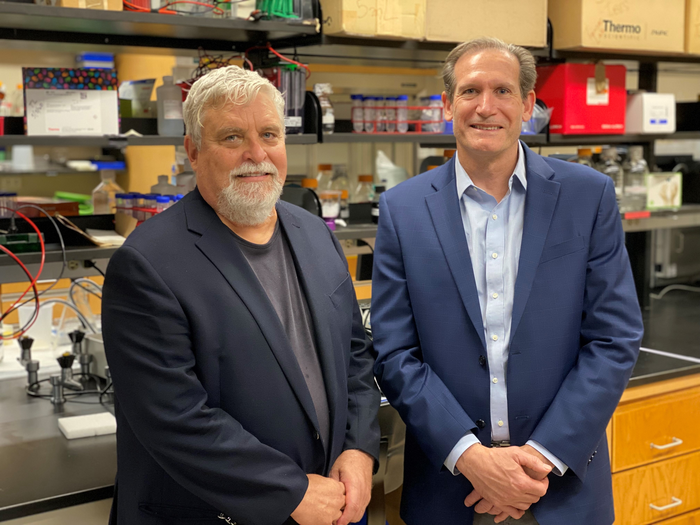 MUSC Hollings Cancer Center researchers Denis Guttridge, Ph.D., Michael Ostrowski, Ph.D., and colleagues at Indiana University were recently awarded a $9.7 million program project grant by the National Cancer Institute (NCI).
Over the five-year grant period, the team aims to uncover the biology behind cachexia, a syndrome of cancer characterized by involuntary and excessive weight loss caused by the depletion of skeletal muscle and adipose tissue. This is the first time that the NCI has awarded a program project grant to study cancer cachexia, which affects approximately 50% of all cancer patients.
Guttridge, a specialist in cachexia, said this is an important area of research, as cachexia depletes patients' quality of life and affects cancer treatment by decreasing treatment tolerance and making patients excessively weak. It is estimated that nearly one-third of all cancer deaths can be attributed to this wasting syndrome, which is devastating for not only the patient but their families as well.
The project explores the role of the macroenvironment in pancreatic cancer-induced cachexia to address a debilitating condition that, from an oncology standpoint, was historically not considered a disease condition. The oncology field now recognizes that tackling cachexia should be a top priority for improving a patient's quality of life. Funders have also come to a similar realization. Understanding and reversing cachexia is one of the current Cancer Grand Challenges, a research funding partnership between the NCI and Cancer Research UK designed to fund the most cutting-edge cancer research.
"Cachexia is very prominent in patients with pancreatic ductal adenocarcinoma (PDAC). Approximately 70% of PDAC patients have cachexia. Studying cachexia in PDAC is useful because it allows us to look at the biological cause early on. In other cancers, cachexia appears when the cancer is very advanced," said Guttridge.
Combined expertise and over six years of collaboration led to the successful funding of this program project. In what is a dream team that has been assembled to address the issue, Guttridge is working with Teresa Zimmers, Ph.D., who brings additional expertise in cachexia, and Hollings colleague Ostrowski, who adds in-depth knowledge of the tumor microenvironment, fibroblasts and signaling pathway interactions to the project. He also has prior experience leading a breast cancer-focused program project.
Ostrowski said program projects allow experts to come together in order to tackle challenging problems. "The sum is synergistic and greater than the individual parts. Both Zimmers and Guttridge have experience in researching cachexia, and I am bringing understanding of tumor microenvironments and fibroblasts to the team," said Ostrowski, a professor in the Department of Biochemistry and Molecular Biology at MUSC.
Zimmers, the H.H. Gregg Professor of Cancer Research at Indiana University and a longtime advocate of cachexia research with the NCI, is hopeful since this team brings together complementary expertise that is missing from single projects, such as R01 grants. "We are the right people to make headway to address this problem," she said.
Guttridge studies one of the key inflammatory signaling pathways, NF-κB, in skeletal muscles. Prior studies indicated that the NF-κB signaling pathway and other inflammatory molecules are very active in cachexia. However, it is not known how the inflammation, cancer and excessive weight loss are biologically regulated. Using a mix of animal models and clinical samples from pancreatic cancer patients, the team will look at the cancer macroenvironment in order to understand the complex biology.
Examining the macroenviroment is an exciting approach for the team to take, said Ostrowski. "While the vast majority of cancer studies look at the tumor microenvironment, this work looks at the signaling pathways that communicate between the different tumors and surrounding microenvironments," he said.
For example, connective tissue cells called fibroblasts are found both in skeletal muscle and tumor microenvironments; however, it is not known if fibroblasts in the different microenvironments respond similarly to the inflammatory molecules. The team's goal is to provide new biological insight, which will be coordinated by four cores within the program project grant: administration, human biospecimens, immunophenotyping and biostatistics.
Each collaborator brings different strengths and resources to the team, said Zimmers. "Indiana University has the busiest surgical unit for PDAC in the country. We will be providing the patient biospecimens, and MUSC will be performing single-cell RNA sequencing and multispectral imaging of the tumor, skeletal muscle and fat from PDAC patients with cachexia."
Guttridge said new biological insight will lead to new therapeutic targets, which is exciting. "The program project grant is aligned with Hollings' focus on patient quality of life. Therapies to treat cancer-induced cachexia will improve patients' quality of life and increase the chance of successful cancer treatment," he said. "Future drugs developed for cancer-related cachexia may also be relevant for patients suffering from other disease-induced cachexia, such as COPD, chronic kidney disease and congestive heart failure."
###
About MUSC
Founded in 1824 in Charleston, MUSC is the oldest medical school in the South as well as the state's only integrated academic health sciences center with a unique charge to serve the state through education, research and patient care. Each year, MUSC educates and trains more than 3,000 students and nearly 800 residents in six colleges: Dental Medicine, Graduate Studies, Health Professions, Medicine, Nursing and Pharmacy. The state's leader in obtaining biomedical research funds, in fiscal year 2019, MUSC set a new high, bringing in more than $284 million. For information on academic programs, visit musc.edu.
As the clinical health system of the Medical University of South Carolina, MUSC Health is dedicated to delivering the highest quality patient care available while training generations of competent, compassionate health care providers to serve the people of South Carolina and beyond. Comprising some 1,600 beds, more than 100 outreach sites, the MUSC College of Medicine, the physicians' practice plan and nearly 275 telehealth locations, MUSC Health owns and operates eight hospitals situated in Charleston, Chester, Florence, Lancaster and Marion counties. In 2020, for the sixth consecutive year, U.S. News & World Report named MUSC Health the No. 1 hospital in South Carolina. To learn more about clinical patient services, visit muschealth.org.
MUSC and its affiliates have collective annual budgets of $3.2 billion. The more than 17,000 MUSC team members include world-class faculty, physicians, specialty providers and scientists who deliver groundbreaking education, research, technology and patient care
About MUSC Hollings Cancer Center
MUSC Hollings Cancer Center is a National Cancer Institute-designated cancer center and the largest academic-based cancer research program in South Carolina. The cancer center comprises more than 100 faculty cancer scientists and 20 academic departments. It has an annual research funding portfolio of more than $44 million and a dedication to reducing the cancer burden in South Carolina. Hollings offers state-of-the-art diagnostic capabilities, therapies and surgical techniques within multidisciplinary clinics that include surgeons, medical oncologists, radiation therapists, radiologists, pathologists, psychologists and other specialists equipped for the full range of cancer care, including more than 200 clinical trials. For more information, visit hollingscancercenter.musc.edu.
---