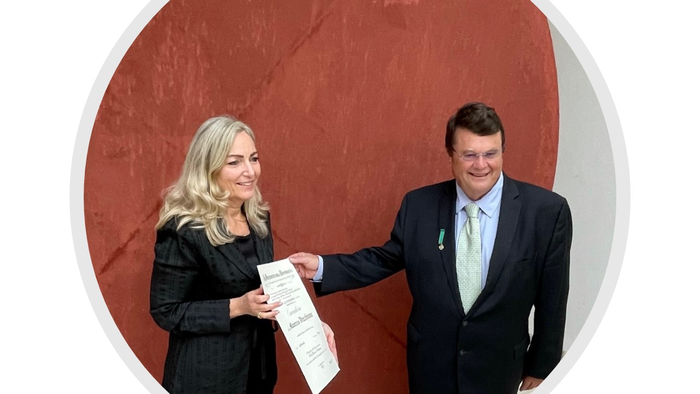 (LOS ANGELES) – The Terasaki Institute for Biomedical Innovation's Chief Innovation Officer, Maurizio Vecchione, has recently been awarded the Order of Merit of the Italian Republic. The highest-ranking honor of the Republic, it is awarded for meritorious service or achievement in the fields of public service, economy, literature and the arts, as well as for social, philanthropic and humanitarian activities.
At a ceremony held at the Italian consulate in Century City, California, the title of Cavaliere Ordine al Merito della Repubblica Italiana was bestowed upon Mr. Vecchione, where he received the insignia badge and ribbon of a Knight of the Italian Republic.
Maurizio Vecchione has worked for more than 30 years on the forefront of global and public health, focusing on innovation to improve the lives of the world's most vulnerable people. He has built global alliances for breakthrough programs in women's health, infectious disease prevention and elimination, primary care, and chronic disease management and currently also serves as CEO of the Washington Global Health Alliance, a coalition of some of the leading institutions of global health.
In presenting the award, one of Mr. Vecchione's many impactful health innovations was highlighted. This diagnostic technology uses artificial intelligence to extract data from cervical images taken by connecting a special device to an ordinary cell phone camera. The artificial intelligence model can then be used to predict the onset of cervical cancer with 98% efficiency, as opposed to the conventional PAP smears which are 60% accurate. Such an innovation has already benefited over 25 million women, in 111 countries around the world.
Mr. Vecchione was also lauded for the innovative and entrepreneurial efforts to which he dedicates himself in his role at the Terasaki Institute. As he states, "The Terasaki Institute is not an ordinary research institution. We are moved by the idea that to achieve impact, you must match science research with innovation and even entrepreneurship. It is this combination that accelerates translation and ultimately brings to life tomorrow's biggest solutions that will save lives."
Another unique aspect of the Terasaki Institute is its independent status, which allows it the freedom to develop powerful collaborations, partnerships and alliances with the best scientific minds, entrepreneurs and investors. Said Mr. Vecchione, "Strong collaborations bring about solutions to some of the hardest biomedical problems for the benefit of humanity."
"We are very proud of the unique honor which has been bestowed upon our esteemed colleague and leader of our innovations team," said TIBI's Director and CEO, Ali Khademhosseini, Ph.D. "He is a shining example of the quality of leadership which we have at the Terasaki Institute for Biomedical Innovation."
PRESS CONTACT
Stewart Han, shan@terasaki.org, +1 818-836-4393
Terasaki Institute for Biomedical Innovation
###
The Terasaki Institute for Biomedical Innovation (terasaki.org) is a non-profit research organization that invents and fosters practical solutions that restore or enhance the health of individuals. Research at the Terasaki Institute leverages scientific advancements that enable an understanding of what makes each person unique, from the macroscale of human tissues down to the microscale of genes, to create technological solutions for some of the most pressing medical problems of our time. We use innovative technology platforms to study human disease on the level of individual patients by incorporating advanced computational and tissue-engineering methods. Findings yielded by these studies are translated by our research teams into tailored diagnostic and therapeutic approaches encompassing personalized materials, cells and implants with unique potential and broad applicability to a variety of diseases, disorders, and injuries.
The Institute is made possible through an endowment from the late Dr. Paul I Terasaki, a pioneer in the field of organ transplant technology.
---