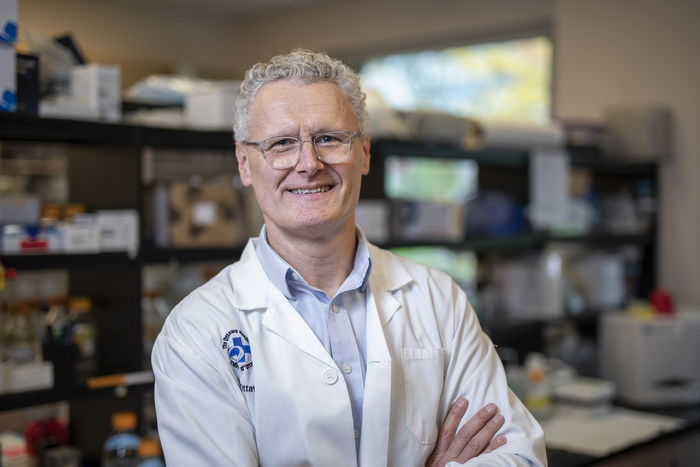 More than 80 percent of people with Parkinson's disease suffer from a reduced sense of smell, something that often occurs years before the onset of typical movement-related symptoms. Now, thanks to a US$9 million grant from the Aligning Science Across Parkinson's (ASAP) initiative, a Canadian-led international team hopes to determine whether scent-processing nerves that connect the inside of the nose to the brain may play a role in the development of Parkinson disease.
"While current treatments can help control some symptoms of Parkinson's, we can't stop this disease or even slow it down," said team leader Dr. Michael Schlossmacher, a neurologist and Bhargava Family Research Chair in Neurodegeneration at The Ottawa Hospital. "This grant will allow us to explore an understudied but important aspect of Parkinson's, which could lead to new approaches for early treatment and prevention."
The team, which includes researchers from Germany and the United States in addition to Canada, will investigate possible links between environmental exposures in the nasal cavity, inflammation, odor processing centres in the brain and Parkinson's-related genes, in both animal models and people.
"We will test the idea that certain environmental triggers, such as viruses, may be able to start a chain reaction in the odor-sensing cells in the nose, resulting in the formation of clumps of a protein called alpha-synuclein," said Dr. Schlossmacher, who is also Director of The Ottawa Hospital's Neuroscience Program and a professor at the University of Ottawa Brain and Mind Research Institute. "If so, we theorize that this process could gradually spread via connections throughout the brain, thereby promoting Parkinson's, especially in people with multiple risk factors for the disease."
Co-Investigators on the team include Dr. Brit Mollenhauer and Dr. Christine Stadelmann (from the University Medical Center Goettingen), Dr. Ben Arenkiel (from Baylor College of Medicine and Texas Children's Hospital) and Dr. Maxime Rousseaux (from the University of Ottawa).
"If Parkinson's does start in the nasal cavity, we might be able to detect early signs of the disease in nasal secretions," said Dr. Mollenhauer, neurologist and associate professor at University Medical Center Goettingen. "Such a fluid-based biomarker would be invaluable for diagnosis and monitoring of Parkinson's disease, as well as for clinical trials of new therapies."
Additional collaborators on the grant include Dr. Zhandong Liu (Baylor College of Medicine), Dr. Natalina Salmaso (Carleton University), Dr. Josef Penninger (University of British Columbia), Dr. John Woulfe (The Ottawa Hospital and University of Ottawa) and Dr. Subash Sad (University of Ottawa).
"Each team selected for the Collaborative Research Network brings unique expertise and perspective to ASAP's mission of tackling key knowledge gaps in disease understanding through open science," said Ekemini Riley, PhD, ASAP Managing Director. "We are proud to partner with Dr. Schlossmacher and the other team members on this innovative and impactful project that will position the field closer to new treatments for the millions living with and at risk of Parkinson's disease."
"In line with ASAPs commitment to open science, we look forward to publishing all our results in open-access journals," said Dr. Julianna Tomlinson, the scientific program manager for the international team, who also co-directs research in the Schlossmacher Lab at The Ottawa Hospital and the University of Ottawa. "Over the coming years, we will also share our protocols and data before any official publication, and participate in their collaborative network along with all the other ASAP-funded teams."
About The Ottawa Hospital
The Ottawa Hospital is one of Canada's top learning and research hospitals, where excellent care is inspired by research and driven by compassion. As the third-largest employer in Ottawa, our support staff, researchers, nurses, physicians, and volunteers never stop seeking solutions to the most complex health-care challenges. Our multi-campus hospital, affiliated with the University of Ottawa, attracts some of the most influential scientific minds from around the world. Backed by generous support from the community, we are committed to providing the world-class, compassionate care we would want for our loved ones. www.ohri.ca
About the University of Ottawa
The University of Ottawa is home to over 50,000 students, faculty and staff, who live, work and study in both French and English. Our campus is a crossroads of cultures and ideas, where bold minds come together to inspire game-changing ideas. We are one of Canada's top 10 research universities—our professors and researchers explore new approaches to today's challenges. One of a handful of Canadian universities ranked among the top 200 in the world, we attract exceptional thinkers and welcome diverse perspectives from across the globe. www.uottawa.ca
About ASAP
ASAP is a coordinated research initiative to advance targeted basic research for Parkinson's disease. Its mission is to accelerate the pace of discovery and inform the path to a cure through collaboration, research-enabling resources, and data sharing. It is co-directed by Dr. Ekemini Riley and Nobel Laureate Dr. Randy Schekman. The Michael J. Fox Foundation for Parkinson's Research is ASAP's implementation partner and issued the grant.
For video b-roll here.
---