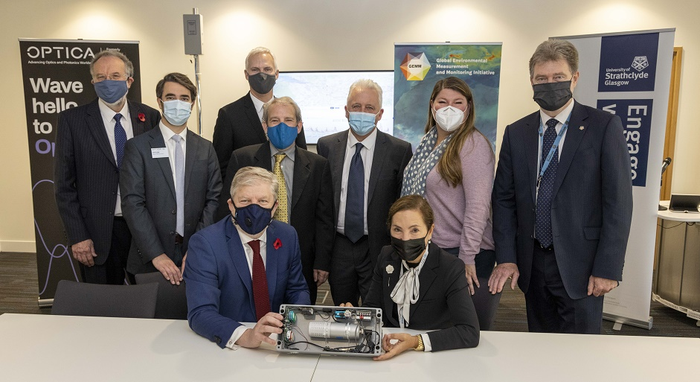 GLASGOW, Scotland – Senior governmental officials from Scotland and California met today during COP26 to discuss how optical greenhouse-gas-monitoring instruments can play a key role in supporting reduced emissions in cities. California Lieutenant Governor Eleni Kounalakis and Scottish Government Cabinet Secretary for the Constitution, External Affairs and Culture Angus Robertson convened at the University of Strathclyde in Glasgow to learn how real-time monitoring of greenhouse gas (GHG) and pollution emission data can provide local leaders with essential information to support strategic policy decisions.
Over the past two years, scientists and policymakers from Scotland and California have collaborated on an Urban Air Project through the Global Environmental Measurement & Monitoring (GEMM) Initiative, a joint international project of scientific societies Optica (formerly OSA) and the American Geophysical Union (AGU). The GEMM Urban Air Project centers on deploying a dense network of 25 sensors across Glasgow to monitor levels of GHGs, air pollutants and particulate matter in real-time. A similar network has been installed in the San Francisco Bay Area, using the same technology, which was created by University of California, Berkeley (UC Berkeley) Professor Ron Cohen. This international effort is a result of a collaboration between the University of Strathclyde, Glasgow City Council, Stanford University, the UC Berkeley, Optica, the AGU, the Met Office and the National Physical Laboratory (NPL).
"Cities can make a substantial impact in GHG emissions reductions since they currently contribute more than 70% of the total. Until now, local governments have had limited access to timely data to help guide their GHG reduction policies," said Tom Baer, GEMM co-lead and Director of Stanford Photonics Research Center at Stanford University, USA. "With these low-cost, real-time compact optical sensors deployed around the city, for the first time, leaders will have actionable science in hand to support strategic policy decisions."
The sensor network approach uses inverse modeling based on local atmospheric circulation weather models to pinpoint the location of GHG emissions and air pollution sources in the city, throughout the day and across seasons. This localized modeling can provide first-of-its kind day-to-day neighborhood scale forecasts for cities and regions, which can be used to model future scenarios and as a way to assess current policies that aim to reduce GHG and air pollution emissions.
"Having concrete information is the first step in addressing climate action on a local level," said Baer. "Today's important meeting between Lieutenant Governor Kounalakis and Cabinet Secretary for the Constitution, External Affairs and Culture Robertson demonstrates how the GEMM Initiative enables leaders around the globe to take concrete action to address environmental issues in their individual communities."
The meeting between Kounalakis and Robertson launched the GEMM Initiative's Summit, Cities are the Key to the Climate Solution, taking place today. For more information on the GEMM Initiative, visit https://www.gemminitiative.org/ or contact GEMM@optica.org.
About Optica
Optica (formerly OSA) is dedicated to promoting the generation, application, archiving and dissemination of knowledge in optics and photonics worldwide. Founded in 1916, it is the leading organization for scientists, engineers, business professionals, students and others interested in the science and application of light. Optica's renowned publications, meetings, online resources and in-person activities fuel discoveries, shape real-life applications and accelerate scientific, technical and educational achievement.
Media Contacts
---