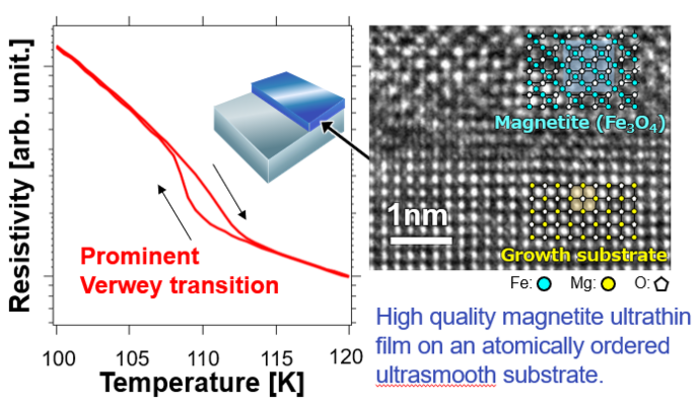 Osaka, Japan – From practical applications such as secure communications to complex scientific questions such as how the brain works, classical computing isn't always up to the task. Now, researchers from Japan have a made a discovery that will improve the electronics technology for such advanced applications.
In a study recently published in ACS Applied Nano Materials, researchers from Osaka University and collaborating partners have prepared an ultra-thin film of magnetite that until now had not been sufficiently ordered to achieve its full potential.
Spintronics is an advanced version of electronics that uses both charge and electron spin for energy transfer and storage. Magnetite—a common iron-oxide mineral—may be useful for spintronics technology owing to its fascinating physical properties. For example, a minor stimulus may rapidly change the functionality of the magnetite film from that of a metal to an insulator. Such functionalities critically depend on the crystallinity of magnetite. Especially for ultra-thin films used in device applications, it is difficult to fabricate magnetite with high crystallinity owing to the imperfection of the substrate surface, which is the foundation of the thin film. However, it is difficult to prepare an atomically ordered and extremely flat surface over an entire substrate. Overcoming this challenge by improving on conventional chemical polishing techniques is something the researchers at Osaka University aimed to address.
"The uniformity and properties of thin films depend on the perfection of the underlying substrate," explains lead author of the study Ai Osaka. "Conventional technologies for preparing the single-crystal substrates sacrifice the crystallinity to optimize the flatness but doing so limits the performance of the overlaying magnetite film."
The researchers used a chemical polishing technique—known by its acronym CARE—to prepare an atomically flat and highly ordered magnesium oxide substrate. Magnetite deposited on this ultrasmooth substrate exhibits superior crystallinity and conductive properties, compared with that deposited on a conventional substrate.
"CARE treatment of the substrate enabled the thin film to undergo a temperature-dependent resistivity change—known as the Verwey transition—of a factor of 5.9," says senior author Azusa Hattori. "This is unprecedented over large areas, yet essential for implementation."
These results have important applications. Proposed quantum computing technologies may rely on spintronics to optimize logistical, biochemical, and cryptography problems that defeat classical computing. The Osaka University researchers have made an important step toward enabling magnetite to serve as a base material for spintronics and other advanced electronics, which will transform life and work in the coming decades.
###
The article, "Nondeteriorating Verwey transition in 50 nm thick Fe3O4 films by virtue of atomically flattened MgO substrates: Implications for magnetoresistive devices," was published in ACS Applied Nano Materials at DOI: https://doi.org/10.1021/acsanm.1c02634
About Osaka University
Osaka University was founded in 1931 as one of the seven imperial universities of Japan and is now one of Japan's leading comprehensive universities with a broad disciplinary spectrum. This strength is coupled with a singular drive for innovation that extends throughout the scientific process, from fundamental research to the creation of applied technology with positive economic impacts. Its commitment to innovation has been recognized in Japan and around the world, being named Japan's most innovative university in 2015 (Reuters 2015 Top 100) and one of the most innovative institutions in the world in 2017 (Innovative Universities and the Nature Index Innovation 2017). Now, Osaka University is leveraging its role as a Designated National University Corporation selected by the Ministry of Education, Culture, Sports, Science and Technology to contribute to innovation for human welfare, sustainable development of society, and social transformation.
Website: https://resou.osaka-u.ac.jp/en
---
Journal
ACS Applied Nano Materials
Method of Research
Experimental study
Subject of Research
Not applicable
Article Title
Nondeteriorating Verwey transition in 50 nm thick Fe3O4 films by virtue of atomically flattened MgO substrates: Implications for magnetoresistive devices
Article Publication Date
2-Nov-2021