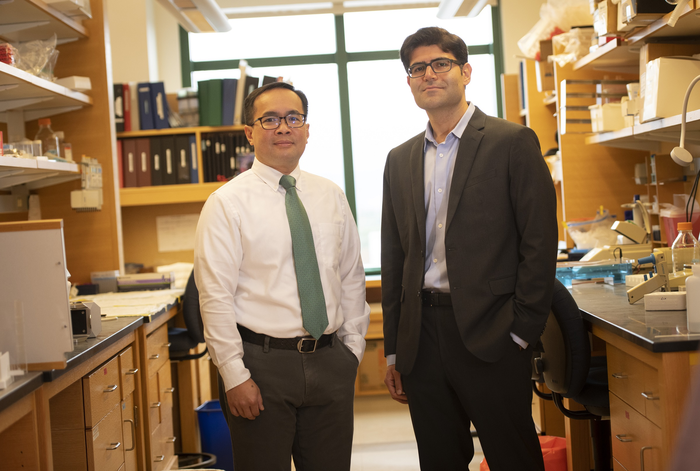 LEBANON, NH – In a 2020 study, researchers at Dartmouth's and Dartmouth-Hitchcock's Norris Cotton Cancer Center developed artificial intelligence (AI) to distinguish the four major types of colorectal polyps removed during screening colonoscopy. The model not only produced results that demonstrated accuracy and sensitivity at the level of practicing pathologists, but withstood evaluation using broad datasets spanning multiple institutions across the U.S., proving that AI models are generalizable and can be trained on widespread external data.
Now, the clinical research team, led by Saeed Hassanpour, PhD, brings the previous study, which was based on retrospective data and performed offline, from bench to bedside. Their new study, published in JAMA Network Open, presents the AI model as a tool that can be easily used by pathologists in the clinic.
The clinical trial, involving 15 pathologists from Dartmouth-Hitchcock Medical Center and Cheshire Medical Center in New Hampshire, was designed to compare performance of the deep learning model as part of an AI-augmented digital system to standard use of a microscope.
"Evaluating this tool through a prospective clinical trial shows that the AI-augmented digital system significantly improves the accuracy of pathologists in the classification of polyps in comparison to the traditional process of using microscopes," says Hassanpour.
Before using the AI-augmented digital system, pathologists watched a five-minute training video, read a brief summary of how the model works and how its results are generated, and practiced using a set of ten sample slides to become familiar with the system.
During the trial, the average time of evaluation across all pathologists when using the digital system decreased consistently. In contrast, the reading time did not change significantly during the course of microscope use assessment, a tool with which pathologists have many years of experience.
Overall, the average System Usability Scale Score for the digital system indicated that the usability was "good," "which is encouraging," says Hassanpour, "considering our system's short training and use period." Moreover, pathologists stated that the digital system was "easy to use and navigate," "intuitive to use," and that it "pans in and out quickly and smoothly."
Notably, half of the participating pathologists stated that they would use a version of this tool in clinical practice. Twelve out of 15 commented that their experience either positively changed or supported their positive opinions for the role of AI in clinical practice.
Hassanpour's team is now working with a leading digital pathology startup to bring their technology to clinical practice and help clinicians and patients with cancer surveillance and prevention.
This AI-augmented digital system shows promise in improving the frequency of surveillance recommendations to prevent cancer development, cutting colorectal cancer surveillance costs, eliminating undue stress to patients, increasing coverage and accuracy of surveillance programs, and ultimately reducing overall colorectal cancer mortality.
* * *
Saeed Hassanpour, PhD, is an Associate Professor of Biomedical Data Science and of Epidemiology at the Geisel School of Medicine at Dartmouth, Associate Professor of Computer Science at Dartmouth College, and member of the Cancer Population Sciences Research Program at Dartmouth's and Dartmouth-Hitchcock's Norris Cotton Cancer Center. His research interests include biomedical informatics, machine learning, and personalized medicine. www.hassanpourlab.com. @SaeedHP
* * *
About Norris Cotton Cancer Center
Norris Cotton Cancer Center, located on the campus of Dartmouth-Hitchcock Medical Center (DHMC) in Lebanon, NH, combines advanced cancer research at Dartmouth College's Geisel School of Medicine in Hanover, NH with the highest level of high-quality, innovative, personalized, and compassionate patient-centered cancer care at DHMC, as well as at regional, multi-disciplinary locations and partner hospitals throughout NH and VT. NCCC is one of only 51 centers nationwide to earn the National Cancer Institute's prestigious "Comprehensive Cancer Center" designation, the result of an outstanding collaboration between DHMC, New Hampshire's only academic medical center, and Dartmouth College. Now entering its fifth decade, NCCC remains committed to excellence, outreach and education, and strives to prevent and cure cancer, enhance survivorship and to promote cancer health equity through its pioneering interdisciplinary research. Each year the NCCC schedules 61,000 appointments seeing nearly 4,000 newly diagnosed patients, and currently offers its patients more than 100 active clinical trials.
About Dartmouth-Hitchcock Health
Dartmouth-Hitchcock Health (D-HH), New Hampshire's only academic health system and the state's largest private employer, serves a population of 1.9 million across northern New England. D-H provides access to more than 2,000 providers in almost every area of medicine, delivering care at its flagship hospital, Dartmouth-Hitchcock Medical Center (DHMC) in Lebanon, NH. DHMC was named again in 2020 as the #1 hospital in New Hampshire by U.S. News & World Report, and recognized for high performance in 9 clinical specialties and procedures. Dartmouth-Hitchcock also includes the Norris Cotton Cancer Center, one of only 51 NCI-designated Comprehensive Cancer Centers in the nation; the Children's Hospital at Dartmouth-Hitchcock, the state's only children's hospital; affiliated member hospitals in Lebanon, Keene, and New London, NH, and Windsor, VT, and Visiting Nurse and Hospice for Vermont and New Hampshire; and 24 Dartmouth-Hitchcock clinics that provide ambulatory services across New Hampshire and Vermont. The D-H system trains nearly 400 residents and fellows annually, and performs world-class research, in partnership with the Geisel School of Medicine at Dartmouth and the White River Junction VA Medical Center in White River Junction, VT.
About the Geisel School of Medicine
Founded in 1797, the Geisel School of Medicine at Dartmouth strives to improve the lives of the communities it serves through excellence in learning, discovery, and healing. The Geisel School of Medicine is renowned for its leadership in medical education, healthcare policy and delivery science, biomedical research, global health, and in creating innovations that improve lives worldwide. As one of America's leading medical schools, Dartmouth's Geisel School of Medicine is committed to training new generations of diverse leaders who will help solve our most vexing challenges in healthcare.
---
Journal
JAMA Network Open
Method of Research
Computational simulation/modeling
Subject of Research
People
Article Title
Evaluation of an Artificial Intelligence–Augmented Digital System for Histologic Classification of Colorectal Polyps
Article Publication Date
18-Nov-2021