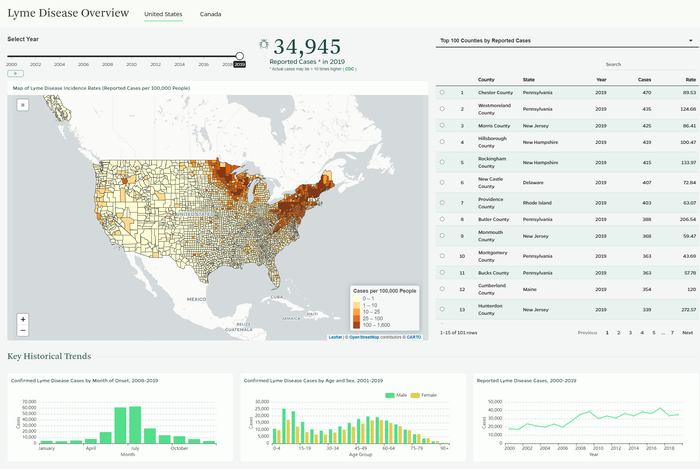 New Lyme and Tickborne Disease Dashboard (https://www.hopkinslymetracker.org/) is first, authors say, to define Lyme Disease hotspots and map disease across US and Canada
###
Article URL: https://journals.plos.org/plosone/article?id=10.1371/journal.pone.0260122
Article Title: The Lyme and Tickborne disease dashboard: A map-based resource to promote public health awareness and research collaboration
Author Countries: U.S.A.
Funding: The Johns Hopkins Lyme and Tickborne Disease Dashboard is funded by a gift from the David P. Nolan Charitable Fund (to FCC, no grant number). The funder provided input on the dashboard design but was not involved in data collection and analysis, decision to publish, or preparation of the manuscript.
---
Article Title
The Lyme and Tickborne Disease Dashboard: A map-based resource to promote public health awareness and research collaboration
Article Publication Date
1-Dec-2021
COI Statement
The authors have declared that no competing interests exist.