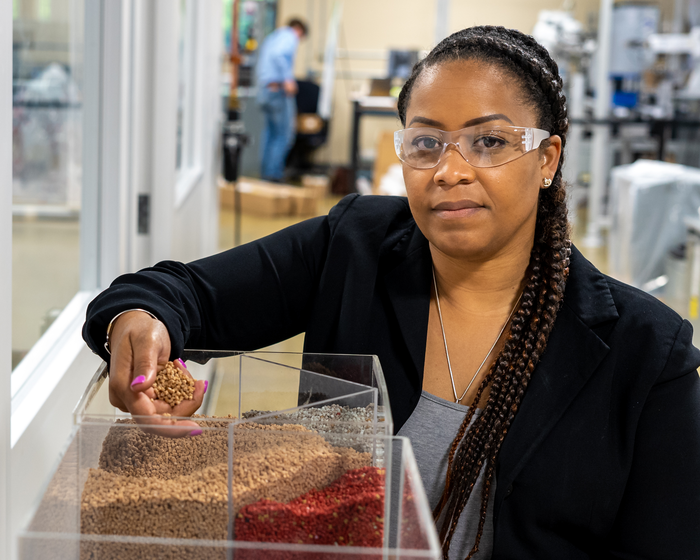 The Department of Energy's Oak Ridge National Laboratory and Tuskegee University have formed a partnership to develop new biodegradable materials for use in buildings, transportation and biomedical applications.

The collaboration combines ORNL's expertise in bioscience, high-performance computing and advanced manufacturing with Tuskegee's focus on biomaterials research and fosters opportunities for joint research and the exchange of information between institutions. Tuskegee's Department of Materials Science and Engineering students will work with ORNL researchers in manufacturing science and gain access to DOE's Manufacturing Demonstration Facility at ORNL through a memorandum of understanding agreement.
"We look forward to working with Tuskegee University to deliver innovative solutions in bioderived materials research in support of a clean, efficient and thriving economy," said ORNL's Xin Sun, associate laboratory director for energy science and technology. "This partnership deepens ORNL's commitment to encouraging the diversity of thought and talent needed for impactful, cutting-edge science."
ORNL was named one of the top supporters of Historically Black Colleges and Universities for 2021 by a panel of deans of HBCU engineering programs and the Advancing Minorities' Interest in Engineering corporate-academic alliance.
As a world leader in materials science with an emphasis on wood and plant biomass and bioderived materials such as nanocellulose, lignin and hemicellulose, ORNL is advancing research from feedstocks to conversion to demonstration. Researchers at the MDF work with industry, universities and government partners to develop new bioderived materials for large-scale additive manufacturing, or 3D printing.
Recent achievements include creating a scalable processing technique that uses lignin, a by-product of the biofuels process, to produce a new material for 3D printing; developing bioderived polyurethane coatings and foams from lignin by-product streams of biorefineries; and generating a renewable material with shape memory that offers a low-cost alternative to conventional conductors and sensors. ORNL also collaborated with a university partner to produce a 3D printed large-scale boat mold from bioderived materials.
"This major collaboration between TU and ORNL is the result of pioneering work done by Merlin Theodore, who leads ORNL's advanced fibers manufacturing efforts and who earned three degrees at Tuskegee University in chemical, mechanical and materials science engineering," said Tuskegee's Shaik Jeelani, vice president for research and dean of the graduate school. Jeelani recruited Theodore for the university's first doctoral program in materials science and engineering and mentored her along with Mahesh Hosur.
"Tuskegee was my home and family for many years and provided a nurturing, diverse and thriving environment for success. I was given the opportunity to travel the world and present my own research in carbon fiber as a student," Theodore said. "I look forward to working alongside this next generation of Tuskegee graduates, providing the same level of support I received while enabling groundbreaking research."
Tuskegee has made significant scientific progress in the synthesis of nanoparticles from agricultural wastes, development of biopolymers from plant oils such as tung and linseed oils and processing of green composites with plant-based fibers and resins. Current research involves extraction of nanomaterials from waste resources, design and synthesis of biopolymers and development of advanced green composites. Tuskegee's research efforts aim to have a global impact by generating a new class of sustainable biodegradable materials with properties comparable to non-biodegradable materials.
"Our scientists are excited to have the opportunity to work with Tuskegee to push the boundaries of what's possible in sustainable materials and advanced manufacturing," said Sun. "This agreement provides our research staff with new avenues to mentor and share ideas with students from diverse backgrounds while assuring that the nation's transition to clean energy is something we all have a part in."
Tuskegee University is a national, independent and state-related institution of higher learning located in Tuskegee, Alabama. The university has distinctive strengths in the sciences, architecture, business, engineering, health and other professions, all structured on solid foundations in the liberal arts. In addition, the university's programs focus on nurturing the development of high-order intellectual and moral qualities among students and stress the connection between education and the highly trained leadership Americans need in general, especially for the work force of the 21st century and beyond.
UT-Battelle manages ORNL for Department of Energy's Office of Science, the single largest supporter of basic research in the physical sciences in the United States. The Office of Science is working to address some of the most pressing challenges of our time. For more information, please visit energy.gov/science.
---