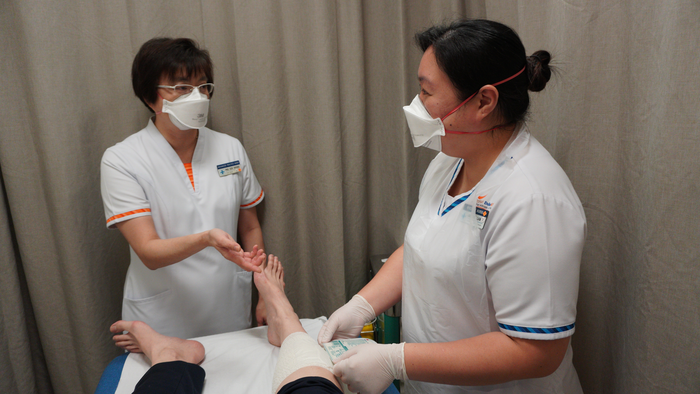 Singapore, 1 December 2021 - About one in 20 Singaporeans is estimated to be afflicted with chronic wound conditions, and the incidence is expected to increase in the coming years with an ageing population and prevalence of diabetes. To improve and streamline care for such patients, Changi General Hospital (CGH) set up a one-stop multi-disciplinary centre to provide early interventions and outpatient treatment of chronic wounds. Believed to be the first in public hospitals, the Wound Healing Centre (WHC) was officially opened by Dr Koh Poh Koon, Senior Minister of State for Health and Manpower at a virtual event.
To further patient care through research and innovation, CGH also embarked on a partnership with local biotechnology company Celligenics to conduct joint research and development in wound care solutions. The signing of the Memorandum-of-Understanding was witnessed by Dr Koh, Mr Cheng Wai Keung, SingHealth Chairman and Mr Koh Choon Hui, Celligenics Chairman.
Holistic care for wounds that do not heal
The one-stop WHC is designed to transform the care journey for patients with chronic wounds. With access to a multi-disciplinary team of wound specialists with background in orthopaedics, vascular, plastics, reconstructive and aesthetics surgery as well as wound care nurses, patients can undergo diagnostic tests, assessments and treatment all within the same day at the centre.
This reduces the need for multiple visits to receive appropriate care. Patients can be given a direct and fast track referral from polyclinics and emergency departments and be seen at the WHC within two weeks. With timely access to outpatient treatment, avoidable hospitalisation via the emergency department can also be reduced.
Chronic wounds are wounds that do not heal within four to six weeks. Ranging from diabetic foot ulcers and pressure injuries to arterial and venous ulcers, these wounds are often complex and multi-factorial, and often viewed as a complication of underlying comorbidities. Smaller and hidden wounds may also not be detected until they become infected.
The consequences of not receiving treatment in time are severe. Delayed wound healing can lead to complications such as infections and gangrene requiring amputations. About 200 amputations are done in CGH yearly due to diabetes or peripheral vascular diseases. The length of stay in hospital for patients with chronic wounds is also approximately 2.5 times longer than an acute stay.
Dr Derek Ho, Director for WHC and Consultant, Department of Surgery (Vascular), CGH, said, "Wound healing centres around the world are increasingly moving towards multi-disciplinary treatment models. Overseas literature have shown that the preventive interventions, early diagnosis, timely treatment and continued care have benefits on wound healing, amputation rates and severity of amputation."
Currently, the WHC provides an average of 1,000 wound-related consultations and procedures each month. About 1,000 new patients are expected to benefit from the care at WHC annually.
CGH started building up its expertise in wound management as far back as 2011 and the WHC is the culmination of these extensive efforts. The wound specialists and nurses first attained international certification by the American Board of Wound Management in 2017, with the nurses being trained by the Wound, Ostomy and Continence Nursing Certification Board. Depending on the needs of the patient, the nurses also have the capabilities to perform wound therapy for complex wounds and leverage a variety of technologies such as electrical stimulation for wound healing and ultrasonic bedside debridement.
Ms Png Gek Kheng, Co-Director for WHC and Chief Nurse, CGH, said, "Most patients seen at WHC are above 80 years old, chair-bound and have pressure injuries or diabetic foot ulcers. This group of patients is particularly susceptible to chronic wounds in view of their reduced mobility, impaired wound healing and underlying medical conditions. Chronic wounds often cause immense pain and emotional distress. However, patients and caregivers come to us only during the late stages of the wounds which become harder to treat and can take months or even years to heal. A holistic and coordinated care approach will shorten the runway for the healing process." Ms Png also specialises in geriatric care as an Advanced Practice Nurse.
Plans are also in the pipeline to work with community hospitals and nursing homes to identify patients with chronic wound symptoms so as to detect them early and provide early intervention. In the first quarter of 2022, geriatric patients visiting CGH for their outpatient appointments can also get a direct referral to WHC if they have wounds at risk of becoming chronic. Currently, geriatric patients in the community are already being seen by the hospital's community nurses as part of continued care for their chronic wounds.
Advancing wound care research
To further establish the WHC in the areas of research and innovation, CGH signed a Memorandum of Understanding (MOU) with local biotechnology company Celligenics marking the start of a new public-private partnership. Besides paving the way for co-development and research of unmet medical needs and wound care solutions, the partnership will also allow the CGH to marry clinical needs with Celligenics' strength in biotechnologies. The Hospital will conduct joint research and development focused on accelerating wound healing and be a test bed for innovative wound care solutions through clinical trials.
Mr Kurt Wee, Chief Executive Officer, Celligenics, said, "Celligenics' collaboration with Changi General Hospital is a significant milestone not just for the progress of our research and development, but a step forward to encourage more public-private sectors collaboration in biotechnology. It is such joint efforts that can propel our research companies in Singapore to advance faster and further into the global marketplace, realising decades of both public and private sectors investments and efforts in biotechnology."
ANNEX A: PATIENT AND CAREGIVER PROFILES
1. Mr Lee Kim Loon is a 74-year-old retiree with history of diabetes, high cholesterol, high blood pressure. He is overweight and smokes as well. When Mr Lee discovered multiple black patches on his lower limbs, he did not think much of it and thought applying cream would help. However, a family friend who is a doctor pointed out that his condition looked severe. They immediately sent Mr Lee to the A&E at CGH, where emergency doctors assessed that he needed to be warded.
The doctors found that Mr Lee had blocked arteries from his thighs to his toes, which restricted blood flow and resulted in gangrene. He had to undergo a surgery to open up the blood vessels and remove the dead tissues on his feet. However, as the infection was already too deep and extensive, two toes, one on each foot, had to be amputated.
Mr Lee was referred to the Wound Healing Centre, located at the Medical Centre of CGH, for further management. He has been having reviews at the Centre, for about three times a week with our vascular and plastic surgeons as well as to regularly change the wound dressing. He has now also taken proactive steps to lose weight and quit smoking so that he can quickly resume his daily activities.
2. Madam Talisa is a 58-year-old home-maker with history of diabetes, high blood pressure and high cholesterol and chronic renal failure. She has been undergoing dialysis three times weekly for the past seven years. In end October this year, she discovered a blister on her right foot and had thought that it was due to her footwear. When blood and pus started oozing out, she was referred to the A&E by her GP immediately.
An early scan by the wound specialists at the WHC revealed critical narrowing of the blood vessel supplying the foot. Vascular surgery was then performed to re-establish blood flow to the ischemic area. However, as the infection had reached her bone, she had to amputate an infected toe. She was at risk of a limb amputation if she had delayed her treatment further.
Others who may not have early detection of the underlying causes of their chronic wounds could encounter more severe consequences. Upon recovery, Mdm Talisa hopes to continue her daily walks to the market – an activity which she enjoys very much.
3. Madam Tang Mei Kuen was formerly a caregiver for her late mother. Due to her medical condition, the elderly lady had difficulties moving and as a result, she developed pressure injuries on her back and legs, which took months to heal. Madam Tang recalls the period where she had to monitor the pressure injuries closely. This was in addition to her usual caregiving duties. Together with a domestic helper, they turned the elderly lady frequently when she was in bed and lifted her up regularly if she was in a wheelchair to prevent the wounds from worsening. Due to her medical condition, her late mother was unable to verbalise her discomfort or pain and they often saw how she flinched in pain during dressing changes or when medication was applied onto her wounds. They learnt from the CGH nurses on how to care for her wounds and change the dressings, and who provided advice to manage her condition.
About Changi General Hospital
Changi General Hospital (CGH) is an academic medical institution caring for more than 1 million people in Singapore. A tertiary referral centre with over 1,000 beds, CGH is committed to medical research and education, clinical innovation and care for patients through a comprehensive range of medical specialties and services. Helmed by a multi-disciplinary, dedicated team of healthcare professionals, CGH consistently delivers positive health outcomes for patients. For more information, visit www.cgh.com.sg
-END-
For further queries, please email media@cgh.com.sg or contact:
---
Method of Research
News article
Subject of Research
Not applicable