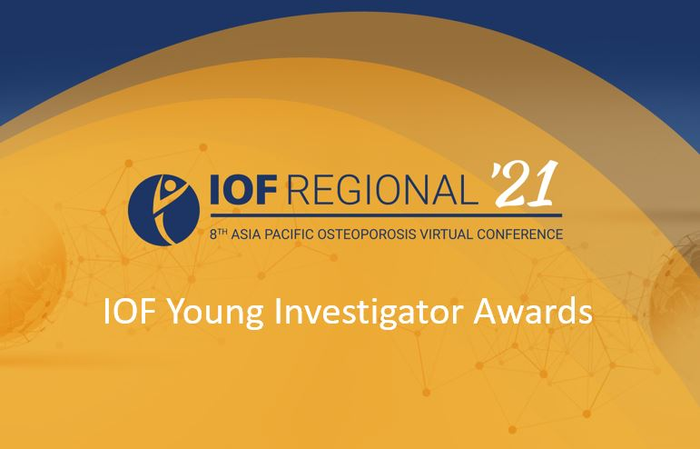 Today, the International Osteoporosis Foundation (IOF) has recognized the outstanding work of five young researchers from four countries on the occasion of the virtual IOF Asia-Pacific Osteoporosis Conference, being held from December 1-2, 2021. The IOF Young Investigator Awards have been awarded to the five highest-scoring abstracts submitted to the IOF Regional Conference by researchers under the age of 40. The investigators will present their research at a dedicated oral session today.
The winning investigators and the topics of their research presentations are as follows:
Y.F. Fu, Spine Disease Research Institute, Longhua Hospital, Shanghai University of Traditional Chinese Medicine, Shanghai, China
ELDECALCITOL, AN ACTIVE VITAMIN D, IMPROVED D-GALACTOSE-INDUCED SENESCENCE OF OSTEOCYTES BY INHIBITING APOPTOSIS AND FERROPTOSIS.
Y.-F. Fu, M.-C. He, Y. Zhang (Abstract OC1)
M. S. Sharma, Central Drug Research Institute, Lucknow, India
EFFECT OF PTH AND MEDICARPIN SEQUENTIAL THERAPY ON SKELETAL METABOLISM
M. S. Sharma, M. S. Awasthi, D. R. Prakash, M. S. Khanka, D. R. Singh, D. R. Goel (Abstract OC3)
F. Pan, Menzies Institute for Medical Research, University of Tasmania, Hobart, Australia
PAIN PHENOTYPE AND RISK OF INCIDENT FRACTURES: A 10.7-YEAR FOLLOW-UP STUDY
M. Devine, M. Canchen, J. Tian, G. Jones, F. Pan (Abstract OC5)
T. Abeygunasekara, University of Ruhuna, Sri Lanka
ASSESSMENT OF CARE GIVEN TO PATIENTS WITH INCIDENT FRAGILITY HIP FRACTURE ADMITTED TO A TERTIARY CARE FACILITY IN SRI LANKA
T. Abeygunasekara, S. Lekamwasam, S. Sabapathippillai (Abstract OC7)
J. Talevski (Australia), University of Melbourne, Melbourne, Australia
IS QUALITY OF LIFE RECOVERY ASSOCIATED WITH LOWER MORTALITY 5 YEARS POST-FRACTURE IN COMMUNITY-DWELLING OLDER ADULTS?
J. Talevski, K. Sanders, S. Vogrin, A. Beauchamp, E. Seeman, S. Iuliano, A. Svedbom, F. Borgstrom, J. Kanis, S. Brennan-Olsen (Abstract OC8)
The abstracts will be published in the scientific journal Osteoporosis International.
IOF President Professor Cyrus Cooper stated:
"We warmly congratulate this year's winners and thank them for their excellent contributions. The IOF Young Investigator Awards underline IOF's commitment to advancing research by supporting the work of young researchers in the field. We hope that the grant, which provides recognition and the opportunity to present at a leading conference, will serve to encourage young investigators - the region's scientific leaders of the future - to continue their important work in advancing basic and clinical research in the musculoskeletal field."
###
About IOF
The International Osteoporosis Foundation (IOF) is the world's largest nongovernmental organization dedicated to the prevention, diagnosis, and treatment of osteoporosis and related musculoskeletal diseases. IOF members, including committees of scientific researchers as well as patient, medical and research societies, work together to make fracture prevention and healthy mobility a worldwide heath care priority. https://www.osteoporosis.foundation @iofbonehealth
About the 8th IOF Regional Asia-Pacific Osteoporosis Conference
Organized by the International Osteoporosis Foundation (IOF), the CME-accredited IOF Regional Conference will be held virtually from December 1-2, 2021. The IOF Regional conferences have been a key educational and research forum in the Asia-Pacific region since 2010. To learn more about the Conference visit https://iof-regional.org/
---