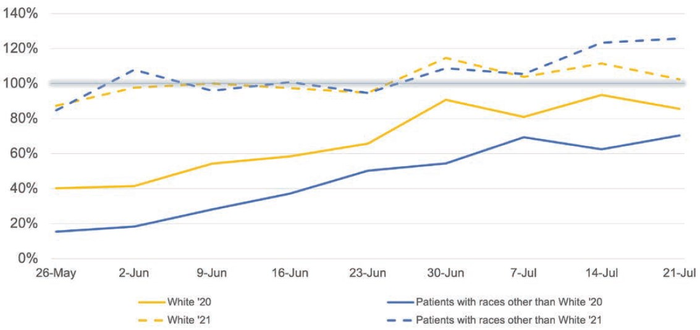 Leesburg, VA, December 2, 2021—According to an open-access article in ARRS' American Journal of Roentgenology (AJR), screening disparities that were exacerbated by the coronavirus disease (COVID-19) pandemic can be mitigated by strategies to increase access, targeting facilities serving vulnerable patient populations.
"After reopening, screening shifted from urban to suburban settings, with disproportionate screening decrease in patients with races other than White," wrote first author Constance D. Lehman of Massachusetts General Brigham and Harvard Medical School in Boston. Noting that initial delays at facilities serving underserved populations exacerbated disparities, "interventions to expand access resulted in late recovery volumes exceeding prepandemic volumes in patients with races other than White."
Lehman and her all-Harvard team's retrospective study included screening mammograms performed during May 26–July 26 in 2019 (prepandemic), 2020 (early recovery), and 2021 (late recovery, following targeted interventions to expand access), across three facility types: urban, suburban, community health center. Suburban sites had the highest proportion of White patients, as well as greatest scheduling flexibility and expanded appointments during initial reopening.
The percentage of mammograms performed in patients with races other than White decreased from 16.8% in 2018 and 16.9% in 2019 to 12.2% in 2020 (early recovery); however, the percentage of mammograms performed in non-White patients increased to 18.0% in 2021 (late recovery). Additionally, 2021 screening volumes exceeded prepandemic volumes for patients with races other than White.
"It may be possible with early intervention to reduce the widening disparities seen with COVID-19 and mitigate the risk of delayed diagnoses and increased mortality from breast cancer during and after pandemics," the authors of this AJR article concluded.
---
Founded in 1900, the American Roentgen Ray Society (ARRS) is the first and oldest radiological society in North America, dedicated to the advancement of medicine through the profession of radiology and its allied sciences. An international forum for progress in medical imaging since the discovery of the x-ray, ARRS maintains its mission of improving health through a community committed to advancing knowledge and skills with an annual scientific meeting, monthly publication of the peer-reviewed American Journal of Roentgenology (AJR), quarterly issues of InPractice magazine, AJR Live Webinars and Podcasts, topical symposia, print and online educational materials, as well as awarding scholarships via The Roentgen Fund®.
MEDIA CONTACT:
Logan K. Young, PIO
44211 Slatestone Court
Leesburg, VA 20176
703-858-4332
---
Journal
American Journal of Roentgenology
Method of Research
Observational study
Subject of Research
People
Article Title
Screening Mammography Recovery After COVID-19 Pandemic-Related Closures: Associations of Facility Access and Racial and Ethnic Screening Disparities
Article Publication Date
24-Nov-2021