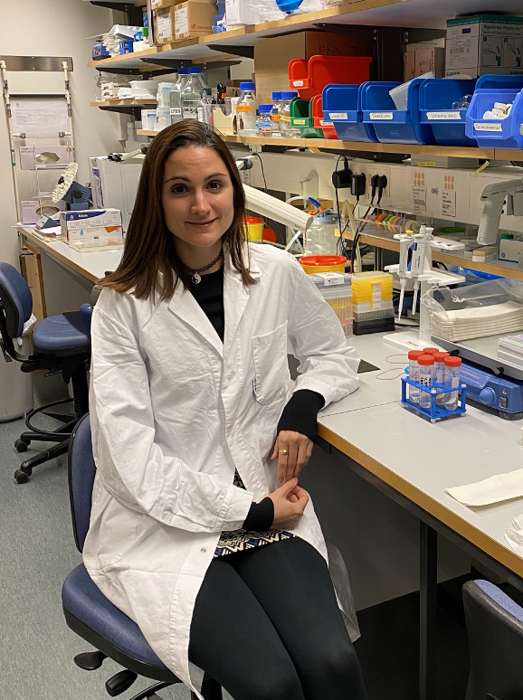 Durham, NC – Sara Palma-Tortosa, Ph.D., is the latest recipient of the STEM CELLS Translational Medicine (SCTM) Young Investigator Award. The award fosters advancements in the field of stem cells and regenerative medicine by honoring a young researcher who is the principal author of an article published in SCTM that, over the course of a year, is deemed to have the most impact.
Dr. Palma-Tortosa, a research assistant in the Department of Clinical Sciences at Lund University (Sweden), was awarded the prize for her work on induced pluripotent stem cell-derived progenitors for cell therapy in ischemic stroke.
In her winning paper, "Grafted human pluripotent stem cell-derived cortical neurons integrate into adult human cortical neural circuitry," the findings provide the first evidence that human pluripotent stem cell-derived neurons integrate in adult host neural networks not only after xenotransplantation in rodents, but also in a human-to-human grafting situation.

This work supports the clinical translation of pluripotent stem cell-derived cortical neurons for neuronal replacement in human disorders affecting the cerebral cortex.
"The next step would be to develop these cells under GMP procedures, which will allow us to use them in clinical studies with stroke patients after receiving all ethical and legal approvals. We believe that this approach has the potential to help stroke patients regain lost motor and cognitive function and improve their quality of life. Of course, there are still many questions to be answered before the start of clinical trials, but this is the long-term goal we aim to achieve," said Dr. Palma-Tortosa.

"Millions of people suffer from stroke and having a stem cell treatment option that can improve damage and improve quality of life would be ideal," said Anthony Atala, M.D., Editor-in-Chief of STEM CELLS Translational Medicine and director of the Wake Forest Institute for Regenerative Medicine. "This research from Dr. Palma-Tortosa and her team shows promise, and we look forward to its progress."
Learn more about Dr. Palma-Tortosa's work on induced pluripotent stem cell-derived progenitors for cell therapy in ischemic stroke.

###
About STEM CELLS Translational Medicine: STEM CELLS Translational Medicine (SCTM), co-published by AlphaMed Press and Wiley, is a monthly peer-reviewed publication dedicated to significantly advancing the clinical utilization of stem cell molecular and cellular biology. By bridging stem cell research and clinical trials, SCTM will help move applications of these critical investigations closer to accepted best practices. SCTM is the official journal partner of Regenerative Medicine Foundation.
About AlphaMed Press: Established in 1983, AlphaMed Press with offices in Durham, NC, San Francisco, CA, and Belfast, Northern Ireland, publishes two other internationally renowned peer-reviewed journals: STEM CELLS, celebrating its 39th year, is the world's first journal devoted to this fast paced field of research. The Oncologist, also a monthly peer-reviewed publication, entering its 26th year, is devoted to community and hospital-based oncologists and physicians entrusted with cancer patient care. All three journals are premier periodicals with globally recognized editorial boards dedicated to advancing knowledge and education in their focused disciplines.
About Wiley: Wiley, a global company, helps people and organizations develop the skills and knowledge they need to succeed. Our online scientific, technical, medical and scholarly journals, combined with our digital learning, assessment and certification solutions, help universities, learned societies, businesses, governments and individuals increase the academic and professional impact of their work. For more than 200 years, we have delivered consistent performance to our stakeholders. The company's website can be accessed at http://www.wiley.com.
About Regenerative Medicine Foundation (RMF): The non-profit Regenerative Medicine Foundation fosters strategic collaborations to accelerate the development of regenerative medicine to improve health and deliver cures. RMF pursues its mission by producing its flagship World Stem Cell Summit, honouring leaders through the Stem Cell and Regenerative Medicine Action Awards, and promoting educational initiatives.
---