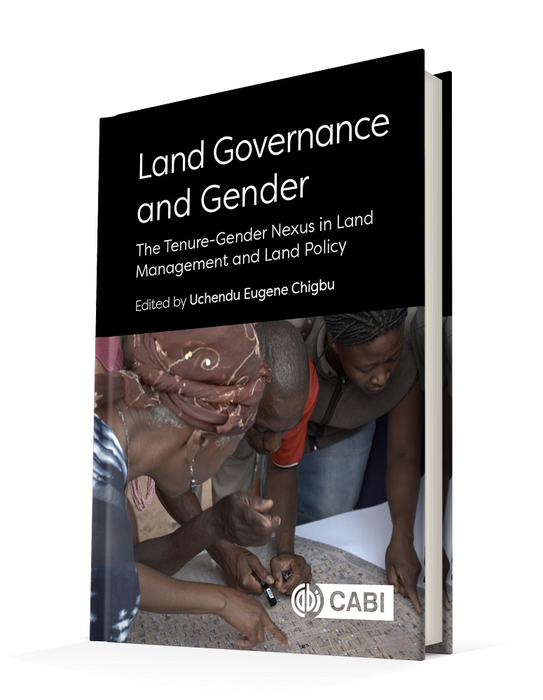 CABI has published a new free open access book which delivers novel conceptual and empirical studies surrounding the design and evaluation of land governance from a gender-based perspective.
The book, 'Land Governance and Gender: The Tenure-Gender Nexus in Land Management and Land Policy,' edited by Professor Ucehendu Eugene Chigbu, includes a specific focus on land management approaches, land policy issues, advances in pro-poor land tenure and land-based gender concerns.
It includes theoretical or empirical studies on land governance and gender from a diverse group of countries and provides the basis for a new land administration theory to be set against conventional land administration approaches. It also offers, in an accessible manner, a range of new tools for design and evaluation of land management interventions.
Professor Chigbu, who is an Assosiate Professor in Land Administration at the Namibia University of Science and Technology, said, "The book explores the interesting and highly relevant themes of Islamic tenure, reverse migration, matriarchy/matrilineal systems, structural inequality, tenure-responsive planning, land-related instabilities and COVID-19 as well as urban-rural land concerns, women's tenure bargaining and tenure-gender nexus concerns in developing and developed countries."
Part 1 of the book covers Concepts, debates and perspectives on the governance and gender aspects of land while Part 2 looks at Tenure-gender dimensions in land management, land administration and land policy. Part 3 covers Applications and experiences: techniques, strategies, tools, methods, and case studies and Part 4 focuses on Land governance, gender, and tenure innovations.
Case studies discussed include China, Ethiopia, Ghana, Lesotho, Germany, Mexico, Mozambique, Rwanda and South Korea.
David Hemming, Commissioning Editor at CABI, said, "This book is a valuable asset for students and researchers in land governance, urban and rural planning, international development, natural resource management, agriculture, community development, and gender studies. It is also useful for land practitioners, including those working within international organizations."
Media enquiries
Wayne Coles, Communications Manager, CABI, email: w.coles@cabi.org Tel: +44 (0)1491 829395
Images
Images of the book cover and Professor Uchendu Eugene Chigbu are available.
Book launch
The book will be launched by Uchendu Eugene Chigbu online as part of the Land Governance and Societal Development conference at 2pm (CST) on 8 December, 2021. You can register to attend here.
The Land Governance and Societal Development conference is a three-day e-Conference that will engage global stakeholders and further the discussion on land governance within societal development discourse to diagnose and promote knowledge exchanges on societal concerns and explore solutions for improvements within the land sector.
About Uchendu Eugene Chigbu
Uchendu Eugene Chigbu is Associate Professor in Land Administration at the Namibia University of Science and Technology, an institution recognized as a Centre of Excellence on Land Governance in Africa by the African Union (through its Network of Excellence on Land Governance initiative). He has more than ten years of professional experience in formulating land methods for addressing societal challenges. He co-chairs the International Research Cluster of the Global Land Tool Network (UN-Habitat). His most impactful work in land administration is the Tenure Responsive Land Use Planning: A Guide for Country Level Implementation, which the UN-Habitat has adopted for piloting in the countries of the Global South. He sits on the Editorial Boards of the journals Land Use Policy and Local Development & Society, among many other journals focusing on land governance.
About CABI
CABI is an international not-for-profit organisation that improves people's lives by providing information and applying scientific expertise to solve problems in agriculture and the environment. Our 50 member countries guide and influence our core areas of work, which include International Development and Publishing. CABI produces key scientific publications, including CAB Abstracts and Global Health. We also publish multimedia compendia, books, eBooks and full text electronic resources aiming to further science and its application to real life. CABI invests its publishing surpluses directly into development projects, helping to improve livelihoods worldwide.
For more information go to www.cabi.org
Facebook: www.facebook.com/CABI.Development
Twitter: www.twitter.com/CABI_News (@CABI_News)
---