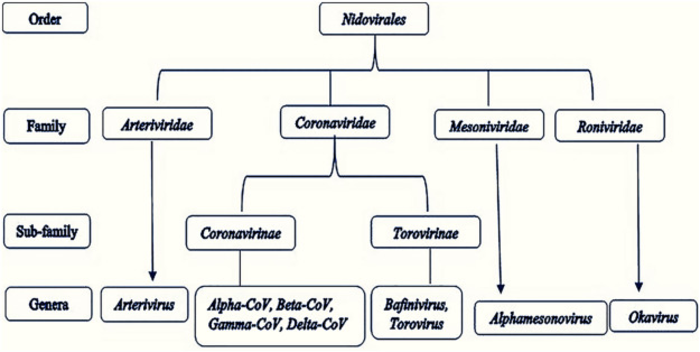 SARS-CoV-2 A Critical Review of Its History, Pathogenesis, Transmission, Diagnosis and Treatment
https://doi.org/10.1016/j.bsheal.2020.11.002
The concern regarding the new viral strain "Severe Acute Respiratory Syndrome Coronavirus-2" (acronym SARS-CoV-2) and diseases it causes (COVID-19) is well deserved at all levels. The incidence of COVID-19 infection and infectious patients are increasing at a high rate. Coronaviruses (CoVs), enclosed positive-sense RNA viruses, are distinguished by club-like spikes extending from their surface, an exceptionally large genome of RNA, and a special mechanism for replication.
Coronaviruses are associated with a broad variety of human and other animal diseases spanning from enteritis in cattle and pigs and upper chicken respiratory disease to extremely lethal human respiratory infections. With World Health Organization (WHO) declaring COVID-19 a pandemic, the authors of this article have provided a detailed review of coronaviruses discussing their history, current situation, coronavirus classification, pathogenesis, structure, mode of action, diagnosis and treatment, the effect of environmental factors, risk reduction and guidelines to understand the virus and develop ways to control it.
Summary
RT-PCR has become viable choice for diagnosis of human CoV, as multiplex real-time RT-PCR assays have been developed.
SARS-CoV-2 is quite similar to bat-SARS such as coronavirus 3CLpro sharing 99.02% of sequence identity.
The binding site for substrates is situated in a cleft between domain I and domain II in SARS-CoV-2 3CLpro.
Global cooperation of all government and public health authorities is critical for managing the COVID-19 pandemic.
Keywords: Corona viruses, RNA viruses, SARS-CoV-2, COVID-19, Biocidal agents
# # # # # #
Biosafety and Health is sponsored by the Chinese Medical Association, managed by National Institute for Viral Disease Control and Prevention, Chinese Center for Disease Control and Prevention (China CDC).
For more information, please visit https://www.journals.elsevier.com/biosafety-and-health
Editorial Board: https://www.sciencedirect.com/journal/biosafety-and-health/about/editorial-board
Biosafety and Health is available on ScienceDirect (https://www.sciencedirect.com/journal/biosafety-and-health).
Submissions to Biosafety and Health may be made using Editorial Manager® (https://www.editorialmanager.com/bsheal/default.aspx).
CiteScore: 5.2
ISSN 2590-0536
# # # # # #
---