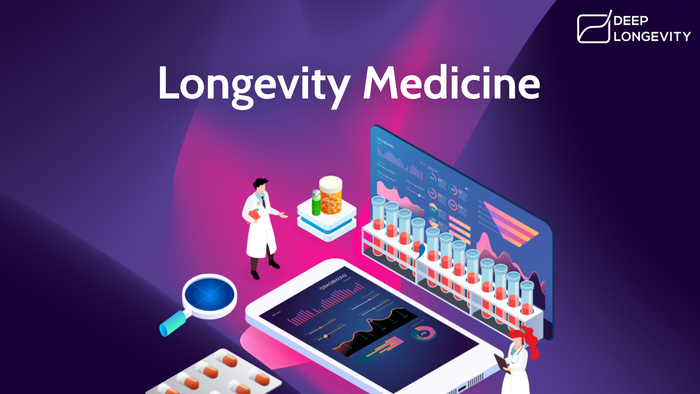 Wednesday, December 8th, 2021 -- As described in the recent Lancet Healthy Longevity article titled, "Longevity medicine: upskilling the physicians of tomorrow", for the longevity biotechnology industry to emerge, physicians need to be updated on the recent advances in aging research, diagnostic techniques, and clinical trial management. Recently, the group published a book chapter titled AI in Longevity Medicine describing fundamental aspects of this emerging field.
Today, a group of scientists and medical doctors including scientists from Deep Longevity, a company mainly engaged in the development of explainable artificial intelligence systems to track aging rates on multiple levels, announced a research collaboration and the launch of the Longevity Medicine 201, extended longevity medicine course for Physicians (www.longevity.degree). It is the second course in the Longevity Medicine course series, the first one being the 2.5h-hour Longevity Medicine 101, introduction to Longevity Medicine for Physicians course that is already available on multiple platforms and received CME accreditation in August 2021.
The first course of the series, the CME-accredited 2.5-hour Introduction to Longevity Medicine 101 course was launched in December 2020 and became an instant sensation with over 2500 medical professionals registering on multiple platforms. It was originally developed by a group of physicians and scientists to facilitate the adoption of biomarkers of aging and longevity, as well as the latest advances in aging research in the medical community. An expanded team with multiple volunteer medical doctors, medical students, and scientists is working on expanding the availability of longevity medicine education.
Intended for medical professionals and students, the Longevity Medicine 201 course seeks to be a comprehensive, well-structured, reliable resource. It contains a 200-slide curriculum of core lectures providing an introduction to the field, lecture slides, lecture notes, quizzes, guest lectures, as well as references to additional reading materials and online resources. AI technology was used to narrate the Longevity Medicine 201 course, since it is easy to re-narrate and modify as new content becomes available. The course incorporates the latest advances in AI in healthcare, and aging research and democratizes access to longevity healthcare.
"In the past decade, many technologies including artificial intelligence and aging research converged allowing for a new field of science and medicine to emerge - longevity medicine. Longevity medicine goes beyond the traditional preventative medicine which aims to prevent disease and instead aims to keep the patient in the age of optimal performance in the context of the entire lifespan. The longevity medicine course is designed to bridge the gap between laboratory science and medicine, provide an update on the latest advances in aging research and AI, and prepare the physicians for the new type of clinical trials and patient management", said Alex Zhavoronkov, PhD, the co-founder of the Longevity Medicine course and Chief Longevity Officer at Deep Longevity.
"Longevity medicine is a symbiosis of AI and HI which allow drawing trajectories from a multitude of highly heterogeneous, longitudinal and multidimensional data on each individual patient at a specific time, creating a digital extension of healthcare. There is a gap between developments in longevity medicine science – geroscience, biogerontology, omics, AI, imaging – and the clinic. Only as a collaborative endeavor, doctors can be offered a curriculum and then to apply the knowledge to bridge that gap and actually implement diagnostic and therapeutic approaches in the clinic ", said Evelyne Bischof, MD, MPH, longevity physician, co-founder of the course.
"Aging is the greatest risk factor for most diseases. Clearly, the ability of physicians to target aging will become increasingly important with an aging population. Longevity Medicine is, at its core, personalized preventative medicine and should be central in any modern medical education. We have emerging evidence that we can increase healthy aging and postpone age-related diseases. As physicians, it is our sworn duty to reduce suffering, and longevity medicine will become critical for keeping elderly individuals disease-free as long as possible. ", said Morten Scheibye-Knudsen, MD, PhD, associate professor, University of Copenhagen.
"Modern geroscience has accumulated a rich arsenal of knowledge about the mechanisms of aging and approaches to prolonging the active period of life. This also applies to practical things like daily regimen, diet, exercise, geroprotectors, and biomarkers of aging. In addition, there are available tools for managing your longevity (diagnostics + recommendations). This is what our course is, aimed at the widest audience of doctors interested in the prevention of age-related diseases", said Prof. Alexey Moskalev, Corresponding Member of the Russian Academy of Sciences, He is a member of the editorial boards of Ageing research reviews, Aging, Biogerontology, Frontiers in Genetics of Aging, Aging and Disease, Stem Cell Reviews and Reports, Gerontology, Advances in Gerontology.
About Deep Longevity
Deep Longevity is a wholly owned subsidiary of Endurance Longevity (SEHK:0575.HK), a publicly-traded company. Deep Longevity is developing explainable artificial intelligence systems to track the rate of aging at the molecular, cellular, tissue, organ, system, physiological, and psychological levels. It is also developing systems for the emerging field of longevity medicine enabling physicians to make better decisions on the interventions that may slow down or reverse the aging processes. Deep Longevity developed Longevity as a Service (LaaS)© solution to integrate multiple deep biomarkers of aging dubbed "deep aging clocks" to provide a universal multifactorial measure of human biological age. Originally incubated by Insilico Medicine, Deep Longevity started its independent journey in 2020 after securing a round of funding from the most credible venture capitalists specializing in biotechnology, longevity, and artificial intelligence. ETP Ventures, Human Longevity and Performance Impact Venture Fund, BOLD Capital Partners, Longevity Vision Fund, LongeVC, co-founder of Oculus, Michael Antonov, and other expert AI and biotechnology investors supported the company. Deep Longevity established a research partnership with one of the most prominent longevity organizations, Human Longevity, Inc. to provide a range of aging clocks to the network of advanced physicians and researchers.
https://www.deeplongevity.com/
About Endurance Longevity (Stock code: 0575.HK)
Endurance Longevity is a diversified investment group based in Hong Kong currently holding various corporate and strategic investments focusing on the healthcare, wellness and life sciences sectors. The Group has a strong track record of investments and has returned approximately US$298 million to shareholders in the 21 years of financial reporting since its initial public offering.
---