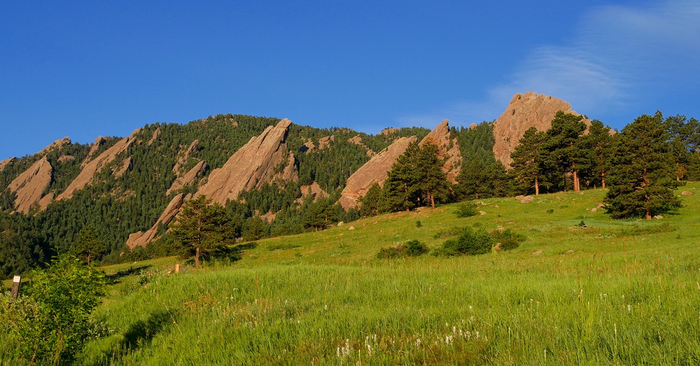 Understanding which types of landscapes people prefer when enjoying the outdoors is important information for managers and planners tasked with protecting and maintaining these resources. Now, identifying which landscapes are preferred by outdoor recreationists has gotten easier with digital help, according to a recent published study. Researchers from the Institute of Outdoor Recreation and Tourism from Utah State University's Quinney College of Natural Resources used a computer vision algorithm, a system that automatically classifies content from social media photographs, to identify preferred outdoor landscapes and compared the results with preferences reported from on-site visitor surveys.
Nearly 9,400 social media photographs from Flickr taken along Colorado's Front Range were analyzed and labeled by the Google Cloud Vision algorithm. The computer picks were reasonably consistent with those chosen by actual humans (78.6% mean agreement), though the system wasn't flawless. Computer classifications of preferred landscapes worked better with certain features; it performed best for images of water, structures, and agricultural lands. Forests produced mixed results. But the high degree of accuracy using this method showed promise for applying social media data to recreation research, the authors said.
The computer algorithms were accurate at quantifying general types of visitor experiences. However, to determine which landscapes recreationists prefer, researchers recommended combining information from on-site surveys to the computer-generated algorithms. They found social media photos did not always reflect recreationists' stated preferences, likely because there were too many important features to fit into a single photograph, or possibly the presence of a feature along the trail that prompted unusual attention.
"Photos from social media have a lot of potential to give park managers more information on visitors' experiences and preferences," said Emily Wilkins, lead author. "Social media content shouldn't be used to replace visitor surveys but can be used in different and complementary ways."
Another finding from the research was that visitors who planned to share their park photographs on social media preferred similar landscapes to those who did not use social media. Nearly half of all visitors said they would share photos of their park visit on social media.
The study illustrates how computer vision algorithms can be used effectively when caution is employed to avoid the potential pitfalls with this rapidly evolving technology, the authors said.
The Institute of Outdoor Recreation and Tourism at Utah State University conducts research and outreach designed to provide data, information and knowledge that leads to a better understanding of how to best provide outdoor recreation opportunities.
---
Journal
Landscape and Urban Planning
Method of Research
Imaging analysis
Subject of Research
Not applicable
Article Title
Promises and pitfalls of using computer vision to make inferences about landscape preferences: Evidence from an urban-proximate park system
Article Publication Date
1-Mar-2022