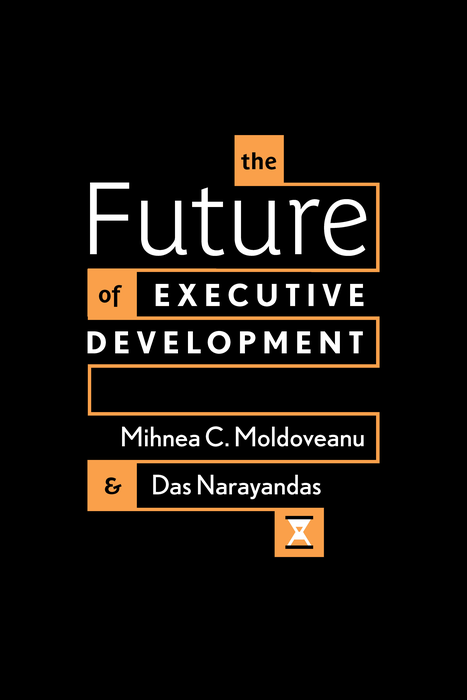 Toronto – Executive development programs have entered a period of rapid transformation, driven by digital disruption and a widening gap between the skills that participants and their organizations demand and those provided by their executive programs. A new book, The Future of Executive Development, delves into the objective functions of the executive development space, analyzes the demand characteristics of the learners and the organizations that pay for the programs, and the ways in which business schools and other providers deliver (or not) on the promises they make regarding skill development and the continued value of learning to the organization.
Authored by Prof. Mihnea Moldoveanu of the University of Toronto's Rotman School of Management and Prof. Das Narayandas of Harvard Business School, the book shows how a trio of disruptive forces (disintermediation, disaggregation and decoupling), which have figured prominently in industries disrupted by digitalization, are reshaping the structure of demand for executive development. The authors look at the future of executive development in the era of self-refining algorithms (aka machine learning) massively distributed learning engines and wearable sensors, and offer a compass for CEOs and CLOs guiding executive development design. The book, published by Stanford University Press and based on a five-year study undertaken by the Rotman School of Management and the Harvard Business School, offers a guide for to optimize the learning production function for both skill acquisition and skill transfer – the two charges that the new skills economy has laid out for educational enterprises at any level.
Mihnea Moldoveanu is professor of economic analysis and policy, the Director of Desaultels Centre for Integrative Thinking and the Marcel Desautels Professor of Integrative Thinking at the Rotman School of Management. He is the Founder and Director of Rotman Digital, the Self Development Lab, the Leadership Development Lab and the Mind Brain Behavior Institute. He is also a serial high technology entrepreneur, having founded Redline Communications Inc, a leading manufacturer of broadband wireless networks and builder of the world's first 4G network, and led the company to two IPO's in London and Toronto after raising $126MM in equity capital. The Future of Executive Development is his seventh book. Past titles include The Design of Insight: How to Solve Any Business Problem, with Olivier Leclerc, Stanford University Press, 2015; Epinets: The Epistemic Structure and Dynamics of Social Networks with Rotman Professor Joel Baum, Stanford University Press, 2014; Inside Man: The Discipline of Modeling Human Ways of Being, Stanford University Press, 2011; and Master Passions: Emotion, Narrative and the Development of Culture with Nitin Nohria, The MIT Press, 2002.
Das Narayandas is the Edsel Bryant Ford Professor of Business Administration at the Harvard Business School and Senior Associate Dean, Harvard Business Publishing. His academic credentials include a Bachelor of Technology degree in Engineering from the Indian Institute of Technology, Bombay (IITB), a Post-Graduate Diploma in Management from the Indian Institute of Management, Bangalore (IIMB), and a Ph.D. in Management from Purdue University. Professors Moldoveanu and Narayandas wrote the book while they were both leading the executive development programs at Rotman and Harvard, taking a dual vantage point: of executives facing a real predicament requiring prompt action informed by relevant research and real time experimentation and inquiry; and of researchers building models of an unfolding phenomenon.
Advance Praise for The Future of Executive Development
"What's the best way to develop your best people? Moldoveanu and Narayandas answer this essential leadership question, at a moment in time when our competitiveness―if not our survival―depends on our leaders' ability to learn. After reading this rigorous, engaging book, my key takeaway is 'don't just trust your instincts." -- Frances Frei, UPS Professor of Service Management ― Harvard Business School

"This book is as timely, especially after COVID-19, as it is precise in describing a pressing problem: the training and up-skilling of executives. The unprecedented changes that company executives will face in this new era, combined with the extraordinary developments in new digital affordances for training delivery, make this book essential for anyone who manages people." -- Sanjay Sarma, Professor and Vice President for Open Learning ― MIT

"This important book provides academics and practitioners the vocabulary for understanding what new skill building systems and strategies are required to equip executives to compete in the digital age. Thoughtful and thorough, The Future of Executive Development will be your guide to the disruption of corporate learning, with respect to both means and ends." -- Martin Reeves, Managing Director and Senior Partner ― Boston Consulting Group

"The Future of Executive Development gives us a clear and exciting roadmap to address one of the great management challenges of our time: reinventing the way leaders learn, so they can stay ahead of the curve." -- Matthew Breitfelder, Global Head of Human Capital ― Apollo Global Management
Bringing together high-impact faculty research and thought leadership on one searchable platform, the new Rotman Insights Hub offers articles, podcasts, opinions, books and videos representing the latest in management thinking and providing insights into the key issues facing business and society. Visit www.rotman.utoronto.ca/insightshub.
The Rotman School of Management is part of the University of Toronto, a global centre of research and teaching excellence at the heart of Canada's commercial capital. Rotman is a catalyst for transformative learning, insights and public engagement, bringing together diverse views and initiatives around a defining purpose: to create value for business and society. For more information, visit www.rotman.utoronto.ca
-30-
For more information:
Ken McGuffin
Manager, Media Relations
Rotman School of Management
University of Toronto
E-mail:mcguffin@rotman.utoronto.ca
---