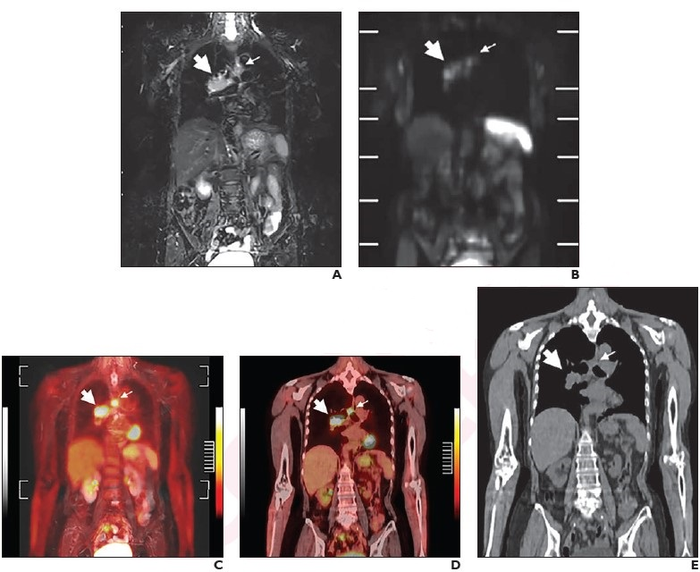 Leesburg, VA, December 9, 2021—According to an article in ARRS' American Journal of Roentgenology (AJR), MRI—with or without FDG PET coregistration—can improve the staging of patients with small cell lung cancer (SCLC).
"FDG PET/CT, whole-body MRI, and coregistered FDG PET/MRI outperformed conventional tests for various staging endpoints in patients with SCLC," concluded first author Yoshiharu Ohno from the Fujita Health University School of Medicine in Japan. Whole-body MRI and FDG PET/MRI outperformed FDG PET/CT for T category and thus TNM stage, "indicating utility of MRI for assessing extent of local invasion in SCLC."
Ohno and colleagues' prospective study included 98 patients (64 men, 34 women; median age, 74 years) with SCLC who underwent conventional staging tests (brain MRI; neck, chest, and abdominopelvic CT; bone scintigraphy), FDG PET/CT, and FDG PET/MRI within 2 weeks before treatment. After MRI technologists performed coregistration via proprietary software (Canon Medical Systems), two nuclear medicine physicians and two chest radiologists independently reviewed the examinations in separate sessions.
In patients with SCLC, accuracy for T category was higher (p<.05) for whole-body MRI (94.9%) and FDG PET/MRI (94.9%) than for FDG PET/CT (85.7%). Meanwhile, TNM stage accuracy was higher (p<.05) for whole-body MRI (88.8%) and FDG PET/MRI (86.7%) than for FDG PET/CT (77.6%) and conventional staging tests (72.4%).
"These additional observations may relate to a superior role of MRI in assessing the extent of local soft tissue invasion by tumor, as has been observed in settings other than SCLC," added the authors of this AJR article.
An electronic supplement to this AJR article is available here.
---
Founded in 1900, the American Roentgen Ray Society (ARRS) is the first and oldest radiological society in North America, dedicated to the advancement of medicine through the profession of radiology and its allied sciences. An international forum for progress in medical imaging since the discovery of the x-ray, ARRS maintains its mission of improving health through a community committed to advancing knowledge and skills with an annual scientific meeting, monthly publication of the peer-reviewed American Journal of Roentgenology (AJR), quarterly issues of InPractice magazine, AJR Live Webinars and Podcasts, topical symposia, print and online educational materials, as well as awarding scholarships via The Roentgen Fund®.
MEDIA CONTACT:
Logan K. Young, PIO
44211 Slatestone Court
Leesburg, VA 20176
703-858-4332
---
Journal
American Journal of Roentgenology
Method of Research
Observational study
Subject of Research
People
Article Title
Small Cell Lung Cancer Staging: Prospective Comparison of Conventional Staging Tests, FDG PET/CT, Whole-Body MRI, and Coregistered FDG PET/MRI
Article Publication Date
8-Dec-2021
COI Statement
Dr. Ohno received a research grant from Canon Medical Systems Corporation, which also supported this work financially and technically.