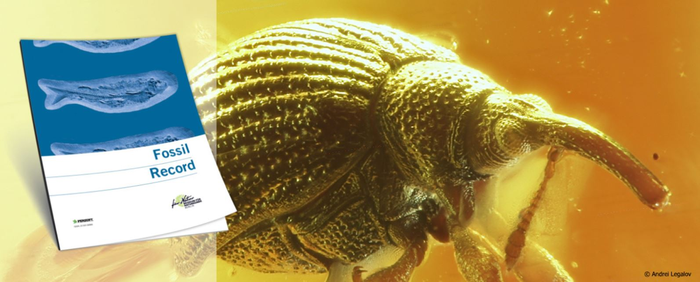 Having been publishing its historically renowned scientific journals Deutsche Entomologische Zeitschrift (DEZ) and Zoosystematics and Evolution (ZSE) in partnership with the scholarly publisher Pensoft and its ARPHA Platform since 2014, the Natural History Museum of Berlin (Museum für Naturkunde Berlin) now extends the collaboration by moving a third signature journal: Fossil Record.
Launched in 1998 under the name Mitteilungen aus dem Museum für Naturkunde Berlin, Geowissenschaftliche Reihe, Fossil Record is the Natural History Museum of Berlin's palaeontological journal. Published in two issues a year, the open-access scientific outlet covers research from all areas of palaeontology, including the taxonomy and systematics of fossil organisms, biostratigraphy, palaeoecology, and evolution. It deals with all taxonomic groups, including invertebrates, microfossils, plants, and vertebrates.
Following its move to ARPHA, Fossil Record is to utilise the whole package of ARPHA Platform's services, including its fast-track, end-to-end publishing module, designed to appeal to readers, authors, reviewers and editors alike.
With ARPHA, each submitted manuscript is carried through the review, editing, publication, dissemination and archiving stages without leaving the platform's collaboration-centred online environment. The articles are made available in PDF and machine-readable JATS XML formats, as well as semantically enriched HTML for better and mobile-friendly reader experience.
As a result, the journal's articles are as easy to discover, access, reuse and cite as possible. Once published, the content is indexed and archived instantaneously and its underlying data exported to relevant specialised databases. Simultaneously, a suite of various metrics is enabled to facilitate tracking the usage of articles and sub-article elements, such as figures and tables.
"We have deeply enjoyed our collaboration with the Natural History Museum of Berlin for the past seven years that started with two great journals moving to our scholarly portfolio and advanced open access. Now, I am delighted to strengthen this wonderful partnership by welcoming Fossil Record and its fantastic editorial team to the families of ARPHA and Pensoft. I am certain that together we will not only repeat the success we had with DEZ and ZSE, but will actually build on it," says Prof. Dr Lyubomir Penev, founder and CEO at ARPHA and Pensoft.

Additional information:
About the Natural History Museum of Berlin:
The "Museum für Naturkunde – Leibniz Institute for Evolution and Biodiversity Science" is an integrated research museum within the Leibniz Association. It is one of the most important research institutions worldwide in the areas of biological and geological evolution and biodiversity.
The Museum's mission is to discover and describe life and earth – with people, through dialogue. As an excellent research museum and innovative communication platform, it wants to engage with and influence the scientific and societal discourse about the future of our planet, worldwide. Its vision, strategy and structure make the museum an excellent research museum. The Natural History Museum of Berlin has research partners in Berlin, Germany and approximately 60 other countries. Over 700,000 visitors per year as well as steadily increasing participation in educational and other events show that the Museum has become an innovative communication centre that helps shape the scientific and social dialogue about the future of our earth.
About Pensoft:
Pensoft is an independent academic publishing company, well-known worldwide for its innovations in the field of semantic publishing, as well as for its cutting-edge publishing tools and workflows. In 2013, Pensoft launched the first ever end to end XML-based authoring, reviewing and publishing workflow, as demonstrated by the Pensoft Writing Tool (PWT), now upgraded to the ARPHA Publishing Platform. Flagship titles include: ZooKeys, PhytoKeys, MycoKeys, Biodiversity Data Journal, Neobiota, Research Ideas and Outcomes (RIO), Metabarcoding and Metagenomics (MBMG) and many more.
About ARPHA:
ARPHA is the first end-to-end, narrative- and data-integrated publishing solution that supports the full life cycle of a manuscript, from authoring to reviewing, publishing and dissemination. ARPHA provides accomplished and streamlined production workflows that can be customized according to the journal's needs. The platform enables a variety of publishing models through a number of options for branding, production and revenue models to choose from.
---