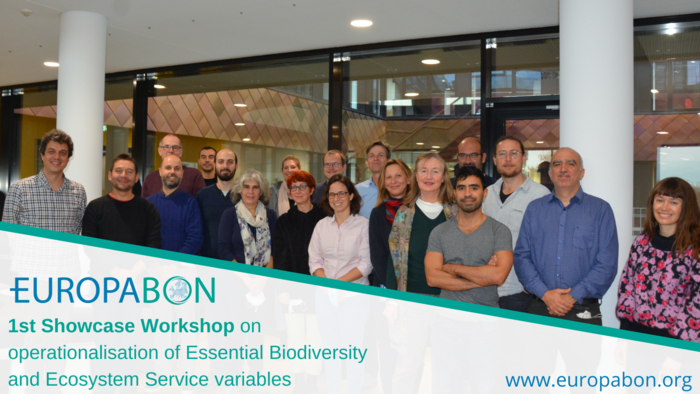 The Europa Biodiversity Observation Network (EuropaBON) project strives to assess data streams and gaps in biodiversity monitoring across Europe and to propose a cost-effective European monitoring framework using the Essential Biodiversity Variables.
Against this background, EuropaBON organised the first of two workshops which aimed to demonstrate how the Essential Biodiversity Variables (EBVs) and Essential Ecosystem Service Variables (EESVs) provide timely and relevant data for EU member states and regions to support biodiversity assessments of the European Commission and of international bodies such as the UN Convention on Biological Diversity and IPBES.
"Biodiversity is our life support and it is urgent to design a monitoring system that supports an effective response to the biodiversity crisis. The Essential Biodiversity Variables will provide useful monitoring information for multiple European policies: from the implementation of Nature protection directives to more sustainable use of biological resources in the economy" says Dr. Nestor Fernandez, leader of the project's policy showcases.
The event took place from 17 to 19 November 2021 at the German Centre for Integrative Biodiversity research (iDiv), Leipzig, Germany. The workshop adopted a hybrid format, allowing partners and stakeholders to both physically and virtually participate in the meeting. As such, more than 30 people attended online and around 30 more gathered physically at iDiv.
Led by the EuropaBON coordinator Prof. Henrique Pereira and the leader of the project's policy showcases Dr. Nestor Fernandez, the workshop brought together biodiversity scientists, monitoring experts and end-users of biodiversity data such as European agencies and NGOs. The workshop laid the foundation for designing data and modelling needs to transition from raw biodiversity observations to policy-relevant biodiversity information.
After three days of insightful presentations and discussions, the first EuropaBON showcase workshop is considered to be a great achievement for the project, as it allowed all of the participants to discuss the development of EBVs and EESVs and related biological indicators of biodiversity change that better inform the European Nature conservation Directives (such as the Habitats and the Water Frameworks directives) and bioeconomy and restoration policies. The meeting was a great networking opportunity involving representatives of related Horizon Projects such as SOILGUARD, and MERLIN.
****************************************
This project receives funding from the European Commission's Horizon 2020 research and innovation programme under Grant Agreement No 101003553.
---