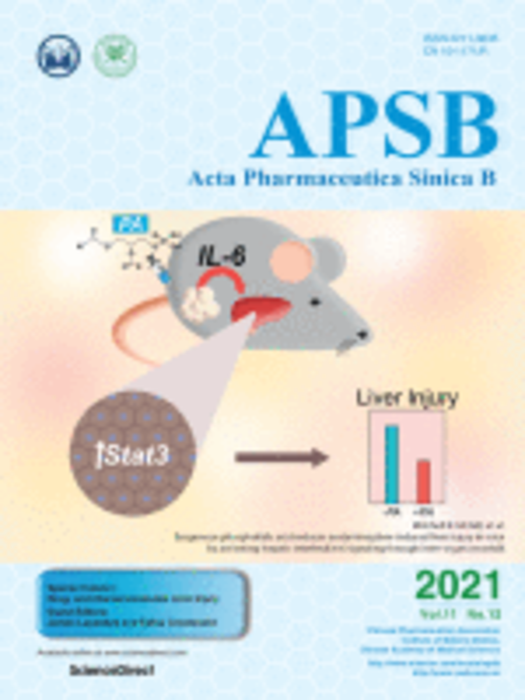 Acta Pharmaceutica Sinica B Volume 11, Issue 12 Publishes
https://www.sciencedirect.com/journal/acta-pharmaceutica-sinica-b/vol/11/issue/12
Acta Pharmaceutica Sinica B (APSB) was founded with the goal of creating a global high-level forum centred around drug discovery and pharmaceutical research/application. APSB was included by Chemical Abstracts in 2011, accepted by PubMed Central in 2015, indexed by Science Citation Index in 2017 and has evolved to become one of the most important international journals in the field of pharmaceutical sciences.
APSB is a monthly journal, in English, which publishes significant original research articles, rapid communications and high-quality reviews of recent advances in all areas of pharmaceutical sciences — including pharmacology, pharmaceutics, medicinal chemistry, natural products, pharmacognosy, pharmaceutical analysis and pharmacokinetics.
Special Column on Drug- and Chemical-Induced Liver Injury
This issue contains a special column entitled: Drug- and Chemical-Induced Liver Injury edited by James Luyendyk and Dafna Groeneveld, Department of Pathobiology and Diagnostic Investigation, Michigan State University East Lansing, MI, USA.
https://doi.org/10.1016/j.apsb.2021.12.003
https://doi.org/10.1016/j.apsb.2021.12.004
Articles of interest in this column include:
Dual roles of p62/SQSTM1 in the injury and recovery phases of acetaminophen-induced liver injury in mice by Hui Qian, Qingyun Bai, XiaoYang et al. (https://doi.org/10.1016/j.apsb.2021.11.010). Acetaminophen (APAP) overdose can induce liver injury and is the most frequent cause of acute liver failure in the United States. The authors of this article investigated the role of p62/SQSTM1 (referred to as p62) in APAP-induced liver injury (AILI) in mice.
The key role of gut–liver axis in pyrrolizidine alkaloid-induced hepatotoxicity and enterotoxicity by Yisheng He, Jiang Ma, Xiaoyu Fan et al. (https://doi.org/10.1016/j.apsb.2021.07.013). The authors of this article provide mode-of-action evidence of PA-induced enterotoxicity and highlight the importance of gut barrier function in PA-induced liver injury.
Hepatotoxicity reports in the FDA adverse event reporting system database: A comparison of drugs that cause injury via mitochondrial or other mechanisms by Payal Rana, Michael D. Aleo, Xuerong Wen and Stephen Kogut. (https://doi.org/10.1016/j.apsb.2021.05.028). Drug-induced mitochondrial toxicity (DILI) has been shown to play an essential role in various forms of DILI, especially in idiosyncratic liver injury. This study examines liver injury reports submitted to the Food and Drug Administration (FDA) Adverse Event Reporting System (FAERS) for drugs associated with hepatotoxicity via mitochondrial mechanisms compared with non-mitochondrial mechanisms of toxicity.
Other articles in the Special Column on Drug- and Chemical-Induced Liver Injury include:
Review Articles
Preclinical models of idiosyncratic drug-induced liver injury (iDILI): Moving towards prediction
Antonio Segovia-Zafra, Daniel E. Di Zeo-Sánchez, Carlos López-Gómez, Zeus Pérez-Valdés, ... Marina Villanueva-Paz
Mechanisms of immune checkpoint inhibitor-mediated liver injury
Layla Shojaie, Myra Ali, Andrea Iorga, Lily Dara
Recommendations for the use of the acetaminophen hepatotoxicity model for mechanistic studies and how to avoid common pitfalls
Hartmut Jaeschke, Olamide B. Adelusi, Jephte Y. Akakpo, Nga T. Nguyen et al.
Environmental toxicant-induced maladaptive mitochondrial changes: A potential unifying mechanism in fatty liver disease?
Regina D. Schnegelberger, Anna L. Lang, Gavin E. Arteel, Juliane I. Beier
Environmental exposure as a risk-modifying factor in liver diseases: Knowns and unknowns
Juliane I. Beier, Gavin E. Arteel
Original Articles
Mechanistic studies of PEG-asparaginase-induced liver injury and hepatic steatosis in mice
Gundala Venkata Naveen Kumar, Keito Hoshitsuki, Sanjay Rathod, Manda J. Ramsey et al.
Proteomics and metabolic phenotyping define principal roles for the aryl hydrocarbon receptor in mouse liver
Jian Jin, Banrida Wahlang, Monika Thapa, Kimberly Z. Head et al.
Exogenous phosphatidic acid reduces acetaminophen-induced liver injury in mice by activating hepatic interleukin-6 signaling through inter-organ crosstalk
Melissa M. Clemens, Stefanie Kennon-McGill, Joel H. Vazquez, Owen W. Stephens et al.
Bile acid homeostasis in female mice deficient in Cyp7a1 and Cyp27a1
Daniel Rizzolo, Bo Kong, Rulaiha E. Taylor, Anita Brinker et al.
Altered cisplatin pharmacokinetics during nonalcoholic steatohepatitis contributes to reduced nephrotoxicity
Joseph L. Jilek, Kayla L. Frost, Kevyn A. Jacobus, Wenxi He et al.
Other articles published in the issue include:
Review Articles
SARS-CoV-2 cell entry and targeted antiviral development
Zinuo Chen, Ruikun Du, Jazmin M. Galvan Achi, Lijun Rong, Qinghua Cui
Antibody–drug conjugates: Recent advances in linker chemistry
Zheng Su, Dian Xiao, Fei Xie, Lianqi Liu et al.
Strategies to overcome drug resistance using SHP2 inhibitors
Meng Liu, Shan Gao, Reham M. Elhassan, Xuben Hou, Hao Fang
Original Articles
A reporter gene assay for determining the biological activity of therapeutic antibodies targeting TIGIT
Zhihao Fu, Hongchuan Liu, Lan Wang, Chuanfei Yu et al.
DNA-PK inhibition by M3814 enhances chemosensitivity in non-small cell lung cancer
Manni Wang, Siyuan Chen, Yuquan Wei, Xiawei Wei
Bioengineered miR-124-3p prodrug selectively alters the proteome of human carcinoma cells to control multiple cellular components and lung metastasis in vivo
Linglong Deng, Hannah Petrek, Mei-Juan Tu, Neelu Batra et al.
Synergistic effects of autophagy/mitophagy inhibitors and magnolol promote apoptosis and antitumor efficacy
Yancheng Tang, Liming Wang, Tao Yi, Jun Xu et al.
A small molecule UPR modulator for diabetes identified by high throughput screening
Valeria Marrocco, Tuan Tran, Siying Zhu, Seung Hyuk Choi et al.
TMEM16A inhibits angiotensin II-induced basilar artery smooth muscle cell migration in a WNK1-dependent manner
Huaqing Zheng, Xiaolong Li, Xin Zeng, Chengcui Huang et al.
Deubiquitinase JOSD2 stabilizes YAP/TAZ to promote cholangiocarcinoma progression
Meijia Qian, Fangjie Yan, Weihua Wang, Jiamin Du et al.
Target-responsive subcellular catabolism analysis for early-stage antibody–drug conjugates screening and assessment
Hua Sang, Jiali Liu, Fang Zhou, Xiaofang Zhang et al.
A nanocleaner specifically penetrates the blood‒brain barrier at lesions to clean toxic proteins and regulate inflammation in Alzheimer's disease
Ting Lei, Zhihang Yang, Xue Xia, Yuxiu Chen et al.
Short Communication
Baicalin induces ferroptosis in bladder cancer cells by downregulating FTH1
Na Kong, Xiaying Chen, Jiao Feng, Ting Duan et al.
# # # # # #
The Journal of the Institute of Materia Medica, the Chinese Academy of Medical Sciences and the Chinese Pharmaceutical Association.
For more information please visit https://www.journals.elsevier.com/acta-pharmaceutica-sinica-b/
Editorial Board: https://www.journals.elsevier.com/acta-pharmaceutica-sinica-b/editorial-board
APSB is available on ScienceDirect (https://www.sciencedirect.com/journal/acta-pharmaceutica-sinica-b).
Submissions to APSB may be made using Editorial Manager® (https://www.editorialmanager.com/apsb/default.aspx).
CiteScore: 12.5
Impact Factor: 11.614
JIF without self-citation: 10.746
ISSN 2211-3835
# # # # #
---