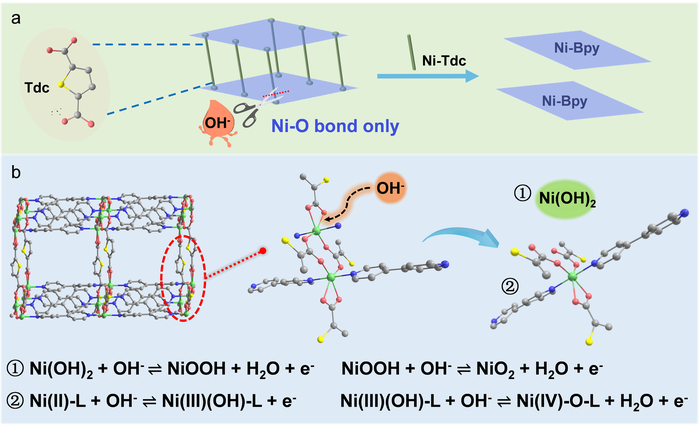 Metal-organic frameworks (MOFs) are crystalline materials whose diverse structures, large surface area, and tunable pore sizes attract considerable attention. Because of their remarkable properties, MOFs have been used in diverse fields. However, most MOFs still suffer from insufficient stability, which severely limits their application. Thus, the design and synthesis of stable size/morphology-controlled MOF nanocrystals is critical but challenging.
Recently, the research team, led by Prof. PANG Huan from Yangzhou University, collaborating with Academician HUANG Wei from Nanjing University of Posts and Telecommunications, realized the design and synthesis of stable size/morphology-controlled 3D pillared-layer [Ni(Tdc)(Bpy)]n MOF (Tdc=thiophene-2,5-dicarboxylate; Bpy=4,4'-bipyridine) nanocrystals based on the synergetic dual-ligand and hard-soft-acid-base (HSAB) strategies.
The dual-ligand strategy can provide unique pillared-layer networks to assemble specific MOFs with diverse properties. Such pillared-layer networks are based on coordination bonds, which confer better structure stability and are more attractive than hydrogen bonds. In addition, one of the reasons for the instability of many MOF crystals may be due to the combination of soft metal cations (Co2+, Zn2+, Ni2+, Cu2+, etc.) with hard carboxylic acid ligands, which does not conform to the HSAB principle.
In the 3D pillared-layer structure of [Ni(Tdc)(Bpy)]n MOF, the Ni2+ centers connect to the N atoms of Bpy to construct stable 1D Ni-Bpy linear chains, and these 1D chains serve as "pillars" to support the 2D Ni-Tdc network structures. The researchers decided to utilize the softer N-containing Bpy organic ligand as a coordination modulator to adjust the morphology transformation of [Ni(Tdc)(Bpy)]n MOF nanocrystals from 1D nanofibers to 2D nanosheets and then to 3D aggregates. This may be due to changes in the amount of Bpy introduced, which causes MOF crystals to grow along 1D Ni-Bpy linear chains or the 2D Ni-Tdc network direction.
The excellent cycling property and charge-discharge mechanism can be verified through the HSAB principle. During the charging and discharging process, the Ni-Tdc network in the MOF framework was removed by OH- in the electrolyte to form Ni(OH)2, while the Ni-Bpy layer was well protected, thus the common capacity contribution of Ni(OH)2 and Ni-Bpy layer provides good cycling stability.
###
See the article:
Dual-ligand and hard-soft-acid-base strategies to optimize metal-organic framework nanocrystals for stable electrochemical cycling performance
https://doi.org/10.1093/nsr/nwab197
---
Journal
National Science Review