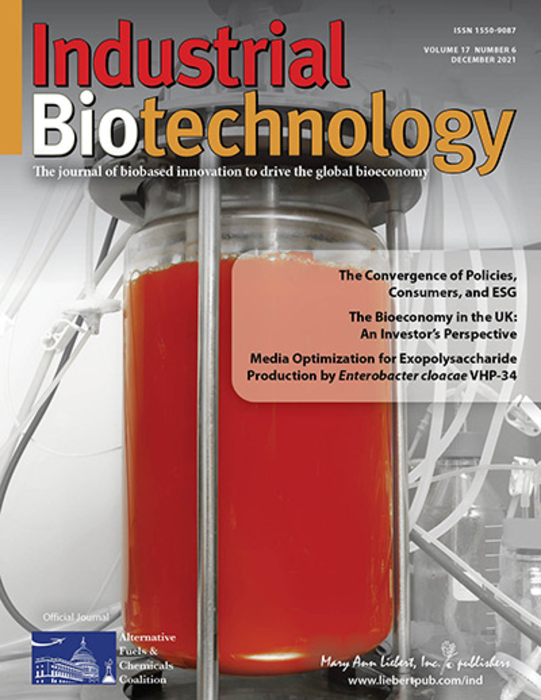 We are pleased to announce that Richard Gross, PhD, Professor, Constellation Chair, Rensselaer Polytechnic Institute (RPI), has been appointed incoming Editor-in-Chief of Industrial Biotechnology, published by Mary Ann Liebert, Inc. We warmly thank Drs. Larry Walker and Heidi Kuehnle for their decades of hard work and dedication to the publication and the field.
"I am honored to accept the role as incoming Editor-in-Chief of Industrial Biotechnology," says Dr. Richard Gross. ""This is an exciting time for the journal as the technological capabilities available to develop cost-effective biocatalytic process are rapidly emerging. We at Industrial Biotechnology will be there to provide a forum to support and nurture ground-breaking developments in the field that are urgently needed to increase the health of our planet."

Professor Gross's research is motivated by the urgent need to develop sustainable chemicals and materials to meet the demands of a rapidly rising global population while mitigating risks of increased green-house gas emissions associated with climate change. Dr. Gross and his group focuses on research that has the potential to revolutionize the way we synthesize next-generation chemicals and materials as well as improve human health. For this purpose, his group is combining the best chemical and biocatalysts to develop efficient green routes to low molar mass molecules, polymers and materials. He is also applying green chemistry principles to develop next-generation therapeutics. For all of this and more, please refer to Dr. Gross's full professional profile.
Please join us in warmly welcoming Dr. Gross to the helm of the journal.

About the Journal
Industrial Biotechnology is the authoritative, peer-reviewed bimonthly research journal focused on biobased industrial and environmental products and processes. Industrial Biotechnology is the Official Journal of the Alternative Fuels & Chemicals Coalition (AFCC). For complete information and a sample issue, please visit the Industrial Biotechnology website.
About the Publisher
Mary Ann Liebert, Inc., publishers is known for establishing authoritative peer-reviewed journals in many promising areas of science and biomedical research. Its biotechnology trade magazine, Genetic Engineering & Biotechnology News (GEN), was the first in its field and is today the industry's most widely read publication worldwide. A complete list of the firm's more than 100 journals, books, and newsmagazines is available on the Mary Ann Liebert, Inc., publishers website.
---