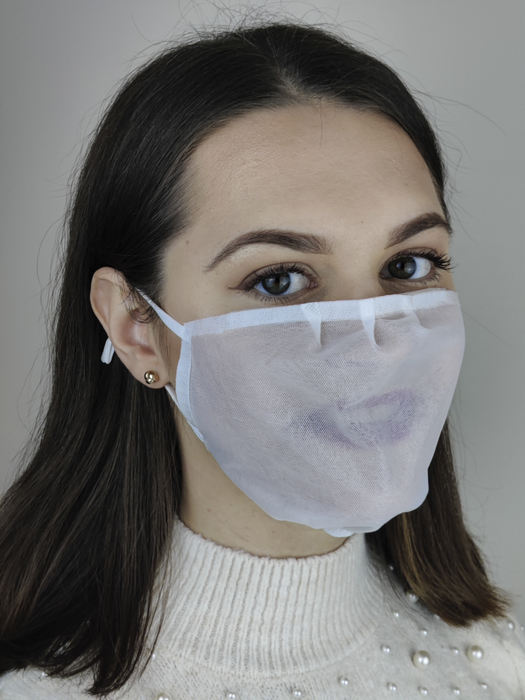 A team of students from Kaunas University of Technology (KTU) and start-up Assero have introduced an innovative see-through mask. The mask prototype won international recognition, as it took the second place in the Silicon Valley Innovation Competition in the Best Overall Innovation category.
The Assero transparent face mask is an effective product designed to protect the airways from external contamination, including particles, bacteria, viruses and pollen. The mask works in the same way as conventional medical masks or respirators. Its main advantage is the mask's transparency, so other people can see facial expressions and emotions.
As effective as respirators
The mask was created by Assero Transparent Mask student team – Lauryna Dabašinskaitė, Goda Masionė, Justinas Masionis, Aistė Pupiūtė and Samanta Čepononytė – from KTU Faculty of Chemical Technology and School of Economics and Business.
The team conceived the idea after discussions with entrepreneurs who were looking for the right technology to realise the concept of a transparent mask. The research group headed by KTU professor Dainius Martuzevičius has developed a nanotechnological process that can be applied to this type of product. The startup Assero was established with the aim of commercialising this product.
The key innovation, developed by Lithuanian researchers, is a thin fibre of nanoparticles sandwiched between two transparent material mask layers. Even though it is extremely thin, the filtration efficiency is not inferior to that of respirators.
"The masks are made of very small filaments that are 15–20 times smaller than a hair. They have pores through which air can penetrate, but dirt and very small particles are effectively trapped," says Prof Martuzevičius.
According to the innovators, there have been previous attempts to create transparent masks, but many have significant flaws: the masks are dewy, uncomfortable to wear, or do not provide adequate protection.
A team of students and start-up researchers has now jointly created a prototype of the transparent mask. Filtration efficiency and other important mechanical properties are further being improved.
For better communication
The team came up with the idea for a transparent mask after noticing that traditional face masks, which cover most of the face, often interfere with understanding people's emotions and increase the social barrier while communicating. Seeing the person's face during social interactions is critical not only for people with speech and hearing disabilities but also for society as a whole. The team saw a need to create masks that would not only keep emotions from being overshadowed but also provide reliable protection.
Product developers plan to adapt translucent face masks to different groups to ensure the best ergonomics. With the right initial investment, the mask manufacturing process is expected to be patented and industrialised. The students, along with a team of start-up researchers, hope to attract the investors' interest in the near future and progress to the next stage of production improvement.
According to Pranas Šileika, the head of Assero, the product still needs to be tested and improved, with mass production planned for the next year.
"We need quality products that allow us to communicate and see other people's emotions," Šileika says. "Based on the market's interest in our solution, I think we should reach a production capacity of several million within a couple of years."
This year, a team of 41 start-ups presented their ideas in the 10th Silicon Valley Innovation Challenge, which finals took place on December 1 2021. KTU teams have been successfully taking part in this competition for seven years. Among the ideas presented by Lithuanian students, the projects Gluco Carer, Sunpatches (operating as an Emplastrum) and BeltaMOM have won prizes in recent years.
---