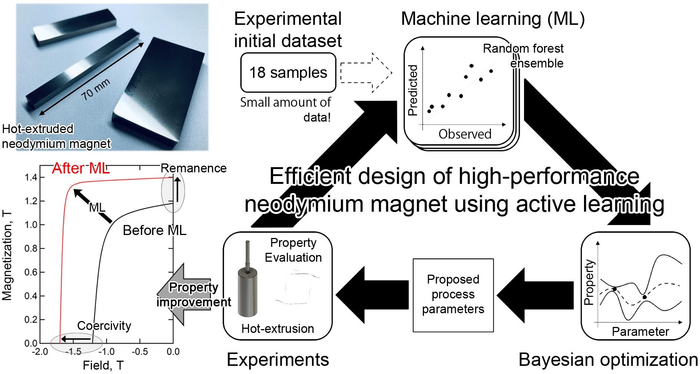 As the electrification of a variety of transportation vehicles is being promoted toward the realization of carbon neutral society, neodymium magnets used in motors are also required to satisfy various property requirements depending on the application. Neodymium magnets, the strongest permanent magnet, are fabricated by complicated processes such as sintering or hot-deformation. Since the permanent magnetic property varies greatly depending on the composition of the raw alloy powders and the conditions in the manufacturing process, optimizing countless combinations of the processing conditions is necessary to improve the magnetic property of neodymium magnets.
The NIMS research team focused on hot-deformed neodymium magnets, which are expected to show better high-temperature properties than conventional sintered magnets. The processing conditions to produce hot-deformed neodymium magnets with excellent permanent magnetic property are predicted through machine learning of the initial dataset on the processing and magnetic properties. Then, the team has demonstrated that the magnetic properties of the hot-deformed magnets can be efficiently maximized when they are fabricated according to the predictions. Using only 18 initial data points, which is usually considered to be too small for machine learning, the permanent magnetic properties have been optimized with only about 40 additional experiments by repeating the property prediction and fabrication experiments using active learning.
The neodymium magnets will need to meet various property requirements in addition to the magnetic properties, such as mechanical and electrical properties, depending on the application. In order to promptly develop the neodymium magnet with desired magnetic properties, the team will continue to accumulate data on various properties such as alloy composition and magnetic and other properties, in addition to the processing conditions examined in this study, and develop a method that can efficiently predict the fabrication conditions to achieve the required magnetic properties using active learning.
***
This work was carried out by a NIMS research team consisting of Guillaume Lambard (Senior Researcher), Taisuke Sasaki (Principal Researcher), Keitaro Sodeyama (Group Leader), Tadakatsu Ohkubo (Deputy Director) and Kazuhiro Hono (Research Fellow).
This work was supported by the Elements Strategy Initiative Center for Magnetic Materials (ESICMM) of MEXT (Grant Number 12016013), through the Ministry of Education, Culture, Sports, Science, and Technology (MEXT).
---
Method of Research
Experimental study
Subject of Research
Not applicable
Article Title
Optimization of direct extrusion process for Nd-Fe-B magnets using active learning assisted by machine learning and Bayesian optimization
Article Publication Date
7-Nov-2021