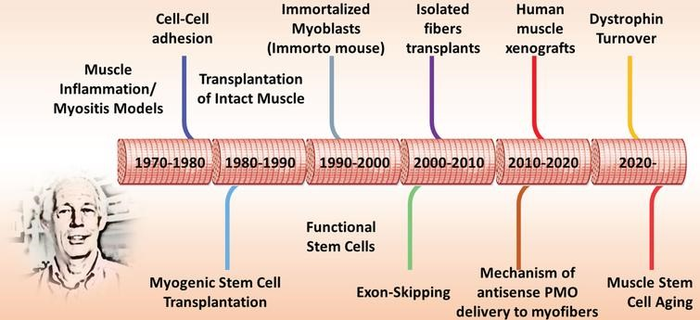 Mentees and collaborators pay tribute to Professor Terence Partridge, PhD, and highlight his contributions to understanding and treating rare neuromuscular diseases in this special issue of the Journal of Neuromuscular Diseases
Amsterdam, January 11, 2022 – With an illustrious career spanning more than five decades, Terence Partridge, PhD, is widely acknowledged for his significant contributions to the foundation of and advancements in muscle regeneration research. In a supplement to the Journal of Neuromuscular Diseases prominent researchers pay tribute to his dedication to the pursuit of curiosity, mentorship, and the secrets of skeletal muscle stem cells.
This special issue celebrates the career of Professor Terence "Terry" Partridge. His curiosity about how satellite cells maintain muscle health in the face of injury or in myopathic conditions led him to pathbreaking research involving muscle cell and tissue transplants. This collection of articles in JND showcases the impact of some of his efforts on understanding and treating rare neuromuscular diseases and in mentoring a new generation of research leaders in this field.
Professor Partridge's research has enriched our understanding of the cell biology of skeletal muscle, has improved our understanding of muscular dystrophy, and led to the development of therapeutic approaches for neuromuscular diseases such as Duchenne muscular dystrophy (DMD). Over his career he has conducted research across multiple countries, establishing labs on two continents, breaking new ground in the field of basic and therapeutic muscle research, and mentoring a number of accomplished researchers who worked alongside him.
"Terry has not only helped lay the foundation of the field of muscle regeneration research, but over the decades has also been a thought leader, teacher, mentor, innovator, and a friend of many in this field," comment Guest Editors Jyoti Jaiswal, PhD, Children's National Hospital, and Department of Genomics and Precision Medicine, George Washington University School of Medicine and Health Sciences, and Kanneboyina Nagaraju, DVM, PhD, School of Pharmacy and Pharmaceutical Sciences, Binghamton University, who have both collaborated with Professor Partridge.
"Many of his mentees and colleagues have participated in this special issue where, in line with Terry's broad view of science, the articles run the gamut from discussing the past to looking to future challenges, offering a glimpse of the success of Terry's approach, which hopefully will encourage others to follow in his footsteps. They reflect the need to focus on basic research to understand muscle diseases, develop novel and targeted therapies, and provide dedicated mentorship for the next cadre of researchers," the Guest Editors continue.
Qi Long Lu, MD, PhD, one of Terry's earlier mentees, who is at the McColl-Lockwood Laboratory for Muscular Dystrophy Research at Atrium Health, noted that "Terry's working ethics, paying great attention to details of interesting phenomenon even if they appear trivial and well known without losing sight of their broad significance, have helped me continue the search for possible answers and applications related to revertant fibers in muscular dystrophies." A recent mentee, James Novak, PhD, from the Children's National Hospital commented "Terry's remarkable passion for scientific knowledge is unmatched and contagious to all those fortunate enough to have been a part of his expansive scientific family tree."
Articles in this issue are grouped under four themes: studies on muscle stem cells; understanding muscle diseases; gene therapy for muscle diseases; and exon skipping therapy for DMD.
A contribution by Elise N. Engquist, PhD candidate, and Peter S. Zammit, PhD, King's College London, UK, reviews the history of skeletal muscle research and the seminal findings that established the satellite cell as the source of myoblasts for growth and regeneration of skeletal muscle, that Professor Partridge demonstrated in 1970s. They highlight developments between 1980 and 2000, which include technical innovations such as isolation of primary satellite cells and viable muscle fibers complete with satellite cells in their niche, together with generation of many useful reagents including genetically modified organisms and antibodies still in use today.
"Major advances in methodology and in understanding satellite cell biology, such as proteomic profiling of healthy and dystrophic satellite cells and describing the optimized molecular interaction networks for skeletal muscle, have provided further foundations for the dramatic escalation of work on muscle stem cells in the 21st century," notes Dr. Zammit.
Adeno-associated viruses (AAV)-based gene therapy is an attractive approach to treat DMD patients. AAV are small viruses that infect humans and other primate species and are used to as vehicles to carry transgenes. Although the long-term consequences of a gene therapy approach for DMD are unknown, there is evidence in both DMD patients and animal models that dystrophin replacement by gene therapy leads to an anti-dystrophin immune response that is likely to limit the long-term use of these therapeutic strategies, explain Kanneboyina Nagaraju, DVM, PhD, Binghamton University, Binghamton, NY, USA, and colleagues in an article on the effect of immunomodulatory treatments on anti-dystrophin immune response after AAV gene therapy in dystrophin-deficient mdx mice.
"Based on the data, we propose that these immunomodulatory treatments may reduce muscle damage by reducing immune response to vector (AAV virus) and transgene (dystrophin) as well as inflammation in the muscle and allowing regeneration of the muscle," concludes Dr. Nagaraju.
This issue also features studies contributing to the understanding of muscle diseases including the need for quantitative interrogation of skeletal muscle pathology, a new mouse model for LGMD2L, gender differences in physical performance of dystrophic mice, and early skeletal muscle changes in Charcot-Marie-Tooth 1A mouse model. Recently, the US Food and Drug Administration granted accelerated approvals for four exon skipping therapies for DMD. A group of articles on exon skipping therapy review these developments and discuss future trends.
Professor Partridge's long-time collaborator Eric Hoffman, PhD, of the School of Pharmacy and Pharmaceutical Sciences at Binghamton University, stated that "Terry's broad contributions and fundamental insights across the development of exon skipping drugs reflect his seminal contributions to translational muscle research, as well as his endearing and highly collaborative nature."
The Guest Editors conclude that "To tackle challenges posed by rare diseases requires a deeper understanding of the basic biology of these diseases before targeted therapies can be developed and requires investing in training of new generation of researchers that take on this approach as the list of rare diseases rapidly grows. Terry recognized these needs several decades ago and has been dedicated in this pursuit throughout his long career. This special issue recognizes Terry's success in such endeavors."
---
Journal
Journal of Neuromuscular Diseases
Method of Research
Commentary/editorial
Subject of Research
Not applicable
Article Title
Special Issue Dedicated to Professor Terence Partridge
Article Publication Date
30-Nov-2021