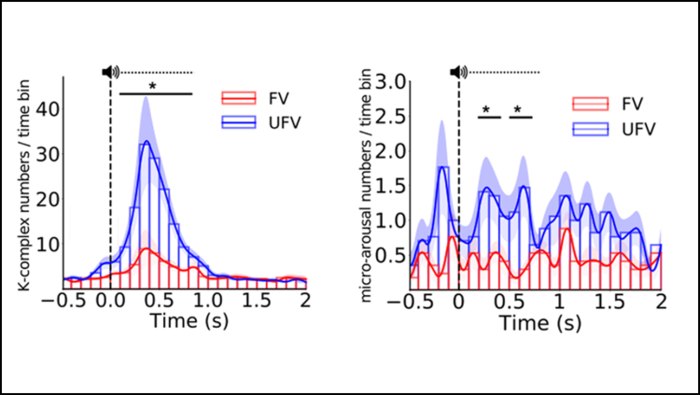 A good night's sleep is not as simple as it appears. While you snooze, your brain continues to monitor the environment, balancing the need to protect sleep with the need to wake up. One example of how the brain accomplishes this is by selectively responding to unfamiliar voices over familiar ones, according to new research published in JNeurosci.
Researchers at the University of Salzburg measured the brain activity of sleeping adults in response to familiar and unfamiliar voices. Unfamiliar voices elicited more K-complexes, a type of brain wave linked to sensory perturbances during sleep, compared to familiar voices. While familiar voices can also trigger K-complexes, only those triggered by unfamiliar voices are accompanied by large-scale changes in brain activity linked to sensory processing.
Brain responses to the unfamiliar voice occurred less often as the night went on and the voice became more familiar, indicating the brain may still be able to learn during sleep. These results suggest K-complexes allow the brain to enter a "sentinel processing mode," where the brain stays asleep but retains the ability to respond to relevant stimuli.
###
Download the full-text PDF: The Brain Selectively Tunes to Unfamiliar Voices During Sleep
Please contact media@sfn.org for the full-text PDF and to join SfN's journals media list.
About JNeurosci
JNeurosci, the Society for Neuroscience's first journal, was launched in 1981 as a means to communicate the findings of the highest quality neuroscience research to the growing field. Today, the journal remains committed to publishing cutting-edge neuroscience that will have an immediate and lasting scientific impact, while responding to authors' changing publishing needs, representing breadth of the field and diversity in authorship.
About The Society for Neuroscience
The Society for Neuroscience is the world's largest organization of scientists and physicians devoted to understanding the brain and nervous system. The nonprofit organization, founded in 1969, now has nearly 37,000 members in more than 90 countries and over 130 chapters worldwide.
---
Method of Research
Experimental study
Subject of Research
People
Article Title
The brain selectively tunes to unfamiliar voices during sleep
Article Publication Date
17-Jan-2022