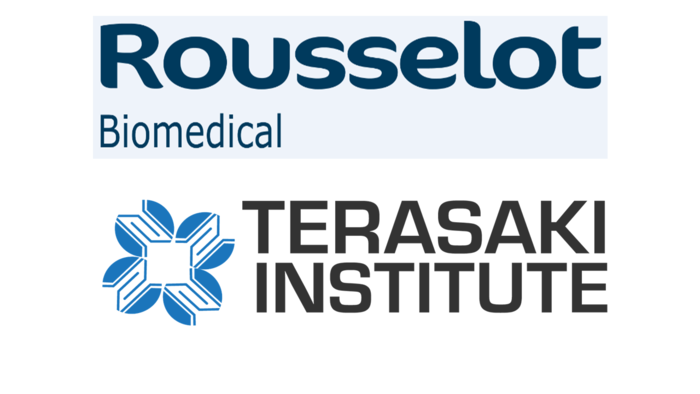 (LOS ANGELES) – The Terasaki Institute for Biomedical Innovation (TIBI), a non-profit multidisciplinary bioengineering research institution, announces their partnership with Darling Ingredients' health brand, Rousselot®, the world leader in collagen-based solutions, with more than 130 years of gelatin and collagen expertise.
With their long-standing experience in tissue engineering and regeneration, bio-fabrication using 3D printing and engineering micro- and nano-scale medical devices, TIBI has relied heavily on the use of modified and functionalized gelatin biomaterials for their research and experimentation. In doing so, they have developed valuable insights into gelatin's behavior and have used this knowledge to optimize and tune gelatin biomaterials for various biomedical applications.
In taking the next steps toward translating TIBI's technologies to the clinic, Rousselot will provide TIBI with products from their X-Pure® line of modified gelatins; these products meet the Good Manufacturing Practices (GMP) standards for product quality and reproducibility, as well as unsurpassed purity and consistency. TIBI's scientists have already tested and validated X-Pure® products' premium quality and look forward to using them for their advanced research.
"We are delighted to work together with TIBI and its team of world-renowned researchers," said Jos Vervoort, Rousselot's Executive Vice-President. Our X-Pure® gelatins' purity and scalability will support their full cycle of research and clinical development and we are proud to play a role in helping the experts at TIBI translate their research into viable biomedical solutions that can help patients across the planet."
The partnership between the two organizations will have an initial duration of two years, fostering a close collaboration between TIBI's experts on tissue engineering, 3D printing, and microneedles and Rousselot's experts in collagen- and gelatin-based biomaterials. Through this strategic partnership, Rousselot and TIBI will work together and exchange ideas on the development of gelatin-based therapies and their translation to the clinic.
"We are excited to partner with Rousselot and to be able to use Rousselot's high-quality, purified X-Pure® gelatins for our research," explained Ali Khademhosseini, Ph.D., TIBI's Director and CEO. Modified gelatins have proven to be powerful biomaterials in regenerative medicine and many other applications, and the X-Pure® products will greatly support our work both in the lab and in clinical translation."
PRESS CONTACT
Stewart Han, shan@terasaki.org, +1 818-836-4393
Terasaki Institute for Biomedical Innovation
###
The Terasaki Institute for Biomedical Innovation (terasaki.org) is a non-profit research organization that invents and fosters practical solutions that restore or enhance the health of individuals. Research at the Terasaki Institute leverages scientific advancements that enable an understanding of what makes each person unique, from the macroscale of human tissues down to the microscale of genes, to create technological solutions for some of the most pressing medical problems of our time. We use innovative technology platforms to study human disease on the level of individual patients by incorporating advanced computational and tissue-engineering methods. Findings yielded by these studies are translated by our research teams into tailored diagnostic and therapeutic approaches encompassing personalized materials, cells and implants with unique potential and broad applicability to a variety of diseases, disorders and injuries.
The Institute is made possible through an endowment from the late Dr. Paul I Terasaki, a pioneer in the field of organ transplant technology.
About Rousselot®
As the most recent strategic segment within Rousselot, we have drawn upon Rousselot's 130+ years of worldwide expertise and proven track record of pharmaceutical gelatins and collagens to develop innovative ranges of purified, modified and non-modified gelatins and collagens for biomedical applications. Offering unique advantages to assure performance, quality and safety from bench to clinic, Rousselot® X-Pure® and Rousselot® Quali-Pure™ provide consistent quality and are backed by strong scientific data and ongoing research. Rousselot Biomedical is committed to supporting end-to-end partnerships to help "advancing medical science". www.rousselot.com/biomedical
---