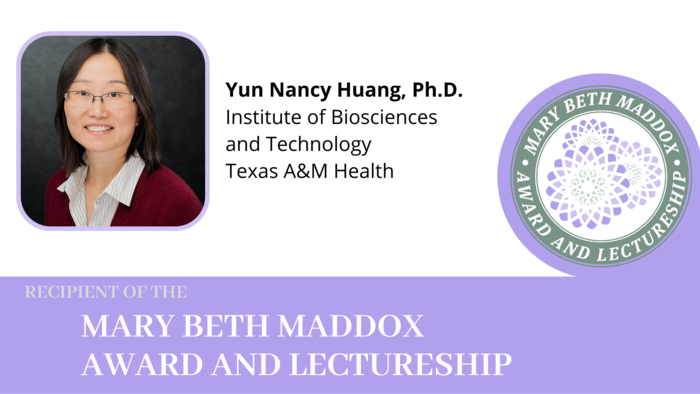 HOUSTON -- TAMEST is pleased to announce Yun Nancy Huang, Ph.D., Associate Professor, Texas A&M Health Institute of Biosciences and Technology, as the recipient of the inaugural Mary Beth Maddox Award and Lectureship.
The Mary Beth Maddox Award and Lectureship recognizes women scientists in Texas bringing new ideas and innovations to the fight against cancer. It was established in honor of Mary Beth Maddox, former Executive Director of TAMEST, who passed away in 2018 after a valiant battle with pancreatic cancer.
Dr. Huang was chosen for contributing prominently to the field of cancer epigenetics, the study of heritable changes to molecular processes affecting the body that influence the flow of information between the DNA of cancer cells and their gene expression patterns. By pioneering cutting-edge technologies, Dr. Huang discovered how to probe DNA hydroxymethylation in cell-free DNA to improve cancer diagnosis and prognosis.
"I was so pleased to nominate Dr. Yun Nancy Huang for the inaugural Mary Beth Maddox Award and Lectureship because she is an outstanding scientist with a remarkable record of innovative scientific achievements in the field of cancer research and an incredibly bright future," said Nominator and TAMEST Member Kenneth S. Ramos, M.D., Ph.D. (NAM), Associate Vice President for Research, Texas A&M Health; and Executive Director, Texas A&M Institute of Biosciences and Technology. "Dr. Huang's overall research interests are centered on elucidating the role of epigenetic control systems in cancer and in developing effective strategies for cancer treatment and diagnosis. The results have been truly groundbreaking."
Dr. Huang's research focuses on epigenetics, or the "software" that runs the human genome, which is one of the most promising targets for disease prevention. During her postdoctoral training, Huang significantly contributed to the initial characterization of TET enzymes, a new type of epigenetic "code writer" that could produce a previously-unrecognized "sixth" base, 5-hydroxymethylcytosine (5hmC), in the human genome. She was among the first to illuminate the biological significance and clinical values of 5hmC in cancer and development. Her work has allowed researchers to better understand the different "programming languages" cancer cells use to reprogram their epigenome.
Her major contributions to the field of cancer research include probing reliable epigenetic signatures in liquid biopsy to aid the disease monitoring and treatment response; epigenetic regulation in tumorigenesis; and the development of novel chemical biology tools for epigenetic regulation in anti-tumor immunotherapy.
"TAMEST is proud to present Dr. Huang with the first-ever Mary Beth Maddox Award and Lectureship for her inventive work, which advanced relevant fields by providing new concepts, unraveling new mechanisms, and developing new technologies that can be used to address questions regarding tumorigenesis, anti-tumor therapy and biomarker development," said TAMEST Board President David E. Daniel, Ph.D. (NAE). "Dr. Huang is an exceptional scientist and the ideal candidate for the Mary Beth Maddox Award and Lectureship. We are proud to have her as our first ever recipient and look forward to the groundbreaking research she has yet to discover."
TAMEST will officially present the award to Dr. Huang at the 2022 TAMEST Annual Conference: Forward Texas – Imperatives for Health – at the Westin Riverwalk Hotel in San Antonio on June 20–22, 2022.
Dr. Huang will present her research at the conference to the greater Texas research community and receive a $5,000 honorarium in addition to the award. Dr. Huang will then promote her work and discoveries across the state through a series of lectureships at TAMEST member institutions.
Dr. Huang is the first recipient of this award. Learn more about the award and its history here.
###
About TAMEST
TAMEST (The Academy of Medicine, Engineering and Science of Texas) was co-founded in 2004 by the Honorable Kay Bailey Hutchison and Nobel Laureates Michael S. Brown, M.D., and Richard E. Smalley, Ph.D. With more than 325 members, 10 Nobel Laureates and 16 member institutions, TAMEST is composed of Texas-based members of the three National Academies (National Academy of Medicine, National Academy of Engineering and National Academy of Sciences) and other honorific organizations. We bring together the state's brightest minds in medicine, engineering, science and technology to foster collaboration, and to advance research, innovation and business in Texas.
TAMEST's unique interdisciplinary model has become an effective recruitment tool for top research and development centers across Texas. Since our founding, more than 260 TAMEST members have been inducted into the National Academies or recruited to Texas.
---