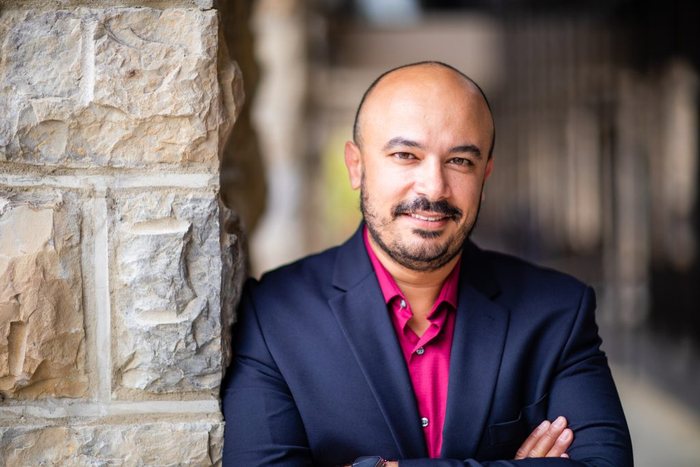 Construction materials have remained relatively unchanged since the invention of cement in the early 19th century. This can have significant disadvantages for overseas military constructions.
Building military infrastructure overseas requires loading down cargo ships with large amounts of heavy cement, reducing space for other critical supplies like medical resources and protective equipment. Handling cement can also be potentially harmful to soldiers as inhalation of cement powder is known to cause respiratory illnesses.
"We want to identify and validate a new human-friendly bonding material to enhance the engineering performance of soils and further control the lifetime of this material in the ground," said Sherif Abdelaziz, associate professor of civil and environmental engineering at Virginia Tech.
Abdelaziz has received funding from the U.S. Army Corps of Engineers for two projects. One project is related to the use of biopolymers to improve soils in collaboration with the Army Corps' Environmental Laboratory (EL). The other project focuses on using biopolymers to strengthen military earthen structures and soils.
Biopolymers are compounds naturally produced by living organisms in soils. "They are very safe for human health and the environment," said Abdelaziz. "We consume biopolymers in our daily lives in several food products."
For the first project, Abdelaziz and his team will test biopolymer-amended soils for performance and strength in a laboratory so they can one day benefit real-world construction. Researchers hope that amending natural soils with engineered biopolymer composites can strengthen geo-structures, or structures supported by rocks and soil, as well as the procedures to design and build them.
"This type of structure needs to be constructed quickly with minimal health concerns to our troops," said Abdelaziz. "Biopolymers provide new means to replace the conventional cement-based treatments."
Biopolymer-stabilized soils can be designed so the treatment self-degrades, reducing the negative environmental footprint of the U.S. Army worldwide. Additionally, using these soils will minimize the construction dust that can be harmful to soldiers.
"This represents a substantive departure from the status quo," said Abdelaziz. "Using biopolymers to stabilize military and civilian earth structures will facilitate replacing cementitious materials that are widely used right now. Replacing these materials with biopolymers will positively impact the earth's environment and the health of all living species, including U.S. Army soldiers."
Abdelaziz's research team intends to apply their work to a second project with biopolymer-stabilized soils to the construction of stronger dams and levees.
Currently, the construction of earthen dams and levees relies on natural geomaterials, such as soil and rocks. However, these materials have exhibited long-term performance issues due to deterioration and erosion. Failures of these dams and levees can lead to fatalities and significant capital losses. Unfortunately, there are currently no alternative materials to construct or rehabilitate these structures.
"There is an urgent need to develop and validate the performance of new innovative materials that can increase the resiliency of these structures," said Abdelaziz.
By assessing the potential benefits of biopolymer materials, he hopes to further understand the basics of soil surface and internal erosion to find out if using biopolymers can mitigate soil erosion and minimize failures that can lead injuries and financial losses.
In the laboratory, Abdelaziz will use advanced numerical models to examine how various biopolymers interact with different soil types. From there, he can design procedures for biopolymer-treated soils that the Army Corps of Engineers can use to rehabilitate a sample set of earth dams, levees, and embankments. These structures will be monitored for several years, allowing the team to update as needed the experimentally driven design procedures.
"Our main goals are to develop ways to maximize the Army's performance of supporting infrastructure," said Abdelaziz. "This, in turn, can help maximize the performance of the U.S. Army."
---