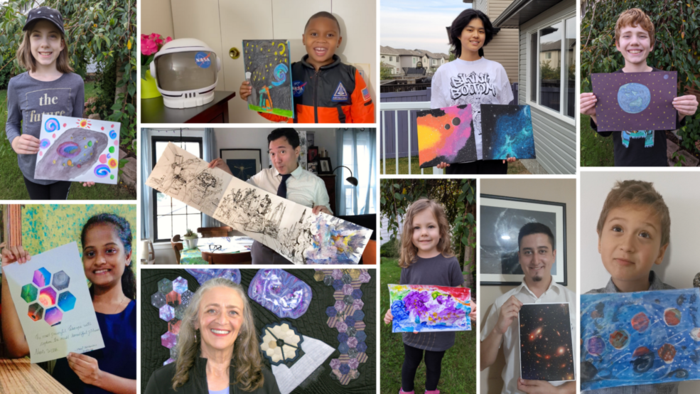 NASA's biggest and most powerful space telescope ever launched on Dec. 25, 2021! The James Webb Space Telescope, or Webb, will be orbiting a million miles away to reveal the universe as never seen before. It will look at the first stars and galaxies, study distant planets around other stars, solve mysteries in our solar system and discover what we can't even imagine. Its revolutionary technology will be able to look back in time at 13.5 billion years of our cosmic history.
Show us what you believe the Webb telescope will reveal by creating art. You can draw, paint, sing, write, dance — the universe is the limit! Share a picture or video of you and your creation with the hashtag #UnfoldTheUniverse for a chance to be featured on NASA's website and social media channels.
How to Participate
1. Use any art supplies you'd like to create art. The art could be a drawing, song, poem, dance or something else! Check out the resources linked below for inspiration.

2. Take a picture of you holding your art, or film a less than one-minute video of you describing or performing your art.

3. Share your photo or video on Facebook, Twitter, or Instagram using #UnfoldTheUniverse for a chance to be featured on NASA's website and social media accounts!

4. If your submission catches our eye, we'll be in touch to obtain permission for it to be considered for NASA digital products.
Deadline for Submissions EXTENDED: Good news! We will now keep the #UnfoldTheUniverse art challenge open through the return of our first science images, expected to be about six months after launch. Keep your submissions coming - we love seeing your creativity!
Our web gallery of selected #UnfoldTheUniverse submissions can be found here.
Want to learn more about Webb? Start here:
James Webb Space Telescope Website
Webb Mission Overview
Introduction to the Webb Telescope Video
"29 Days on the Edge" Video
For kids:
What is the James Webb Space Telescope? (4th grade and up)
STEM Webb Toolkit (K-12)
---