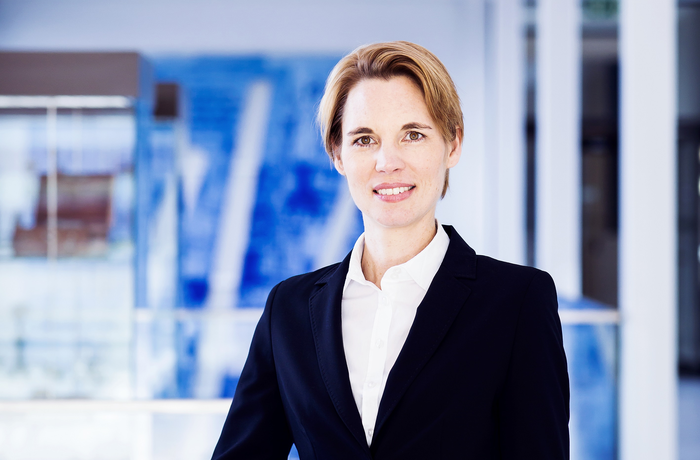 Molecular biologist Professor Dorothee Dormann of Mainz University will collaborate with Antwerp geneticist Professor Rosa Rademakers in a research project on less-common forms of dementia. Rosa Rademakers is head of the VIB Center for Molecular Neurology at Antwerp University in Belgium and was awarded the Generet Award for Rare Diseases from the King Baudouin Foundation, worth EUR 1 million, on Tuesday. Professor Dorothee Dormann is part of Professor Rademakers' research network and will receive EUR 200,000 over the next four years for research work to be undertaken at Johannes Gutenberg University Mainz (JGU). "I'm very fond of the international collaboration on these rare diseases and I'm excited about our cooperation with Rosa Rademakers, who is an outstanding international expert," said Professor Dorothee Dormann.
The research project will focus on frontotemporal dementia, which is an umbrella term for a group of brain disorders that primarily affect the frontal and temporal lobes of the brain. This form of dementia can affect people relatively early in life, often when they are only forty or fifty years old. The disease is incurable and patients usually die within 10 years of diagnosis. The condition therefore has a tremendous impact on patients and their family members. About one in 5,000 people are living with this form of dementia.
Identifying the causes of this group of degenerative brain diseases has become the life's work of Rosa Rademakers. She received worldwide fame for her research at the prestigious Mayo Clinic in Jacksonville (Florida, USA), where she worked for 14 years. In 2019, she returned to Belgium to lead the VIB Center for Molecular Neurology at Antwerp University, where she received her PhD in 2004.
Researchers at Mainz University contribute their expertise on the FUS protein
Dorothee Dormann was appointed a Professor of Molecular Cell Biology at Johannes Gutenberg University Mainz and an Adjunct Director at the Institute of Molecular Biology (IMB) in Mainz in April 2021. She is an internationally recognized researcher in the field of molecular neurodegeneration. In November 2021, she received the Alzheimer Research Award of the Hans and Ilse Breuer Foundation.
The Generet Award funding will allow the researchers to focus on a particularly rare form of frontotemporal dementia characterized by an accumulation of the FUS protein. Professor Dormann is an expert on the FUS protein as well as other similar proteins.
"We aim to use the funding from the Generet Award to find out why FUS accumulates in patients' brains and to understand its precise role as well the roles of related proteins and biomolecules that interact with FUS," explained Professor Dormann. Her research group aims to isolate the protein deposits from the brains of deceased patients in order to identify other proteins that are deposited there together with the FUS protein. Moreover, the researchers will investigate the chemical modifications of these proteins. The research team expects to gain new insights into the formation of harmful protein deposits and the underlying molecular mechanisms of frontotemporal dementia.
About the Institute of Molecular Biology gGmbH
The Institute of Molecular Biology gGmbH (IMB) is a center of excellence in the life sciences that was established in 2011 on the campus of Johannes Gutenberg University Mainz (JGU). Research at IMB focuses on three cutting-edge areas: epigenetics, developmental biology, and genome stability. The institute is a prime example of successful collaboration between a private foundation and public entities: The Boehringer Ingelheim Foundation has committed EUR 154 million to be disbursed from 2009 until 2027 to cover the operating costs of research at IMB. The state of Rhineland-Palatinate has provided approximately EUR 50 million for the construction of a state-of-the-art building and is giving a further EUR 52 million in core funding from 2020 until 2027. For more information about IMB, please visit: https://www.imb.de/
Related links:
https://www.blogs.uni-mainz.de/fb10-biologie-eng/about-the-faculty-of-biology/institutes/institute-of-molecular-physiology-imp/ – Institute of Molecular Physiology (IMP) at JGU ;
https://www.imb.de/ – Institute of Molecular Biology (IMB) ;
https://www.grc.uni-mainz.de/prof-dorothee-dormann/ – Professor Dr. Dorothee Dormann, Fellow of the Gutenberg Research College (GRC) at JGU
https://uantwerpen.vib.be/group/RosaRademakers – Professor Rosa Rademakers' Lab at the VIB Center for Molecular Neurology at Antwerp University ;
http://www.generetaward.be/ – Generet Award for Rare Diseases ;
http://www.europe-kbf.eu/en/ – King Baudouin Foundation
---