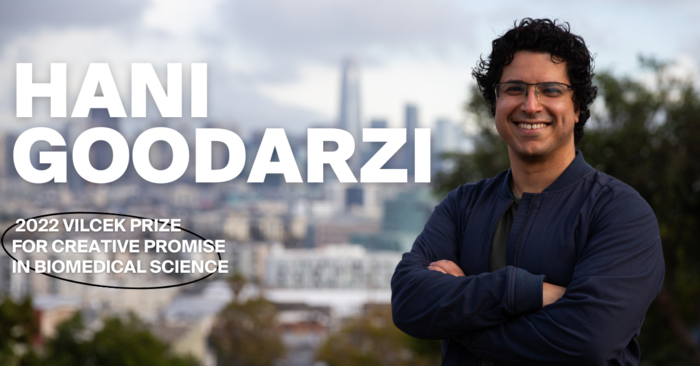 NEW YORK, February 1, 2022—The Vilcek Foundation recognizes and celebrates the research contributions of computational biologist and cancer researcher Hani Goodarzi in a new article and video published on the foundation's website, Hani Goodarzi: A multidisciplinary approach to cancer biology.

The Vilcek Prize for Creative Promise
Goodarzi is the recipient of a 2022 Vilcek Prize for Creative Promise in Biomedical Science. He receives the prize for using modeling and computational methods to uncover novel molecular players and pathways and therapeutic targets in cancer metastasis.
The Vilcek Prizes for Creative Promise in Biomedical Science are awarded to young immigrant scientists in the United States. The prizes recognize individuals whose early-career work exemplifies outstanding scientific accomplishment, and whose research represents a significant contribution to their field of study.
Born in Tehran, Iran, Goodarzi immigrated to the United States in 2006 to pursue his PhD at Princeton University with the goal of building a career in biomedical research. At Princeton and in his postdoctoral work at the Rockefeller University, Goodarzi's research focused on analyzing the cellular and molecular processes that drive metastasis. While at Princeton, Goodarzi developed ADAM (array-based discovery of adaptive mutations), a technology that allows scientists to search an entire genome and identify mutations that contribute to selective adaptation. He also carried out one of the first meta-analyses of cancer gene expression data sets, implicating hundreds of previously unknown pathways driving tumor progression.
Most recently, Goodarzi discovered that the protein SNRPA1 drives metastasis in breast cancer and that controlling levels of this protein in cancer cells alters their ability to metastasize. He also discovered orphan noncoding RNA (oncRNA)—a novel class of RNA that is only found in cancerous cells. This discovery has led to the development of new techniques for early cancer detection and monitoring.

Goodarzi is an assistant professor at the University of California, San Francisco (UCSF), a Chan Zuckerberg Biohub Investigator, and the founder of Exai Bio, a biotechnology venture. In December 2021, Exai Bio announced it had raised $67.5 million in financing. Exai Bio's key product—an RNA-based liquid biopsy platform for early cancer detection—is based on Goodarzi's research.

Read more and watch the Vilcek Foundation's video on Goodarzi's work at the following link: https://vilcek.co/2022vfpgoodarziecn
The Vilcek Foundation
The Vilcek Foundation raises awareness of immigrant contributions in the United States and fosters appreciation of the arts and sciences. The foundation was established in 2000 by Jan and Marica Vilcek, immigrants from the former Czechoslovakia. The mission of the foundation—to honor immigrant contributions to the United States, and more broadly to foster appreciation of the arts and sciences—was inspired by the couple's respective careers in biomedical science and art history. Since 2000, the foundation has awarded over $6.4 million in prizes to foreign-born individuals and supported organizations with over $5.6 million in grants.
The Vilcek Foundation is a private operating foundation, a federally tax-exempt nonprofit organization under IRS Section 501(c)(3).
---