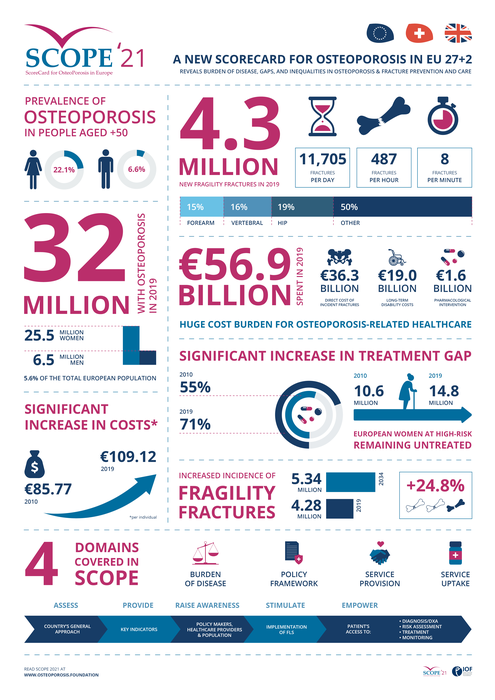 Osteoporosis is a major health care burden in Europe which results in 4.3 million fragility fractures and health care costs in excess of €56 billion annually.
Presenting impactful data for 29 European countries, the new publication 'Osteoporosis in Europe: A Compendium of Country-Specific Reports' reveals that in several European countries the high burden of osteoporosis stands in stark contrast to suboptimal osteoporosis care, service provision, and treatment uptake.1
The new publication reviews and describes the current burden of osteoporosis in each of the EU member states plus Switzerland and the UK (termed EU27+2), and audits key metrics in four domains: burden of disease; policy framework; service provision; and service uptake. The detailed data presented in the new publication has been extracted from a concurrent publication 'SCOPE 2021: a new scorecard for osteoporosis in Europe', which presents aggregate data.2
Given the significance of the findings to European healthcare policy, the International Osteoporosis Foundation (IOF) has compiled the key data from the two related SCOPE 2021 scientific publications in a new illustrated SCOPE Summary Report. The Summary Report, which includes an urgent 10-point call to action, as well as a related slide set, country-specific factsheets, and infographics, is available on the IOF website.3
Professor John Kanis, lead author and Honorary President of IOF, stated:
"Although we have found wide differences in service provision and uptake, all 29 European countries surveyed face an enormous osteoporosis and fragility fracture burden, with a substantial impact on current and future healthcare budgets. In aggregate, the economic burden of incident and prior fragility fractures was estimated at close to €57 billion in 2019, with an estimated 248,487 causally related deaths that year. As the number of women and men aged 75 years or more is expected to increase by more than 29% and 42% respectively between 2019 and 2034, the annual number of osteoporotic fractures will rise considerably. It is expected to increase by approximately +24.8% in that time period, reaching 5.34 million annual fragility fractures."
"These alarming projections should spur concerted action on the part of all healthcare authorities in Europe."
In the 2019 Compendium of country-specific reports, data for 15 of the 16 scorecard metrics on healthcare provision, representing three domains, were compared with data from 2010. Scores had improved or markedly improved in 15 countries, remained constant in 8 countries, and had worsened in 3 countries. While the scorecard reveals that there is a considerable need for improvement across Europe, it is of particular urgency in those countries which have inadequate service provision or uptake set against a high disease burden.
Among further findings, the SCOPE and country-specific reports revealed:
The countries projected to have the largest annual number of fragility fractures in 2034 are Germany (966,800), Italy (701,600), and the UK (665,000). These countries also saw the largest absolute increases in the number of women with osteoporosis between 2010 and 2019.
Across all countries the lifetime probability of hip fracture for women above the age of 50 years was 15% but the rates varied markedly by country, ranging from 7.0% in Romania to 25.1% in Sweden.
The highest cost of osteoporotic fractures per capita (in 2019) was in Switzerland (403€), followed by Denmark (251€), Sweden (230€) and Germany (167€).
Approximately 60% of the EU member states offered at least the minimum recommended number of 11 DXA units per million of the population. Although 5% more DXA units were available across Europe in 2019 compared to 2010, this is a minor increase considering that the number of fractures has risen by approximately 17% in the same period.
The percentage of member states offering full reimbursement of osteoporosis treatment went up from 27% in 2010 to 44% in 2019. Limitations or restrictions to reimbursement were identified in 15 countries, with marked restrictions in Belgium, Greece, and the Czech Republic.
Country-specific models of the fracture risk assessment tool FRAX are available for all countries with the exception of Cyprus, Latvia, Luxembourg, and Slovenia. The country with the highest online usage was Slovenia (41,894 sessions/million people, using the UK surrogate model) and the lowest was Bulgaria (49 sessions/million people).
On average the treatment gap (the rate of women who exceed the intervention threshold but do not receive osteoporosis treatment) was estimated at 71%, with the highest gaps estimated for Bulgaria (87%) and Estonia (84%). Although still considerable, the lowest gaps were found in Ireland (32%), Denmark (43%), and Greece (43%).
Surgery within 48 hours of a hip fracture has been shown to significantly reduce mortality and increase the proportion of patients returning to their original residence. Waiting time between hospital admission and surgical intervention was reported as being on average greater than 48 hours in five of the 29 countries, including in Cyprus, Greece, Italy, Portugal, and Spain.
Professor Cyrus Cooper, IOF President, concluded:
"Only nine of the 29 European countries surveyed in this report recognize osteoporosis or musculoskeletal diseases as a national health priority. This must change. To prompt action for prevention, IOF calls for a Europe-wide strategy and parallel national strategies to provide coordinated osteoporosis care and to reduce debilitating fractures and their impact on individual lives and health care systems."
All SCOPE 2021 resources, including the scientific publications, illustrated Summary Report, country-specific factsheets, and infographics are available at https://www.osteoporosis.foundation/scope-2021
###
Further reading
1. Willers C, Norton N, Harvey NC, Jacobson T, Johansson H, Lorentzon M, McCloskey EV, Borgström F, Kanis JA & the SCOPE review panel of IOF. Osteoporosis in Europe: A Compendium of country-specific reports. Arch Osteoporos 17, 23 (2022). https://doi.org/10.1007/s11657-021-00969-8
2. Kanis JA, Norton N, Harvey NC, Jacobson T, Johansson H, Lorentzon M, McCloskey EV, Willers C, Borgström F. SCOPE 2021: a new scorecard for osteoporosis in Europe. Arch Osteoporos 16, 82 (2021). https://doi.org/10.1007/s11657-020-00871-9
3. SCOPE 2021 resources, including the Summary Report and Country factsheets https://www.osteoporosis.foundation/scope-2021
About SCOPE 2021 and the Compendium of Country-Specific Reports
The mission of the scorecard for osteoporosis in Europe (SCOPE) project is to raise awareness of osteoporosis care in Europe. SCOPE permits an in-depth comparison of the quality of care of osteoporosis across the 27 member states of the European Union (EU27), together with the UK and Switzerland (termed EU27+2). SCOPE summarises key indicators of the burden of osteoporosis and its management in each of the member states of the European Union to draw attention to the disparities in healthcare provision that can serve in the setting of benchmarks to inform patients, healthcare providers, and policymakers in the EU. This update of the original SCOPE publication and scorecard compares the original results from 2010 to data as recent as 2019. The newer data provides a more recent overview, as well as a way to compare the management of osteoporosis over time, within and between the EU27+2 countries. In developing this scorecard, the aim is to stimulate a balanced, common, and optimal approach to the management of osteoporosis throughout the EU27+2.
All SCOPE resources are available here: https://www.osteoporosis.foundation/scope-2021
About IOF
The International Osteoporosis Foundation (IOF) is the world's largest nongovernmental organization dedicated to the prevention, diagnosis and treatment of osteoporosis and related musculoskeletal diseases. IOF members include committees of scientific researchers as well as 300 patient, medical and research organizations – all working together to make fracture prevention and healthy mobility a worldwide healthcare priority. https://www.osteoporosis.foundation @iofbonehealth
Contact IOF at info@osteoporosis.foundation

---
Journal
Archives of Osteoporosis
Method of Research
Data/statistical analysis
Subject of Research
Not applicable
Article Title
Osteoporosis in Europe: A Compendium of country-specific reports
Article Publication Date
26-Jan-2022