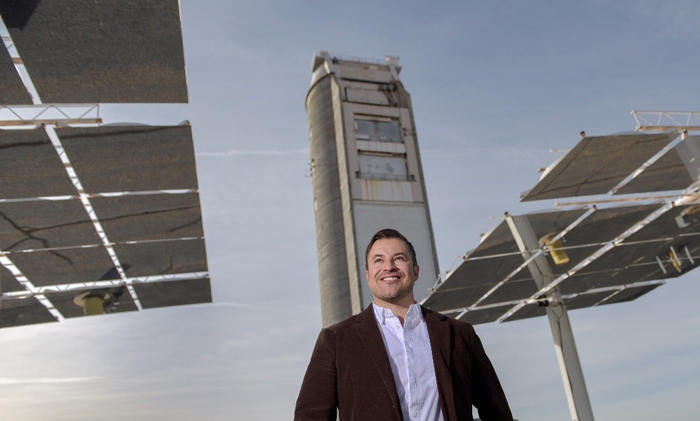 ALBUQUERQUE, N.M. — Sandia National Laboratories systems engineer Kenneth Armijo has been named a 2021 Most Promising Engineer Advanced Degree at the Hispanic Engineering National Achievement Awards Conference. Sandia mechanical engineer Michael Omana was named a 2021 Most Promising Scientist, Masters at the conference.
Armijo, who holds a doctorate in mechanical engineering, leads molten salt, molten alkali metals and high-voltage arc-fault research and development at Sandia Labs' National Solar Thermal Test Facility. He also serves as a subject matter expert for molten salts, alkali metals, arc-fault safety technologies and re-entry high-flux and high-temperature materials research and development for DOE and DOD programs.
Omana, a mechanical engineer and aerosol and filtration scientist, has spent the past year-plus serving as an aerosol and filtration science subject matter expert for numerous COVID-19 response efforts while working with teams across the Labs and in industry on personal protective equipment development and testing.
Great Minds in STEM recognized both awardees at its annual conference in October. Each was selected from among the top candidates submitted in all professional categories as leaders working in any area of science, technology, engineering and mathematics, or STEM, who model the technical excellence and leadership that significantly impacts an industry, a field of science or engineering, academia, the Hispanic community and the nation.
"Kenneth and Michael represent the best of Sandia National Laboratories both in their professional pursuits and their personal efforts to cultivate the next generation of STEM scientists within the Hispanic community," said Tobie Webb, acting senior manager and chief diversity officer at Sandia. "Their recognition is well-earned."
Kenneth Armijo — Alternative energy guru
A native of New Mexico, Armijo serves as a principal investigator for a large Department of Energy Solar Energy Technology Concentrating Solar Power Liquid-Pathway program. His duties include technical leadership and project management to develop the next generation of high temperature concentrating solar power plants.
In addition to concentrating solar power, Armijo's work includes aerospace and re-entry materials research and development, photovoltaics and distributed-energy technologies, plasma reliability, thermal trends of photovoltaics technologies, inverter and power electronics reliability and New Mexico Small Business Assistance Program projects. His work also spans other high-voltage and high-current direct-current power reliability applications, as well as applications in arc-fault safety in nuclear energy high-voltage applications.
Away from work, Armijo is deeply involved with community outreach as vice president of the New Mexico Professional Hispanic Engineers organization. For the past eight years, he has volunteered through Sandia's Manos program and is also the co-founder and leader of Noche Ciencias, family science nights, for middle and high school students and their parents, provided in both English and Spanish.
Candidates for Most Promising Engineer or Scientist Advanced Degree must be an engineer or scientist with less than 10 years of work experience since earning a master's or doctoral degree in a STEM field. Award criteria include:
uniqueness or innovation of contributions to the organization;
leadership abilities or initiative;
professional and technical achievement;
potential for advancement;
and involvement within the Hispanic community nationally or internationally.
"I'm grateful to Sandia Labs for supporting my interest in alternative energy technologies and sustainability and my mentoring of young, aspiring scientists in the local community," Armijo said. "This recognition comes from doing the things I love that give me professional and personal fulfillment."
Michael Omana — COVID-19 response wrangler
Through numerous separate projects, Omana and his teams have rapidly produced personal protective equipment for frontline workers, determined the effectiveness of equipment sterilization techniques, provided independent performance testing of imported equipment and devised field tests to determine the spread of aerosols between medical exam rooms.
Michael was one of a team of 17 researchers who developed a disposable respirator early in the pandemic made from materials not already used in the supply stream to sidestep the shortage of medical-grade personal protective equipment available to healthcare workers. Additional work in mask development yielded a reusable respirator that filters both inhaled and exhaled air with easily replaced N95 filter material stored inside two disc-shaped cases, protecting wearers and patients.
In the community, Omana is a mentor to underrepresented students, often supporting community events held by the Society of Hispanic Professional Engineers. This includes conducting professional workshops, information sessions and tech talks for underrepresented student groups at the University of Texas, Austin. He also actively recruits diverse candidates as a member of Sandia's recruiting team.
Candidates for Most Promising Engineer or Scientist Master's must be engineers or scientists with less than 10 years of work experience and no higher than a master's degree completed. Award criteria include:
uniqueness or innovation of contributions to the organization;
leadership abilities or initiative;
uniqueness of accomplishments;
professional and technical achievement;
potential for advancement;
and involvement within the Hispanic community nationally.
"The opportunity to team with this breadth and depth of experts in one place enables us to quickly develop solutions to emerging challenges," Omana said. "I'm honored to accept this award, but I understand how many professionals it takes working together to develop and advance important science."
The awards selection committee, composed of various Great Minds in STEM stakeholders, including many past award winners, evaluates the nominations and reports its recommendations to the selection committee chairs, who make the final award selections.
For 33 years, Great Minds in STEM has recognized the achievements of America's top engineers and scientists from the Hispanic community. These leaders, innovators and champions represent the best and brightest minds our nation has to offer. They are symbols of Hispanic contributions at the highest levels of academia, government, military and corporate America.
---
Sandia National Laboratories is a multimission laboratory operated by National Technology and Engineering Solutions of Sandia LLC, a wholly owned subsidiary of Honeywell International Inc., for the U.S. Department of Energy's National Nuclear Security Administration. Sandia Labs has major research and development responsibilities in nuclear deterrence, global security, defense, energy technologies and economic competitiveness, with main facilities in Albuquerque, New Mexico, and Livermore, California.
---