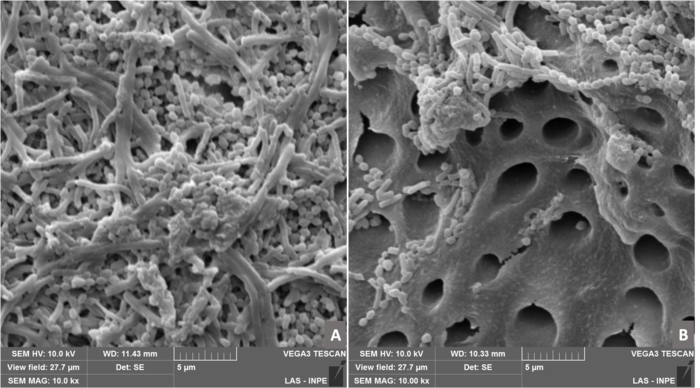 Photodynamic therapy (PDT) using chlorin e-6, a photosensitizer marketed in several countries, is an effective auxiliary treatment for dental caries. The technique can be used in the consulting room. A study by Brazilian researchers demonstrated its antimicrobial action in vitro, via inhibition of the activity of bacterial plaque biofilm containing several types of cariogenic microorganisms, including Streptococcus mutans, one of the most common bacteria found in the human oral cavity.
The study was conducted by a group that included Rafael Araújo da Costa Ward and Nathália Maria Ferreira Gonçalves, both of whom were supported by Young Investigator grants from FAPESP. The principal investigator was Juliana Campos Junqueira, a professor in the Department of Biosciences and Oral Diagnosis at São Paulo State University (UNESP) in São José dos Campos, Brazil. An article reporting the results was published in November 2021 in the journal Pharmaceutics.
Junqueira supervised the postdoctoral research of Maíra Terra Garcia, first author of the article, jointly with the penultimate author, Juliana Ferreira-Strixino, who heads the Laboratory of Photobiology Applied to Health (Fotobios) at the University of Paraíba Valley (UNIVAP), also in São José dos Campos, and was a co-author of a study on the treatment of cutaneous leishmaniasis, published in May 2021, showing that PDT in conjunction with curcumin, an active component of turmeric (Curcuma longa), can reduce parasite load and even eliminate Leishmania parasites completely (more at: agencia.fapesp.br/36604).
In this latest study, the researchers collected samples of carious dentin from three patients and formed biofilms in the laboratory. The microbial composition of the biofilms varied among the patients, comprising streptococci, lactobacilli, and yeasts.
The biofilms were treated with PDT associated with LED irradiation mediated by a photosensitizer derived from chlorin e-6 (Fotoenticine), and then analyzed by counting the colony-forming units (CFU) in selective and non-selective culture media.
Overall, PDT eliminated S. mutans and decreased total microorganisms by up to 3.7 units (log10 CFU). In the case of streptococci, the reduction was 2.8, and for lactobacilli and yeasts it was 3.2 each. The reductions indicated approximately 99% efficacy of antimicrobial activity.
The treatment was also shown to disaggregate the biofilms and reduce acid concentration (which contributes to caries formation) by 1.1 to 1.9 mmol lactate/L. Biofilm structure and acid production by microorganisms were analyzed using microscopic and spectrophotometric analysis respectively.
Dental caries are influenced by lifestyle, diet, oral hygiene, and the presence of fluoride in the water supply or toothpaste. Genetic factors may also play a role.
"Dentistry has advanced significantly in recent years, but caries still need to be treated using rotary instruments and drills, which can cause discomfort and anxiety in patients," Junqueira told Agência FAPESP. "PDT is an auxiliary treatment. In children with extensive carious lesions, for example, drilling can lead to loss of structure in non-affected teeth as well as patient distress. An alternative is manual removal of caries and use of PDT with chlorin e-6. This is quick and painless while preserving dental structure."
PDT is a chemical process resulting from the interaction of light, oxygen, and a drug sensitive to light – a photosensitizer – that is administered in the form of an ointment or injected. After a certain interval, the tissue is irradiated with light at a specific wavelength depending on the drug. The light activates the drug, which reacts with the oxygen in the infected cells, resulting in their death.
Treatments for caries include application of fluoride, fillings, and placement of crowns. Severe cases may require root canal treatment or tooth extraction. PDT is already used by dentists, she added, but the most widely used photosensitizer is methylene blue, which is a dye and must be used sparingly to avoid staining the teeth.
"Our search for other photosensitizers led us to chlorin e-6 because of its satisfactory results. The advantages include the fact that it isn't a dye and doesn't stain the teeth, as well as the use of light at wavelengths in the range of 650-660 nanometers, compatible with the equipment dentists already have in their consulting rooms," Junqueira said.
"Many applications of PDT have been researched, against skin infections and cancer, for example, as well as leishmaniasis, but its use against microorganisms is also being studied, as is its application to treat oral cavity lesions, which led to our decision to pursue this avenue."
Another innovative aspect of the study, according to Junqueira, was the use of microcosm biofilm developed from samples donated by three patients at dental clinics in São José dos Campos aged 20-40 and with at least one dentin caries lesion in a molar tooth. Microcosm biofilm is an in vitro version of natural oral biofilm.
The human oral cavity can contain as many as 700 microbial species, of which at least 40 have been associated with caries. "It's hard to reproduce in vitro the microbial environment found in saliva and oral biofilm. We succeeded in doing so," she said.
Little is known about the oral health of Brazilians in general. A project called SB Brazil is conducted under the aegis of the National Oral Health Policy and expected to publish statistics later this year.
The last nationwide survey, performed by the Ministry of Health in 2010, found that 46.6% of under-fives had no deciduous (milk) teeth caries, while 43.5% of 12-year-olds had healthy permanent teeth. The proportions were 23.9%, 0.9% and 0.2% in the 15-19, 35-44 and 65-74 age groups respectively.
###
About São Paulo Research Foundation (FAPESP)
The São Paulo Research Foundation (FAPESP) is a public institution with the mission of supporting scientific research in all fields of knowledge by awarding scholarships, fellowships and grants to investigators linked with higher education and research institutions in the State of São Paulo, Brazil. FAPESP is aware that the very best research can only be done by working with the best researchers internationally. Therefore, it has established partnerships with funding agencies, higher education, private companies, and research organizations in other countries known for the quality of their research and has been encouraging scientists funded by its grants to further develop their international collaboration. You can learn more about FAPESP at www.fapesp.br/en and visit FAPESP news agency at www.agencia.fapesp.br/en to keep updated with the latest scientific breakthroughs FAPESP helps achieve through its many programs, awards and research centers. You may also subscribe to FAPESP news agency at http://agencia.fapesp.br/subscribe.
---
Article Title
Susceptibility of Dental Caries Microcosm Biofilms to Photodynamic Therapy Mediated by Fotoenticine
Article Publication Date
10-Nov-2021