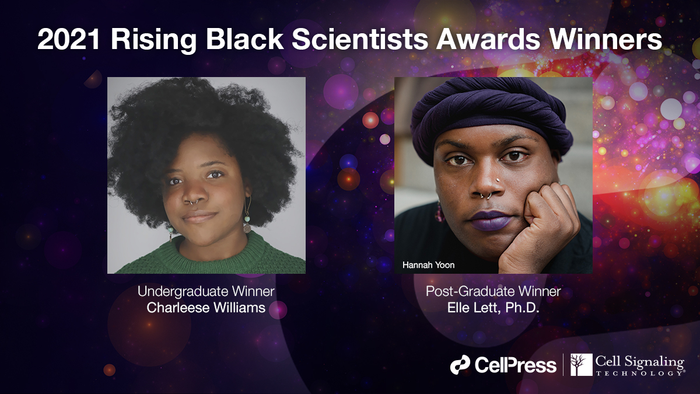 The winners of the 2021 Cell Press and Cell Signaling Technology Rising Black Scientists Awards are Elle Lett, Ph.D., (@madblqscientist), a postdoctoral fellow at the University of Pennsylvania's Perelman School of Medicine, and Charleese Williams, an undergraduate researcher and neuroscience student at Georgia State University. Their winning essays, appearing January 20 in the journal Cell, recount their experiences as Black scientists and their commitment to advocacy and to uplifting their communities.
The Rising Black Scientists Awards, created in 2020 as a partnership between Cell Press and Cell Signaling Technology, are intended to break down barriers and create opportunities by providing funds to support talented Black scientists on their journey. As graduate/post-graduate and undergraduate winners respectively, Lett and Williams will each receive $10,000 to use to support their professional development and $1,000 in scientific materials from Cell Signaling Technology, in addition to publication in Cell.
"We are proud to continue to support brilliant and inspiring Black scientists like this year's winners," says Anne Kitson, Managing Director, Cell Press and The Lancet. "Through these awards, we hope to help build and recognize a more inclusive community of scholars and advocates to drive innovation and positive change."
Practicing science that tackles discrimination-driven health inequities
For Lett—a statistician-epidemiologist, MD candidate at the Perelman School of Medicine, and a Black, transgender scientist—winning the award is of personal and political importance. "Personally, it acknowledges the effort I have put into developing into a thought leader and innovative scientist capable of moving my field forward," she says. "Politically, it is a statement of the importance of the type of science that I do—work that highlights the experiences and power of oppressed populations while developing strategies to mitigate the harms of systemic discrimination."
In her essay, "Science as a tool for justice," she writes about how she uses her scientific work to understand and address the health inequities that societal systems of oppression create for people like her. She recounts her family history of diabetes, her research on insulin-producing beta cells, her journey towards biostatistics and social epidemiology, and her commitment to elevating other people of marginalized identities.
"I have four mentees who themselves are 'Rising Black Scientists,' all filled with potential to be leaders and innovators in their disciplines," she writes in her essay. "I am as committed to supporting their success as continuing my own research, because I believe that accessibility and representation in science is a prerequisite to delivering on the promise of biomedical research and ensuring health equity for all."
A scientist reflected in her sisters' eyes
In her essay, "We like neurons," Williams shares the way her baby sisters see her—"They look at their little anatomy books with adoration and think of me as a scientist."—and her vision of a future where others might see her the same way. "The intersectionality of the coming generations is already creating ripples, and soon waves, and someday an ocean of knowledge and experience from all people," she writes.
Williams is a neuroscience student and undergraduate researcher at Georgia State University, where she studies sensory systems in fruit flies and serves on the Listening Subcommittee for the GSU Neuroscience Institute's Diversity, Equity, and Inclusion (NI-DEI) Committee.
On her experience while writing her essay, she says, "Acknowledging that so many Black people feel this extra level of pressure and will likely continue to feel it for years to come is extremely uncomfortable to unpack. That stigma is not something that can be remedied with a single essay, but I hope that other scientists who are in a similar state of mind can read it and know that they are not alone in their journeys."
Essays selected based on scientific vision, personal story, and community involvement
In recognition of the excellence of this year's submissions, the journal Med will also honor notable essays from Suuba Demby, an undergraduate researcher at Harvard University, and Jay Gill (@_iamjay), an M.D./Ph.D. candidate at UCLA. The essays, "To see, study, and serve" and "Finding healing where it hurts," were chosen because their themes resonated strongly with the journal's mission to improve global health. The essays will appear in Med on February 11.
When writing their essays, all applicants were asked to share what motivates them to change the world through scientific discovery. Prior publication record was not a consideration and the essays published in both journals were selected based on the applicants' scientific vision, personal story, and community involvement.
The essays were evaluated by a panel composed of Cell Press editors and leading Black voices in the life science community, including Tracy L. Johnson, Ph.D., a professor and dean at UCLA and a Howard Hughes Medical Institute professor; W. Marcus Lambert, Ph.D., associate vice president for research strategy and operations and associate professor at SUNY Downstate Health Sciences University; Courtney J. Robinson, Ph.D., an associate professor at Howard University; and Derrick C. Scott, Ph.D., an associate professor at Delaware State University and the director of bioinformatics and executive director of the Delaware State University Molecular Diagnostics Laboratory.
###
The Rising Black Scientists Awards are supported by Cell Signaling Technology (CST).
Cell, Lett.: "Science as a tool for justice" https://www.cell.com/cell/fulltext/S0092-8674(21)01483-5 DOI: 10.1016/j.cell.2021.12.020
Cell, Williams: "We like neurons" https://www.cell.com/cell/fulltext/S0092-8674(21)01482-3 DOI: 10.1016/j.cell.2021.12.019
Cell Press (@CellPressNews), an imprint of Elsevier, is a leading publisher of scientific research and reviews. We drive science forward and promote cross-pollination of ideas with our passion for excellence and commitment to innovation. Our aim is to engage the scientific community by communicating important, exciting discoveries made today that will impact the future of research. Visit https://www.cell.com/. To receive Cell Press media alerts, contact press@cell.com.
CST a private, family-owned company, founded by scientists and dedicated to providing high quality research tools to the biomedical research community and with employees operating worldwide from their U.S. headquarters in Massachusetts, and their offices in the Netherlands, China, and Japan. Cell Signaling Technology® and CST™ are trademarks of Cell Signaling Technology, Inc.
---