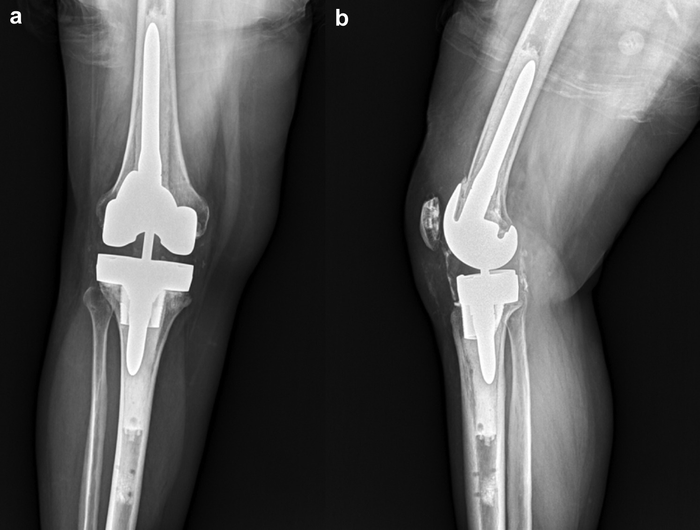 HUNTINGTON, W.Va. - Researchers at the Marshall University Joan C. Edwards School of Medicine continue to innovate with among the first published demonstrated use of robotic arm technology in revision total knee arthroplasty. The study is available online and will be printed in the February 2022 edition of Arthroplasty Today.
TKA, also known as total knee replacement, is widely regarded as one of the most successful operations for the treatment of end-stage osteoarthritis of the knee. A well-balanced and aligned TKA is capable of permitting patients to return to a high degree of function postoperatively. However, revision surgery is sometimes necessary to continue the patient's current lifestyle.
Traditionally, revision surgery is performed with manual instrumentation, relying heavily on the skill of the orthopaedic surgeon; however, the researchers at the Joan C. Edwards School of Medicine have applied computer-assisted technology to this type of surgery to improve component positioning and improve balance achieved in order to increase the implant's longevity and decrease the burden of re-revision surgery.
"The use of robotic technology for primary hip and knee replacements is a rapidly growing area of joint replacement surgery. The most logical next step is to also utilize this powerful tool in revision surgery when things are even more complex and bone loss more severe," said Alexander T. Caughran, M.D., assistant professor at the school of medicine and surgeon at Marshall Orthopaedics. "Our goal is to make our already good outcomes even better with the use of this technology."
Two case studies utilizing computer-assisted technology are discussed in the Arthroplasty Today publication. The study follows two patients' post-operative experiences six months following surgery. Unlike traditional surgery, the researchers took CT scans of the patient prior to surgery to use as guides. Robotic tools helped determine what thickness of bone to remove, where to make bony cuts and how to properly tension soft tissues. A robotic arm was then used under the direction of the orthopaedic surgeon to ensure the utmost accuracy and precision. Patients reported satisfactory outcomes with well-aligned revision TKA components and excellent range of motion. Future studies will investigate the comparative functional results and patient satisfaction of standard revision TKA and CT-based robotic-assisted surgery.
"Computer-assisted surgery is very accurate and highly precise. Based on the computer's feedback and readings, we can fine tune revision surgery for a truly customized experience for each individual patient," said Matthew W. Bullock, D.O., associate professor at the school of medicine and surgeon at Marshall Orthopaedics.
In addition to Caughan and Bullock, researchers for the study also included Marshall University orthopaedic surgery residents Micah MacAskill, M.D., and Baylor Blickenstaff, M.D.
The surgeons at Marshall Orthopaedics have performed robotic partial joint replacements for more than 10 years. Since adding robotic total hip and knee replacements in 2019, nearly 500 have been performed. Marshall Orthopaedics is one of only a few provider groups throughout the country that offers robotic revisions using Mako computer-assisted technology.
To read the article in its entirety, please visit: https://www.sciencedirect.com/science/article/pii/S235234412100217X.
---
Journal
Arthroplasty Today
Article Title
Revision Total Knee Arthroplasty Using Robotic Arm Technology