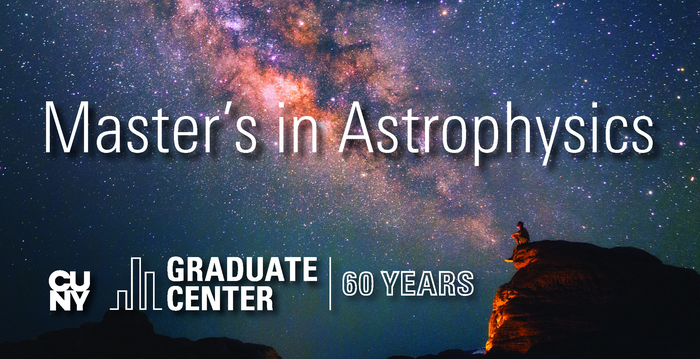 NEW YORK, February 9, 2022– Astrophysics is one of the most popular science fields, igniting the imaginations of many as they learn about it from television shows or news of space exploration. Like many other STEM fields, though, it lags in attracting students of color. Studies have shown the benefits of diversity in STEM fields, but making the science, technology, engineering, and math fields accessible to underrepresented minorities has challenged both scientists and educators. One stumbling block is the cost of graduate education, particularly at the master's level, where scholarships and stipends are rare. With the generous support of the Simons Foundation, the CUNY Graduate Center is introducing a comprehensive and fully funded Astrophysics master's program that alleviates the financial and educational impediments that hold back many aspiring scientists.
In fall 2022, the Graduate Center will offer a new Astrophysics master's program designed to prepare students from all backgrounds to excel in astronomy and physics doctoral programs as well as STEM careers. Thanks to a $4 million grant from the Simons Foundation, students will be able to attend the master's program tuition-free.
"By making it financially possible for our talented students to further their educational goals and earn a master's degree in astrophysics, CUNY is adhering to its historic mission to promote equity and expand access, as well as helping to diversify the future STEM workforce of the nation," said CUNY Chancellor Félix V. Matos Rodríguez. "It is precisely these kinds of academic opportunities that have made The City University of New York an unparalleled engine of social mobility for generations of deserving students. We thank the Simons Foundation for its generous support, which helps make this work possible."
"Gaining experience conducting high-quality research is a prerequisite for STEM doctoral education and for success in the STEM industry, but many promising students lack the financial support and other resources to do so," said Robin L. Garrell, president of the CUNY Graduate Center. "Science is strengthened by diversity. The Graduate Center is committed to making first-rate STEM graduate education accessible to students of all backgrounds. With this generous grant from the Simons Foundation, we will be able to give under-resourced students the support they need to thrive as researchers and problem-solvers, ready to explore the mysteries of the universe."
"One of the 'missing pieces' in our graduate training ecosystem are master's programs that provide alternative on-ramps to graduate study, said David Spergel, president of the Simons Foundation. "I am hoping that this program will not only provide opportunities for developing outstanding future astronomers, but also serve as a model for broadening access to graduate training in basic science."
The new Astrophysics master's program builds on CUNY's success at introducing undergraduates to astronomy through mentoring programs such as AstroCom NYC, a National Science Foundation–supported initiative that connects students with leading research astronomers at CUNY and in New York City.
"We are seeing far more demand from students to gain graduate training in astronomy than our current programs can accommodate," said Jillian Bellovary, a professor of physics at the Graduate Center and Queensborough Community College who directs the Astrophysics master's program and is the principal investigator of the Simons Foundation grant. "We also know that students can stumble in graduate school without solid mentoring or sufficient funding. As a result, students with a lot of potential for success may end up dropping out of their programs. In designing our master's program, we set out to create the biggest support system we could conceive. With the Simons Foundation funding, the program is set to live up to our vision."
Based at the CUNY Graduate Center in midtown Manhattan, the Astrophysics master's program involves more than 15 faculty members from eight CUNY campuses across New York City as well as researchers from the Flatiron Institute Center for Computational Astrophysics. Students get to conduct astrophysics research in faculty members' laboratories and groups. Beyond research, the program will also offer professional training in areas such as creating and giving conference presentations, scientific writing, collaborative teamwork, and networking.
"The Center for Computational Astrophysics at the Simons Foundation's Flatiron Institute has a strong tradition of mentoring young scholars, and of collaborating with our peers among the talented CUNY faculty. We are delighted to welcome this new cohort of master's students into our community and strengthen our ties with the CUNY system," said Julianne Dalcanton, director of the Center for Computational Astrophysics.
The Simons Foundation grant will cover students' tuition and will provide students with a stipend for living costs as well as health care benefits. Students will also receive a budget for supplies, financial support for travel to conferences and, if needed, funds to relocate.
"Through its generosity, the Simons Foundation will transform the lives of some remarkable students and make a meaningful difference in the diversity of astronomy and physics doctoral education," said Joshua Brumberg, dean for the sciences at the CUNY Graduate Center. "We are grateful for this visionary support and can't wait to welcome our new students next fall and inspire a new generation of scientists to study the cosmos."
About the Graduate Center of The City University of New York
The CUNY Graduate Center is a leader in public graduate education devoted to enhancing the public good through pioneering research, serious learning, and reasoned debate. The Graduate Center offers ambitious students nearly 50 doctoral and master's programs of the highest caliber, taught by top faculty from throughout CUNY — the nation's largest urban public university. Through its nearly 40 centers, institutes, initiatives, and the Advanced Science Research Center, the Graduate Center influences public policy and discourse and shapes innovation. The Graduate Center's extensive public programs make it a home for culture and conversation.
###
---