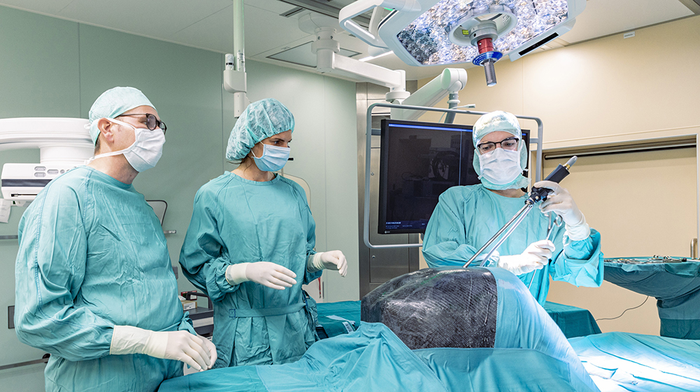 Engineers and physicians at Otto von Guericke University Magdeburg have jointly developed an educational and training model for operations in the human thoracic cavity. In future, the model, which has been created from real patient data using a 3D printer, will be used both in the teaching of students and in thoracic surgery as a realistic training model for surgeons. In addition, it will also be possible to use it in the training of nursing staff or for instruction in the medical technology sector, according to Professor Dr. med. Thorsten Walles, Head of Thoracic Surgery at Magdeburg's University Hospital and co-initiator of the "Magdeburg Thorax Model" project.
"Lung operations, for example, are technically highly complex interventions," explains the surgeon. "In minimally invasive surgery, the ribcage presents a particular challenge for the treatment team thanks to its bony armor consisting of the ribs, breastbone and spine and the delicate and highly sensitive internal organs that it protects," explains Professor Dr. med. Thorsten Walles, Head of Thoracic Surgery at Magdeburg's University Hospital. "Minimally invasive thoracic surgery therefore requires special psychomotor skills of the surgeons, which have to be learned outside of the operating theater. Until now, there has been a scarcity of good models for this."
According to Walles, an estimated 50,000 lung operations take place in Germany annually. Not least because of the persistent rise in lung cancer cases, this number increases further every year. "Thanks to the technical developments of recent years, today many diagnostic and approx. 30 percent of the larger ribcage operations entailing the removal of whole sections of the lungs can already be carried out as keyhole operations in a minimally invasive way." The aim of thoracic surgeons is to be able to offer a minimally invasive procedure to as many patients as possible. This should - among other things - be facilitated in future by the increasing use of surgical robots. For thoracic surgeons this means that they need to learn and train in new surgical procedures so that they can then safely utilize them with their patients.
The so-called "Magdeburg Thorax Model" developed for training purposes by Professor Walles and engineers from the Institute of Process Technology & Quality Management at the University accurately recreates the spatial situation in the human ribcage. A prototype was generated from anonymized patient data and is thus a 1:1 copy of a human ribcage.
"We were happy to take on the challenge handed to us by the University's Lung Center," explains Fabian Laufer, Research Assistant in the Institute of Process Technology & Quality Management in the Faculty of Mechanical Engineering. The young academic and his team received anonymized patient data from imaging obtained from CT scans at the University Hospital. This was computerized, processed using a variety of software programs, analyzed and a conventional 3D printer was then fed with the model parameters that were derived. Next, an approximately 50 x 40 cm ribcage model was printed using a type of resistant plastic (PETG). This can be disinfected and can also be supplemented with models of the organs of the thoracic cavity. It is rounded off by a strong outer cover that precisely replicates the layer of muscle and soft tissue of a patient and was produced in collaboration with the University's UMD Racing team of students. According to Professor Walles, this exterior detail is important:
"In robotic surgery there are standards for the access routes to the lungs and the other organs of the thoracic cavity, but these have to be taught and learned. Until now, this has been done using models for abdominal surgery. But they are very imprecise," says the physician. "What we lacked was a model that depicted the situation in the ribcage in a natural way, with obstructive ribs, and internal organs in place." With models like this one, in future it will be possible to carry out training, both in teaching and education as well as in everyday clinical practice, and to standardize the acquisition of surgical processes. "Young surgeons will have their learning curve behind them before they come into contact with patients, and experienced surgeons will gain additional scope for developing new operative approaches."
The model has already been presented to the public at specialist medical trade fairs and has met with a very warm reception, according to Walles. Some initial companies would already like to use it for medical technology demonstration purposes or in practical training for their implants. Further models are already being jointly planned by the physicians and engineers. "For the various surgically significant challenges, in future we also want to develop smaller "female" and "juvenile" versions of the ribcage model," explains Fabian Laufer. "Based on the additive production process used, in future it will be possible to take additional individual customer requirements could into account in the implementation of specific functions and features."
The names of the additional models have already been decided: the Magdeburgers have christened them Otto, Editha and Liudolf after the family of Otto I, Holy Roman Emperor, who held court here.
---