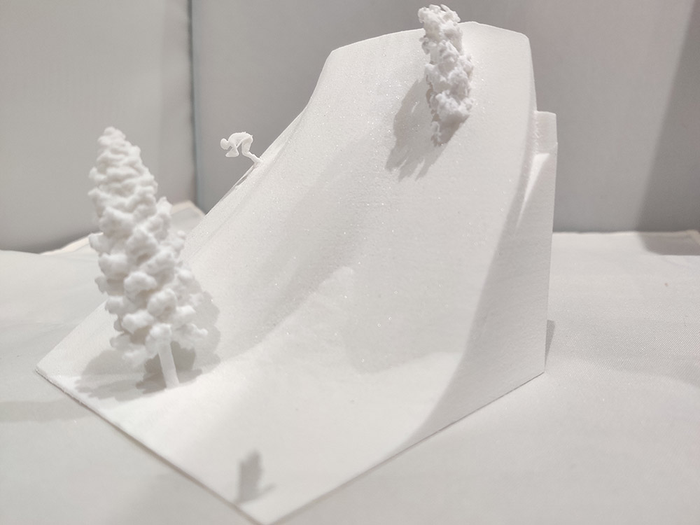 The promotional animation features visualisations of winter Olympians, as well as snow scenes created using the additive manufacture (3D printing) technology at the 3M BIC.
The sequence of 3D printed snow frames were created as part of the stop motion animation developed by BBC Creative, directed by Balázs Simon through animation studio Blink Ink, and designed by miniature set and prop specialists Scale Model Studios. The snow scenes depict some of the winter sports that will feature in the 2022 Winter Olympics in Beijing, such as the Skeleton Bob Sleigh, Skiing and Snowboarding.
The technology team at the 3M BIC, which included Janine Downs, Georgina Kipling, Anastasis Constanti and Stephen Knowles, created the scenes using an industrial 3D printer which uses white nylon material. The scenes were also placed in a bead blast machine, which gave the scenes a sparkly snow effect.
Janine Downs, technology manager at the 3M BIC, said: "We are really excited to have been part of this project for the 2022 Winter Olympics. We had to turn around a large number of 3D builds with the whole 3M BIC team getting involved, working all hours to ensure the builds were completed and posted within the specified timeframe.
"To see the final video in all its glory on TV is really rewarding. It is testament to the hard work of the whole 3M BIC team, but also showcases the creative capabilities of our in-house additive manufacturing technology."
For more information about the 3M BIC, go to www.3mbic.com.
---