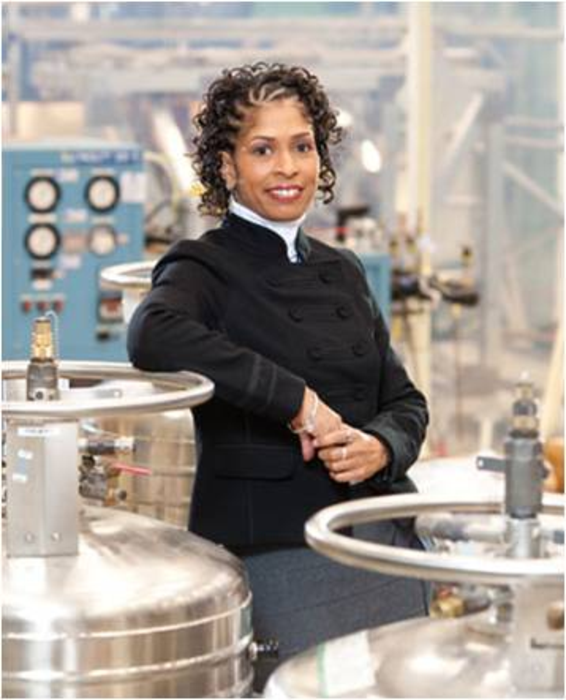 NASA's Dr. Aprille Ericsson has received the Ralph Coats Roe medal from the American Society of Mechanical Engineers (ASME), honoring her international work encouraging young people, women, and people from other underrepresented groups to pursue STEM careers.
The Ralph Coats Roe Medal was established in 1972 to honor engineers who make outstanding contributions toward public understanding of engineering and its contributions to society.
Ericsson has served as an engineer, technologist, instrument lead, and project and program manager at NASA for nearly 30 years, lending her technical and managerial expertise to projects including the James Webb Space Telescope, the Lunar Reconnaissance Orbiter, the Tropical Rainfall Measuring Mission (TRMM), and the Ice, Cloud, and land Elevation Satellite-2 (ICESat-2). Currently, she is the new business lead for NASA Goddard Space Flight Center's Instrument Systems and Technology Division, which connects scientists and project managers with the instrument technologies they need to accomplish their missions. In this role, she fosters partnerships between government agencies and universities, industry and small businesses.
Ericsson has been passionate about mentoring young people and students for much of her life and career, beginning in high school and college. By lecturing and serving on advisory boards at multiple universities, advising pre-college STEM programs, and reviewing proposals for NASA- and NSF-funded grants, Ericsson has supported numerous engineering students and young professionals pursuing careers in science, technology, engineering and math. She currently advises students at Massachusetts Institute of Technology (MIT) and Howard University.
As an engineer, her mentorship efforts have focused on students from underrepresented groups, especially women and communities of color, who may have fewer opportunities to pursue STEM careers.
"When diverse ideas collide, they spark innovation," Ericsson said. "It's important to use our whole workforce. Inclusiveness and diversity really make teams stronger, so I believe it's the right thing to do to help us solve problems better. Serving underrepresented student groups isn't about helping only an underdog. It's about us being successful as a community, as a nation, and as the world."
Ericsson has won numerous awards for her engineering, education, and leadership work, including the 2016 Washington Award from the Western Society of Engineers and nine individual and group NASA Honor awards. She has been inducted into the Hall of Fame for the District of Columbia and the Organization of Black Aerospace Professionals and appeared at No. 8 on Business Insider's list of Most Powerful Women Engineers in the World in 2016.
Past winners of ASME's Ralph Coats Roe award include astrophysicist and author Carl Sagan; Shirley Ann Jackson, the first African-American woman to earn a PhD from MIT; and science television host Bill Nye.
Ericsson will accept the award and deliver the Roe Lecture on June 19 in Phoenix, Arizona. Additionally, in keeping with the spirit of the award and her work, she will present a robotics workshop for high schoolers ahead of the lecture.
"The social aspect of engineering, including finding a mentor, is so important to our projects," Ericsson said. "We create a cohort of people working together, and that is a healthy thing for teams to be more successful and productive. When the times get tough, and you have that connectedness, you're able to keep an eye out for each other, ultimately ensuring the success of all."
To learn more about NASA's Instrument Systems and Technology Division, visit https://istd.gsfc.nasa.gov/.
---