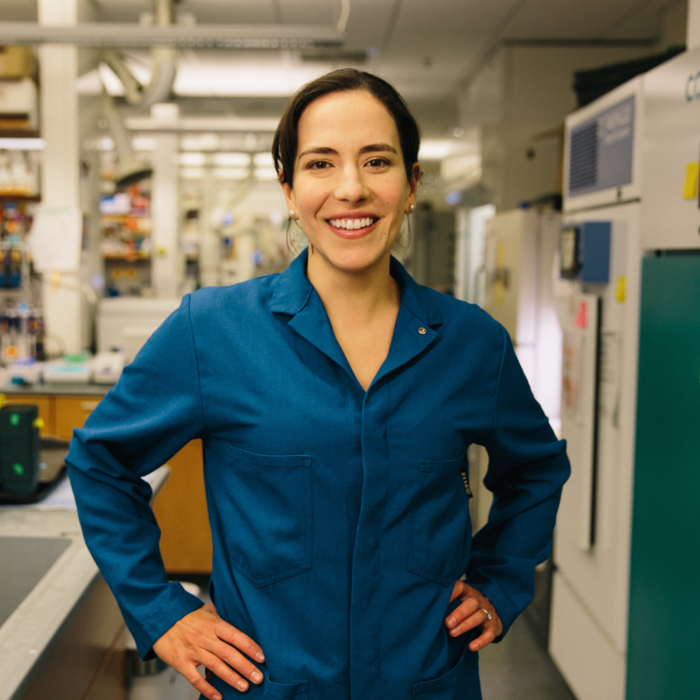 NEW YORK, February 8, 2022—The Vilcek Foundation recognizes and celebrates the research contributions of nanobiotechnologist Markita del Carpio Landry in a new article and video profile shared on the Vilcek Foundation website. The feature, Markita del Carpio Landry: Representation and Responsibility in STEM, centers on del Carpio Landry's research, and on her receipt of a Vilcek Prize for Creative Promise in Biomedical Science.
The Vilcek Prizes for Creative Promise in Biomedical Science are awarded to young immigrant scientists in the United States. Each $50,000 prize recognizes an individual whose early-career work exemplifies outstanding scientific accomplishment, and whose research represents a significant contribution to their field of study. Del Carpio Landry receives a Vilcek Prize for Creative Promise for the development of probes to visualize neurochemical communication in the brain, and for breakthroughs in gene-editing technologies with applications for agriculture and the development of biologic drugs.
An assistant professor at the University of California, Berkeley, del Carpio Landry grew up in Quebec, Canada, the daughter of a Bolivian mother and French Canadian father. She and her family immigrated to the United States when she was a teenager, so that her mother could pursue a career in computer science. Del Carpio Landry studied physics at the University of North Carolina, Chapel Hill, and at the University of Illinois, Urbana-Champaign, and completed postdoctoral work in nanotechnology and spectroscopy at the Massachusetts Institute of Technology.
As a scientist, del Carpio Landry feels compelled to pursue research problems that will have the greatest potential impact on society. She leverages her expertise in physics and nanotechnology to address some of medicine's most compelling problems. Fascinated by the brain, del Carpio Landry's work centers on understanding aberrations in neurotransmitter signaling. She developed near-infrared optical nanosensors to image dopamine within the brain. This technique has enabled scientists to better understand how neurons in the brain communicate.
A member of the Society of Hispanic Professional Engineers (SHPE) and the Society for the Advancement of Chicanos and Native Americans in Science (SACNAS), del Carpio Landry is dedicated to being a mentor to the next generation of scientists, and is a champion for making access to scientific education and careers equitable. "I am motivated by the knowledge that my presence in STEM sets an example for others from immigrant and non-traditional backgrounds," she says. "While it is rewarding to produce good science, my greatest impact will come from producing great scientists."

Read more about Markita del Carpio Landry's work at the Vilcek Foundation: https://vilcek.co/2022vfplandryecn

The Vilcek Foundation
The Vilcek Foundation raises awareness of immigrant contributions in the United States and fosters appreciation of the arts and sciences. The foundation was established in 2000 by Jan and Marica Vilcek, immigrants from the former Czechoslovakia. The mission of the foundation—to honor immigrant contributions to the United States, and more broadly to foster appreciation of the arts and sciences—was inspired by the couple's respective careers in biomedical science and art history. Since 2000, the foundation has awarded over $6.4 million in prizes to foreign-born individuals and supported organizations with over $5.6 million in grants.
The Vilcek Foundation is a private operating foundation, a federally tax-exempt nonprofit organization under IRS Section 501(c)(3).
---