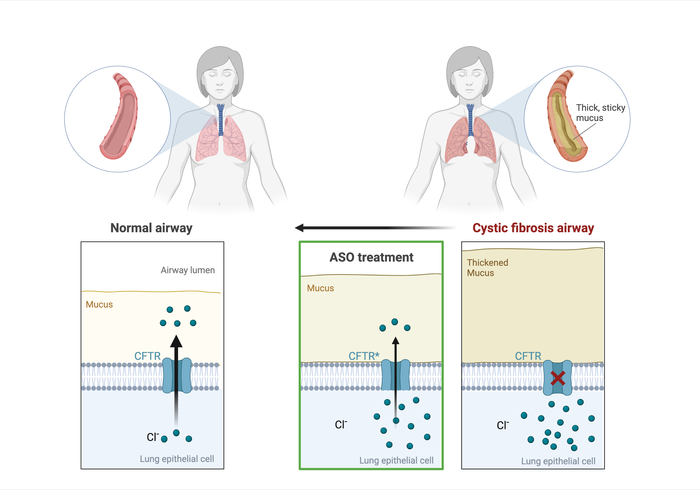 North Chicago, Illinois — A research team at Rosalind Franklin University of Medicine and Science has developed a promising new therapeutic approach for the treatment of cystic fibrosis, a devastating lung and multi-system disease caused by mutations in a gene called CFTR.
A study led by Professor Michelle Hastings, PhD, and recently published in the Proceedings of the National Academy of Sciences, supports the use of short, RNA-like molecules, called antisense oligonucleotides (ASOs), in combination with approved CF modulators as an effective treatment option for CF patients with class I mutations in the disease-causing gene. The study was funded in part by the Cystic Fibrosis Foundation.
"Our ASO treatment resulted in a recovery of CFTR activity in patient cells grown in the lab to recapitulate the lung environment," said Dr. Hastings, director of the Center for Genetic Diseases. "The efficacy of the treatment in this cell model of the disease is a good indicator of potential clinical success, giving us hope that our ASO strategy will offer a potential treatment for patients with this particular CF mutation and similar types of mutations as well."
CF affects more than 30,000 children and adults in the United States and more than 70,000 worldwide. Some people with CF have "stop" mutations that have proven very difficult to treat in CF and other diseases because they result in a nearly complete loss of protein production from the gene. In CF, loss of CFTR causes cell malfunction, affecting a number of organs, most severely the lungs, which get clogged with mucus, leading to infections, respiratory failure and other complications.
Dr. Hastings' team, including Professor Robert Bridges, PhD, and post-doctoral fellow Wren Michaels, PhD, developed the RNA-based strategy to help restore CFTR function by directing the cellular machinery to remove the stop mutation during an intermediate stage of production. This type of ASO-based RNA therapeutic has proven to be an effective drug for other diseases. The hope is that this strategy can be developed to treat CF and other diseases caused by stop mutations.
"Because they produce very little CFTR protein, CF patients with these types of mutations do not usually respond to current therapeutics approved for the disease that work to increase CFTR function," said Dr. Michaels, first author of the study. "There is an urgent need for more personalized therapies, like the approach we have developed, that target these specific mutations to increase CFTR abundance."
Dr. Hastings' patented ASO technology and therapeutic approach has demonstrated potential applications for genetic diseases that in addition to CF include Parkinson's, Alzheimer's, Batten disease and Usher Syndrome.
"We're inspired by Dr. Hastings' leadership on this body of research," said RFU Executive Vice President for Research Ronald Kaplan, PhD. "This latest publication will help advance the discovery of new therapies for CF patients and so many others who lack effective treatment options."
About Rosalind Franklin University
Named for DNA-research pioneer Dr. Rosalind Franklin, RFU encompasses the Chicago Medical School, College of Health Professions, College of Nursing, College of Pharmacy, School of Graduate and Postdoctoral Studies and the Dr. William M. Scholl College of Podiatric Medicine. Learn more at rosalindfranklin.edu.
---
Journal
Proceedings of the National Academy of Sciences
Method of Research
Experimental study
Subject of Research
Cells
Article Title
Open reading frame correction using splice-switching antisense oligonucleotides for the treatment of cystic fibrosis
Article Publication Date
18-Jan-2022
COI Statement
Competing interest statement: M.L.H. is an inventor on issued patents US20160244767A1, US20180117073A1, and US20180119152A1—antisense compounds targeting genes associated with cystic fibrosis—assigned to Rosalind Franklin University of Medicine and Science.