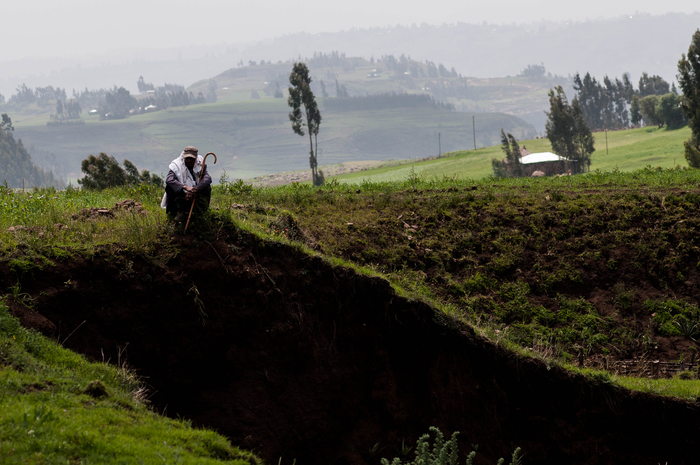 Benjamin Schiek, a senior research associate at the Alliance, said that research institutions have faced increasing donor pressure to "do more with less", but there aren't any really good tools to help allocate research funding between organisational priorities in an objective, transparent, and cost effective manner.
In Schiek's paper "Reverse engineering research portfolio synergies and tradeoffs from domain expertise in minimum data contexts," published in November 2021 in the journal PLOS ONE, he explained the method can be applied to portfolios of projects or portfolios of policies.
Making the Most of AR4D Funding
The goal of agricultural research for development (AR4D) is to improve the resilience, livelihoods and food security of small-scale farmers in rural communities, particularly youth and women, through scientific research.
Between 1990 and 2011, public agricultural research expenditures by high-income countries fell from a 36% to 24% share of the global total investment in agricultural and food research. And while a 2016 paper estimates that private sector spending in agricultural R&D (not including food industries) has tripled since 1990, there is still a basic dilemma about how to distribute scarce resources across different types of research and policy objectives.
"Do you fund a new variety of maize (corn), because the previous variety showed increases or do you fund value chain integration to help reduce the waste in the supply chain," Schiek asked.
Schiek says most large research institutions have three or four strategic objectives or policies that say "We're about this" and guide what they fund and what lines of research they pursue.
He says the methodology he developed is based on how correlated an institution's research projects are with those policies.
"For example, how correlated is the project with policy 1 or with policy 2?" he asked, adding, "If you can elicit these policy-project correlations, say through a stakeholder survey, then you can actually calculate a project correlation matrix, which gives you a sense of synergies and trade-offs between all of the projects in the institution's portfolio.
"Likewise, a policy covariance matrix can be calculated, giving a sense of tradeoffs and synergies between the institution's overarching strategic objectives."
Schiek says he has been working on this idea for many years, but just before the pandemic, he was at a talk by the director of CIAT at the time who said "People talk about goals, but not what are the tradeoffs between these different goals."
"This gave me the push to get this out of the drawer and work on it," he said.
In his paper, Schiek goes beyond this to show how the policy covariance matrix can be used to assign optimal weights to each policy. He says research institutions frequently assign such weights or rankings in a highly subjective and ad hoc manner.
Schiek says that his approach can avoid a "picking winners" mentality, where the biggest value-producing programs continue to win the lion's share of funds.
How It Works
In the paper, Schiek illustrates his methodology with a hypothetical AR4D institution that has been tasked with identifying synergies and tradeoffs in its portfolio of 11 projects. The hypothetical projects represent a diverse range of research directions, with names like "Mega Maize" or "Digital Agriculture."
The hypothetical AR4D institution is guided by four overarching policies: economic growth, income equality, environmental sustainability, and nutritional security. Project experts and stakeholders are then asked to indicate how correlated their project is with each of these policies.
Schiek explained that a positive correlation means the project contributes toward the policy (a synergy), while a negative correlation means the project works against it (a tradeoff).
"A trade-off can happen when you have a project designed to raise yields or increase a country's economic growth, but to implement the new technology involves high chemical/fertilizer inputs, and that has a negative consequence for the environment," Schiek said.
The resulting crowdsourced policy-project correlations are then fed into a series of equations so that synergies and trade-offs emerge between the projects themselves. Synergies and tradeoffs between policies can also be calculated based on the same information.
"The method may confront experts and stakeholders with potentially surprising logical implications of what they (think they) know about the problem space, and about the evolution of projects and policies through that space, thereby stimulating policy debate and dialogue," Schiek concludes.
---
Article Title
"Reverse engineering" research portfolio synergies and tradeoffs from domain expertise in minimum data contexts
Article Publication Date
12-Nov-2021