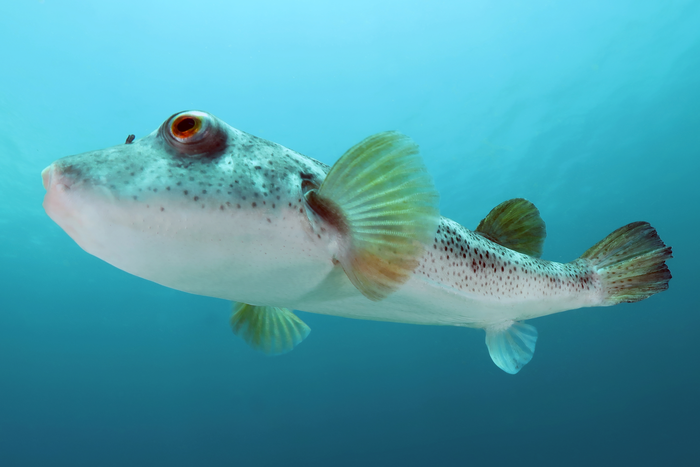 Dahiana Arcila, an evolutionary biologist at the University of Oklahoma, has received an expected $1.2 million Faculty Early Career Development Award from the National Science Foundation to improve scientific understanding of the evolutionary history of life on Earth.
Arcila is an assistant professor of biology in the Dodge Family College of Arts and Sciences at OU and an assistant curator of ichthyology at the Sam Noble Oklahoma Museum of Natural History.
For the five-year project, Arcila is studying how fish, like pufferfish, boxfish, ocean sunfish and other relatives of the fish order Tetraodontiformes, have evolved to develop their distinctive physical traits. This morphological evolution can be traced through fossil records and compared with species living today.
"These fish are very charismatic," Arcila said. "They have all of these different body shapes – the balloon-like pufferfish, box-like boxfishes, as well as fish with very small or very large body sizes, ranging from a few inches, like the filefish Rudarius excelsus, to 12 feet, like the ocean sunfish.
"I'm trying to find some of the underlying genetic mechanisms responsible for the variety of body shapes and extreme sizes in this group," she added.
By integrating the genomic and fossil data of these species, Arcila will better understand how these fish have evolved in response to ancient climatic changes.
"The combination of these fish having an exceptional disparity in genome size – varying from compact genomes in pufferfishes to larger genomes in armored boxfishes – coupled with a striking morphological diversity that is often associated with a reduction or loss of skeletal elements, and one of the best known paleontological records among teleost (ray-finned) fishes, makes tetraodontiforms an excellent system for examining how ancient climatic events have affected phenotypic dynamics, genome evolution and lineage diversification in the group," she said. "We have fossils that go back 90 to 50 million years ago, so we are able to use that fossil data to estimate their evolutionary trajectories."
Arcila's investigation is building on her research group's previous findings that demonstrate connections between ancient climactic changes and diversification dynamics in this group.
"We have preliminary data that show that when ancient climactic changes occurred, these fishes responded by changing their body size," she said.
Collaborators at the Commonwealth Scientific and Industrial Research Organisation (CISRO) in Australia and at the University of Puerto Rico will assist with the logistics of collecting fresh species to support the genomic sequencing component of the study. Arcila will also hold workshops at the University of Puerto Rico aimed at helping train the next generation of evolutionary biologists.
About the Project
The project, CAREER: Integrating Genomic, Paleoclimatic, and Morphological Approaches to Unravel the Evolutionary History of Fossil and Extant Marine Fishes Over Time, is supported by funding from the National Science Foundation, sponsor award #2144325
About the NSF CAREER Award
The CAREER award is one of the National Science Foundation's most prestigious awards in support of early-career faculty. The award also aims to help faculty integrate educational outreach with their academic research.
About the University of Oklahoma
Founded in 1890, the University of Oklahoma is a public research university located in Norman, Oklahoma. OU serves the educational, cultural, economic and health care needs of the state, region and nation. For more information visit www.ou.edu.
About OU Research and Partnerships
The University of Oklahoma is a leading research university classified by the Carnegie Foundation in the highest tier of research universities in the nation. Faculty, staff and students at OU are tackling global challenges and accelerating the delivery of practical solutions that impact society in direct and tangible ways through research and creative activities. OU researchers expand foundational knowledge while moving beyond traditional academic boundaries, collaborating across disciplines and globally with other research institutions as well as decision makers and practitioners from industry, government and civil society to create and apply solutions for a better world. Find out more at ou.edu/research
---