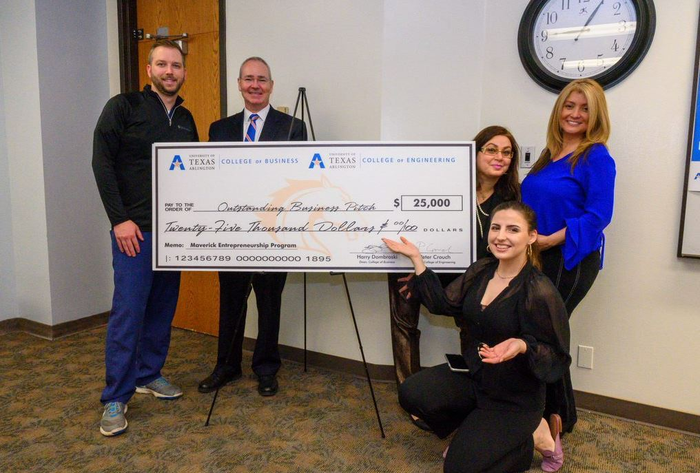 The Maverick Entrepreneur Program and Award Fund, a University of Texas at Arlington initiative that helps students take their business ideas from concept to market, has received the Tech Titans of the Future University Level award.
A collaboration between the UT Arlington College of Business and College of Engineering, the program invites all UTA students to explore their tech-related and other startup ideas in an encouraging environment through structured courses and a business pitch competition. It was established in 2018 with an anonymous gift from a UTA alumnus who continues to generously fund the program.
Management Associate Professor Jeffrey McGee represented the Maverick Entrepreneur Program and Award Fund team at the annual Tech Titans Awards Gala. McGee and electrical engineering Professor Venkat Devarajan serve as entrepreneurial faculty fellows for the program.
"It's a great honor to be recognized for our efforts to advance UTA's entrepreneurial ecosystem," McGee said. "The hard work and dedication of our students pay off, literally, with funding that helps them launch their businesses and become the next generation of entrepreneurs."
MavPitch, the program's business pitch component, features individual students or teams presenting their business concepts before a panel of judges. Students with the best pitches receive $5,000 to $40,000 in venture development funding over two phases during the academic year.
Since its inception, the Maverick Entrepreneur Program and Award Fund has welcomed more than 700 active participants from numerous academic disciplines. Collectively, these students have presented over 300 business pitches, with 69 unique teams receiving venture development funds totaling more than $1.13 million.
Among the most promising ventures to receive funding is Ethereal Flow, a biotech company specializing in cutting-edge medical devices to diagnose and treat diseases. The company is seeking a patent for its first device, a microfluidic system that can create targeted drug carriers for cancer therapy in a fraction of the time of most commercial machines.
"The program provided a fantastic opportunity to learn and grow our business," said Ethereal Flow founder Ali Mohamedi, who graduated from UTA in 2020 with a bachelor's degree in bioengineering. "The funding helped propel our dreams into reality and assured us that we were learning the core values of business while strengthening our passion for STEM."
Tech Titans is the largest technology trade association in Texas, representing about 250,000 employees through its 300 member companies. The Tech Titans of the Future University Level award recognizes a North Texas educational institution that encourages students to choose engineering and technology-related disciplines as a career path.
Last month, the program was named a finalist for the U.S. Association for Small Business and Entrepreneurship Emerging Program Award.
"By combining classroom instruction with hands-on training, the Maverick Entrepreneur Program and Award Fund takes an innovative approach to encouraging students to pursue their startup dreams," Devarajan said. "I'm confident it will continue to attract talented students whose ideas will drive economic progress in North Texas and beyond."
Written by Mark Permenter, University Advancement
---