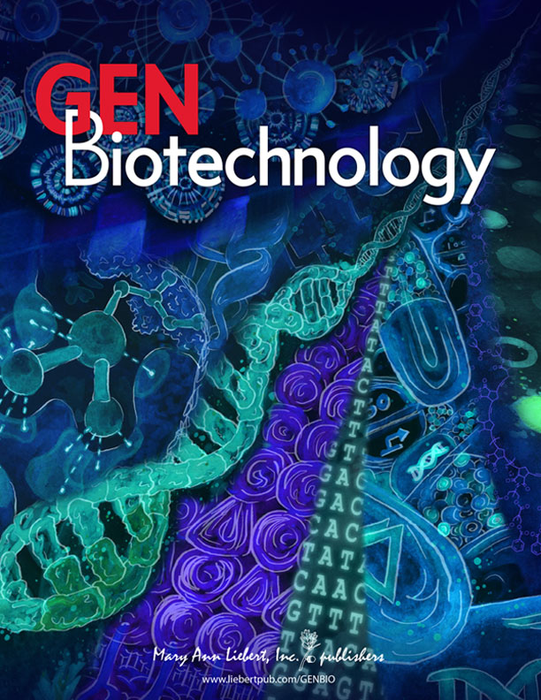 GEN Biotechnology announces the publication of its inaugural issue. The Journal publishes outstanding peer-reviewed research and perspectives in all aspects of biotechnology. The Journal, led by Editor-in-Chief Hana El-Samad, PhD (University of California San Francisco; Altos Labs) and Executive Editor Kevin Davies, PhD is published bimonthly in print and online. Visit the GEN Biotechnology website for more information.
This press release is copyright Mary Ann Liebert, Inc. Its use is granted only for journalists and news media. For full-text copies of articles or to arrange interviews with Dr. El-Samad, Dr. Davies, authors, or members of the editorial board, contact Kathryn Ryan at the Publisher.
Editorial: GEN Biotechnology and the New Age of Bioinnovation
In this debut issue editorial, Editor-in-Chief Hana El-Samad describes the motivation and vision a new marquee peer-review journal bearing the famous "GEN" logo of Genetic Engineering & Biotechnology News (GEN), which has covered the biotech industry for 40 years.
"GEN Biotechnology will be the meeting place of opinions," El-Samad writes, "intentional in the voices it amplifies – not only of those who already have the microphone, but also of those who are just discovering the power of their voices and ideas." She continues: "In a field where the fundamental and applied often intersect, GEN Biotechnology will pioneer the collaborative voice of academia and industry. In a world where biotechnology is one of our strongest bets against our health and environmental woes, GEN Biotechnology will seek innovative solutions devised by research communities everywhere for both their local and our shared global challenges."
Contact: Hana El-Samad (UCSF/GEN Biotechnology)
Synthetic Biology: HeteroDimers Reversibly Control Protein-Protein Interactions
Proteins play a central role in transmitting information in biological systems, and thus their regulation is a major thrust of synthetic biology. Dynamic dimerization is a common regulatory interaction between biological molecules, underpinning many signaling functions. Using de novo Designed HeteroDimers (DHDs) as a model system, Andrew Ng (UCSF) and coworkers (including University of Washington structural biologist David Baker) show that low-affinity protein interactions can be competitively displaced by a high-affinity "dominant negative" heterodimer. They further demonstrate the utility of this signaling motif by using competitive displacement to implement negative feedback in a synthetic circuit. The authors argue that their study serves as a roadmap for the potential of protein design to enhance the capabilities of synthetic biology.
Contact: Andrew Ng (UCSF) and Hana El-Samad (UCSF/GEN Biotechnology)
News Feature: Aging Research Goes from Great Science to Snake Oil
Research into aging, from longevity to cellular regeneration, is a booming field attracting an influx of talented researchers and lavish investments, exemplified by the recent launch of Altos Labs. Venture capital has become drawn to the field due to a host of biotech innovations such as epigenetic reprogramming, the Yamanaka reprogramming factors, whole-genome sequencing, and new molecular markers. From the Dog Aging Project to the rise of Altos Labs, GEN science editor Julianna LeMieux kicks off the debut issue by interviewing experts and pioneers to reveal the complexity of aging research from a scientific perspective, a perplexing mix of innovative science and supplements that some regard as snake oil.
Contact: Julianna LeMieux (GEN)
The Biological Robots Are Coming! But Note They Have Been Here for ~3.5 Billion Years
In this "Views & News" piece, William Ratcliff dissects the media attention attained by a recent paper in Proceedings of the National Academy of Sciences co-authored by Michael Levin (Tufts University) and Josh Bongard (University of Vermont) entitled, "Kinematic self-replication in reconfigurable organisms." The report investigated multicellular xenobot assemblies that challenged the conventional idea of replication. As a developmental biologist, Ratcliff deconstructs the complexities of labeling xenobots as "robots" and highlights the potential power of multicellular construction for biotechnological applications.
Contact: William Ratcliff (Georgia Institute of Technology)
Once in a Generation: Pascal Mayer and the Birth of a Billion-Dollar Industry
Pascal Mayer was awarded the 2022 Breakthrough Prize in Life Sciences together with chemistry professors Shankar Balasubramanian and David Klenerman for next-generation sequencing (NGS). Mayer's story and the crucial contributions of his team in Geneva have largely flown under the radar. In this Perspective, Barry Whyte explores the ups and downs experienced in developing new technologies and the unpredictability of the path to a commercial product. Mayer's story offers insights on how we might better serve innovation and entrepreneurs by creating more supportive environments.
Contact: Barry Whyte
Gene Editing Technology and Crop Improvement
Humans have improved plants for their utility through selective self-pollination, crossing, and progeny selection for more than 10,000 years, largely based on physical characteristics. Recent breakthroughs in gene editing along with agronomic practices have generated more than six-fold yield improvements in crops such as corn. In this Perspective, Wendy Srnic describes the history, key research advances, and the agricultural and environmental benefits of gene editing in crop improvement.
Contact: Wendy Srnic (Corteva)
Asked & Answered: Rudy Tanzi on Alzheimer's Research
Massachusetts General Hospital neuroscientist Rudy Tanzi has been a leading voice in Alzheimer's disease (AD) research for more than 30 years. In this exclusive interview, he candidly shares his views on AD pathogenesis, the ongoing search for genetic risk factors, screening and therapeutics.
Contact: Rudy Tanzi (Massachusetts General Hospital)
---