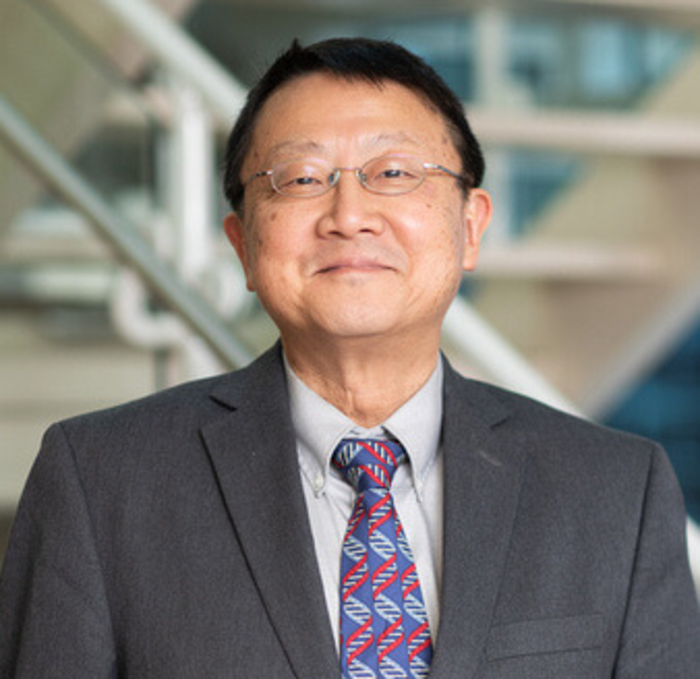 SAN ANTONIO (Feb. 10, 2022) — Patrick Sung, DPhil, is the new director of the Greehey Children's Cancer Research Institute at The University of Texas Health Science Center at San Antonio, effective March 1, 2022. William L. Henrich, MD, MACP, president of UT Health San Antonio, and Robert Hromas, MD, FACP, dean of the Joe R. and Teresa Lozano Long School of Medicine and vice president for medical affairs, announced Dr. Sung's appointment this week.
Dr. Sung currently serves as professor and interim chair of the Department of Biochemistry and Structural Biology and associate dean for research in the Long School of Medicine. In addition, Dr. Sung co-leads the Cancer Development and Progression Program at the Mays Cancer Center, home to UT Health San Antonio MD Anderson Cancer Center. He also occupies the Robert A. Welch Distinguished Chair in Chemistry. Dr. Sung is a recipient of the Recruitment of Established Investigators Award from the Cancer Prevention and Research Institute of Texas (CPRIT) and the National Cancer Institute Outstanding Investigator R35 Award.
An internationally recognized leader in the mechanistic biochemistry of DNA repair, Dr. Sung established his independent research program in 1993. He has authored or coauthored 239 original research papers and his discoveries have increased our understanding of how DNA can repair damage induced by radiation, carcinogens and other causes. Cancer cells are particularly reliant on DNA repair for survival. Hindering this capability is a major target for development of therapeutics and is a particular interest of Dr. Sung's work.
On the UT Health San Antonio Newsroom: Coveted NCI award comes to Sung, UT Health San Antonio
As associate dean of research in the Long School of Medicine, Dr. Sung has successfully led the university's efforts to secure CPRIT recruitment funding of $32 million over the last three years. He is an outstanding recruiter of faculty and a devoted mentor to many undergraduates, graduate students and postdoctoral fellows as he prepares them for advanced careers in medicine and biomedical research. On the national level, he has served in many important leadership roles in science: as a member of three National Institutes of Health (NIH) study sections, as an NIH study section chair and as a member of the National Advisory Environmental Health Sciences Council. He also has served as an associate editor of the Journal of Biological Chemistry since 2014.
On the UT Health San Antonio Newsroom: Dr. Sung receives UT System faculty STARs award
Dr. Sung joined UT Health San Antonio from Yale University, where he was professor of molecular biophysics and biochemistry and chair of the department. Prior to his time at Yale, he served as assistant professor at The University of Texas Medical Branch in Galveston and as associate professor, professor and deputy chair of the Department of Molecular Medicine at UT Health San Antonio. He earned a Bachelor of Science degree at the University of Liverpool in 1981 and a Doctor of Philosophy degree at the University of Oxford in 1985. Both degrees are in biochemistry. He then completed postdoctoral fellowship training at the University of Rochester in the laboratories of Drs. Louise and Satya Prakash.
On the UT Health San Antonio Newsroom: Gray Foundation grant expands studies of BRCA in breast, ovarian cancer
Dr. Sung's scientific, administrative and mentoring expertise, coupled with his funding success, will enhance the outstanding scientific programs of the Greehey Institute. The institute had been under the able leadership of Peter Houghton, PhD, who served as its director from December 2014 until the end of 2020. Dr. Houghton's excellent service led to the establishment of the Greehey Institute as a national leader in pediatric oncology research. Manjeet Rao, PhD, superbly served as interim director of the Greehey Institute since Dr. Houghton stepped down. Ruben Mesa, MD, FACP executive director of the Mays Cancer Center, and Dr. Houghton led the national search for this position.
---
The University of Texas Health Science Center at San Antonio, also referred to as UT Health San Antonio, is one of the country's leading health sciences universities and is designated as a Hispanic-Serving Institution by the U.S. Department of Education. With missions of teaching, research, patient care and community engagement, its schools of medicine, nursing, dentistry, health professions and graduate biomedical sciences have graduated 39,700 alumni who are leading change, advancing their fields, and renewing hope for patients and their families throughout South Texas and the world. To learn about the many ways "We make lives better®," visit www.uthscsa.edu.
Stay connected with The University of Texas Health Science Center at San Antonio on Facebook, Twitter, LinkedIn, Instagram and YouTube.
---