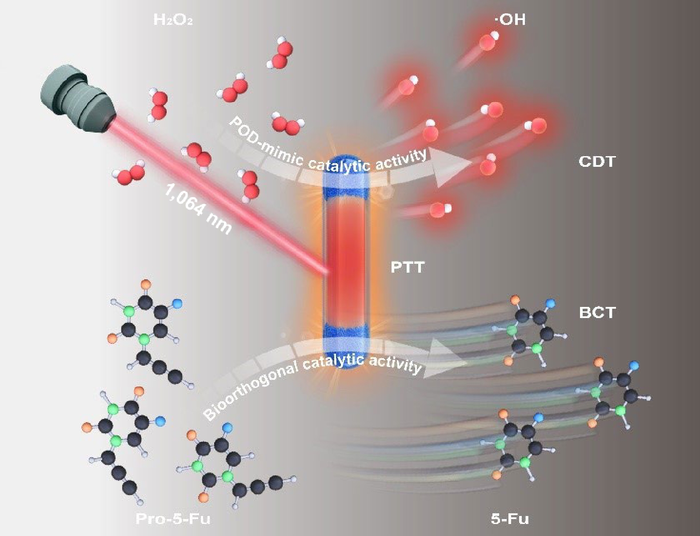 To illuminate and kill cancerous tumors, researchers in China have developed a nanoplatform that non-invasively eliminates solid liver cancer tumors in mice with a single five-minute dose. The mice had no perceivable side effects and all lived at least 30 days post-treatment, a milestone marker in animal model cancer research, according to the investigators.
They published the work on Jan. 24 in Nano Research.
"Tumor eradication has been the dream of cancer patients and researchers for many years," said paper author Ya Ding, professor at Key Laboratory of Drug Quality Control and Pharmacovigilance, Ministry of Education, China Pharmaceutical University. "It is of great importance to eliminate recurrence and metastasis of cancer elsewhere in the body. However, due to the complexity, diversity and heterogeneity of tumors, a single therapy is unlikely to completely eradicate the tumor. That's why we aimed to design a simple material or system to synergistically treat and eradicate tumors."
Conventional treatments, such as surgery or chemotherapy, can have adverse side effects and harm healthy cells. Advanced therapies, while potentially less invasive and toxic, may not be aggressive enough. One such method is photothermal therapy, where nanomaterials — typically gold nanorods — are injected into the tumor and irritated with a laser in the near-infrared region just beyond human perception. The light excites the nanomaterials until they give off heat, killing the cancer cells.
"Photothermal therapy is an attractive therapy for cancer because it is non-invasive, it provides high temporal-spatial resolution in precisely targeting tumors, and it is non-toxic," said paper author Yanglong Hou, Chang Jang Chair Professor of materials science and engineering at Peking University. Hou also directs the university's Beijing Key Laboratory for Magnetoelectric Materials and Devices, and he serves as associate director for the Beijing Innovation Center for Engineering Science and Advanced Technology. "Despite these promising advantages, photothermal therapy alone often results in failure, especially for larger tumors. We designed our treatment to build on the potential of this therapy with the hope of solving this problem."
A higher frequency of light, in the second near-infrared region could penetrate even deeper, but it would require gold nanorods with a higher aspect ratio— potentially making them more invasive and possibly less effective.
The researchers enhanced the existing nanorods' properties by depositing palladium metal clusters on each end. Second near-infrared region light can excite gold nanorods at longer wavelengths, resulting in the desired reactions in deeper cancer cells with relatively high stability.
In a second line of attack, the nanomaterial also activates a prodrug of 5-flurouracil, a chemotherapy intraperitoneally injected but in situ activated in the tumor cells, which means the localized drug synthesis in the area where the tumor cells had formed.
Finally, in a third measure to eradicate the tumor, the nanomaterial mimics enzymes that convert hydrogen peroxide into reactive oxygen species. These free radicals can alter the biological mechanisms underlying cellular persistence and proliferation, forcing the cell to self-destruct while sending the same signals to neighboring cells.
"For the first time, we made slight and reasonable structural changes to the nanorods, comprehensively improving the nanomaterials' ability to navigate complex disease," Ding said. "The result is a novel therapeutic agent that can effectively treat tumors."
Next, the researchers plan to investigate how the nanoplatform interacts with healthy tissue, how it might affect metabolism and how it is processed in the body after use.
"There are several issues that attracted our attention during this project that we plan to further study with the goal of developing simple and cheap nanomaterials with high photothermal and catalytic activities to apply clinically," Hou said. "While there is more work to do, this research provides a solution to current bottleneck problems of photothermal therapy to completely eliminate tumors in animal models without toxic side effects."
Other contributors include co-first author Linghua Zhang, co-first author Wenjie Wang, Meng Ou, Yu Ma, Jiayue Tang, Ting Hou, Sheng Zhang and Li Yin, Key Laboratory of Drug Quality Control and Pharmacovigilance, Ministry of Education, China Pharmaceutical University; Xiaoxiao Huang, Beijing Key Laboratory for Magnetoelectric Materials and Devices, Beijing Innovation Center for Engineering Science and Advanced Technology, School of Materials Science and Engineering, Peking University; and Huan Chen, Department of Biochemistry, School of Life Science and Technology, China Pharmaceutical University.
The National Natural Science Foundation of China, the Natural Science Foundation of Beijing Municipality, the Funding of Double First-Rate Discipline Construction, the Priority Academic Program Develop of Jiangsu Higher Education Institutions and the Open Project Program of MOE Key Laboratory of Drug Quality Control and Pharmacovigilance funded this research.
###
About Nano Research
Nano Research is a peer-reviewed, international and interdisciplinary research journal, sponsored by Tsinghua University and the Chinese Chemical Society. It offers readers an attractive mix of authoritative and comprehensive reviews and original cutting-edge research papers. After more than 10 years of development, it has become one of the most influential academic journals in the nano field. Rapid review to ensure quick publication is a key feature of Nano Research. In 2020 InCites Journal Citation Reports, Nano Research has an Impact Factor of 8.897 (8.696, 5 years), the total cites reached 23150, and the number of highly cited papers reached 129, ranked among the top 2.5% of over 9000 academic journals, ranking first in China's international academic journals.
About Tsinghua University Press
Established in 1980, belonging to Tsinghua University, Tsinghua University Press (TUP) is a leading comprehensive higher education and professional publisher in China. Committed to building a top-level global cultural brand, after 41 years of development, TUP has established an outstanding managerial system and enterprise structure, and delivered multimedia and multi-dimensional publications covering books, audio, video, electronic products, journals and digital publications. In addition, TUP actively carries out its strategic transformation from educational publishing to content development and service for teaching & learning and was named First-class National Publisher for achieving remarkable results.
---
Article Title
NIR-II photothermal therapy for effective tumor eradication enhanced by heterogeneous nanorods with dual catalytic activities
Article Publication Date
24-Jan-2022